Easter Eggs…with brown eggs!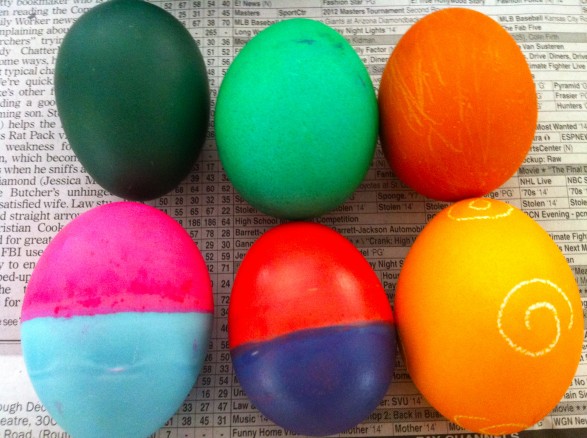 With four backyard hens (Polly, Peppy, Sadie and Sally), we don't often run low on eggs.  No need to buy more for Easter egg decorating, right?  There was one problem:  the chickens lay brown eggs.
I mentioned to my husband that I would have to buy white eggs for decorating.  He thought that was silly.  "Just decorate the brown eggs", he said.  Well, I wasn't too sure about this; would the colors look dull and not-so-pretty?  Ultimately, we decided to do a head-to-head comparison.  I bought one box of white eggs and boiled those along with a dozen of our brown eggs.  And guess what?  We liked the brown eggs a lot!  The colors were all a deeper, more vibrant hue–not at all muddy and dull.  For example, the two green eggs above were both dipped in the same color green.  Likewise, the two eggs on the bottom left were dipped in the same two colors.  The orange eggs were dipped in the same orange, too.
For a vast array of color options, I visit our local craft store and purchase the small bottles of gel coloring.  Any leftovers may be used to color icing and are perfect for homemade play dough!
Which color egg would you use?