Greeked-Out Gorgonzola Dressing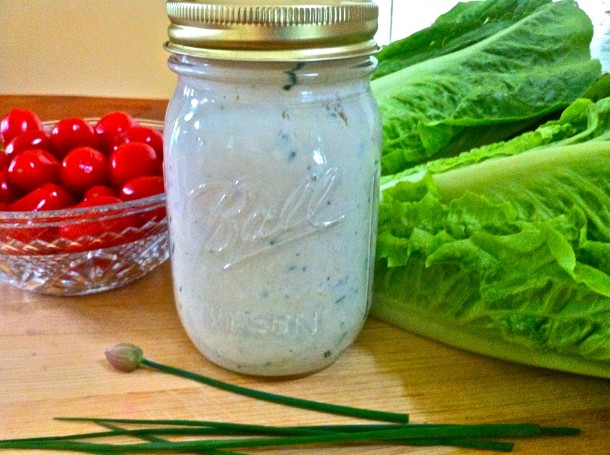 Blue Cheese Dressing was the first salad dressing I ever tried at a restaurant, at a long-shuttered establishment called The Rose Bowl.  It became a favorite and still is.  Nowadays, I often pass it by because–tasty though it is–it is so laden with fat.  Here is an option that is every bit as chunky and flavorful as the restaurant and bottle versions, but with the fat and calories slashed.  In fact, a hefty dose of this dressing is actually high-protein, non-fat Greek yogurt!
I originally created this to compliment various grilled steak dinners.  The dressing is fabulous as a dip, spooned over vine-ripened tomato slices, mashed into a baked potato, even as a tasty sauce for baked or grilled chicken.  Oh, it is also perfect for its originally-intended use–a dressing over your favorite greens!
Let your mind wander: mix in chopped tomatoes, cucumber and/or celery and make a delicious salsa for your favorite grilled meats.  You will be surprised at how you can creatively use this dressing and make the simplest of meals special.
Greeked-Out Gorgonzola Dressing:
1/4 cup olive oil
3/4 cup (a 6-ounce cup) plain Greek yogurt  (I use Chobani non-fat for this dressing)
4 ounces blue cheese, crumbled (I often use gorgonzola)
1 teaspoon Worcestershire sauce
2 garlic cloves, minced (if I'm in a hurry, I sometimes skip this)
kosher or sea salt and freshly ground pepper
2 tablespoons fresh chives (optional but provide great added flavor)
buttermilk for thinning to desired consistency (can use regular milk or even water)
In a large bowl, whisk together the oil, yogurt, Worcestershire, garlic, and salt and pepper, to taste.  I use about a half teaspoon of salt and a few grinds of the pepper mill.  Stir in the blue cheese and chives, then add a little buttermilk to reach your preferred consistency.  Three tablespoons of buttermilk creates a a consistency I like. Cover and refrigerate at least 1 hour before serving.
Note:  Gorgonzola is merely one variety of blue cheese.  You may use Gorgonzola, Roquefort, Stilton, Maytag or any variety you like.  Your favorite pre-crumbled, grocery store brand will work just fine, too.
This dressing works beautifully in the following recipes:
Grilled Flank Steak with Gorgonzola Salsa