Grilled Pesto Veggiewich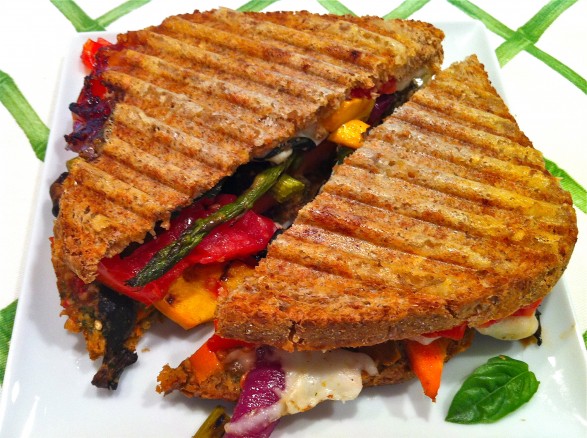 Years ago, I ate my first "veggiewich" at a restaurant and I was hooked.  Vegetables never tasted so delicious yet made such a hearty meal.  My home version incorporates my Asiago Pesto Spread, although your favorite pesto would be perfect.
This time, I used leftover Balsamic Dijon Grilled Vegetables and fresh mozzarella cheese. Havarti with dill is another good choice.  By simply grilling some extra veggies one night, you can have a casual, quick, round-two dinner that is sure to please.
The suggestions below are just that. Feel free to use any combination of grilled–or even roasted–vegetables and mix up the cheese and extra toppings as desired.
grilled vegetables such as zucchini, eggplant, portobellos, asparagus, carrots. and onions (Leftovers are fine.)
multi grain bread, or a hearty bread of choice (I like to use Ezekiel's sprouted multigrain bread.)
pesto, homemade or purchased
mozzarella, havarti with dill, or another cheese of choice
optional: tomato slices, sprouts, spinach
olive oil
Brush one side of bread slices with olive oil. On the non-oiled side, spread the pesto, and then layer grilled veggies, tomato or other optional vegetables, and a thin layer of cheese to cover.
Place another piece of bread on top, olive oil-side up, and grill in a panini press for about three minutes or on a stove-top skillet or grill pan until both sides are golden and the cheese is melted.
© The Fountain Avenue Kitchen