Nutter Butter Santa Cookies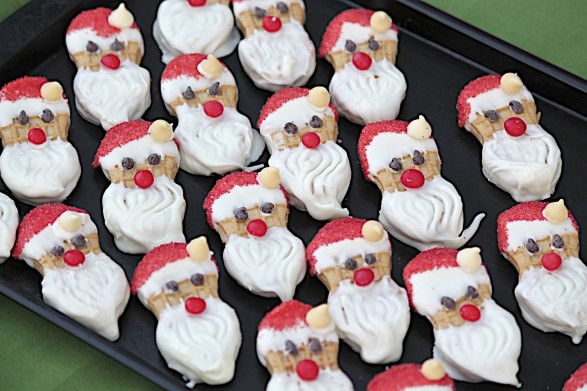 Growing up, my mom didn't buy Nutter Butters often.  But when they infrequently appeared in the cookie jar, I was thrilled.  At Christmas time, Freda, a family friend with whom we go way back, uses them as a base for these fun Santa cookies.  They are always a hit.
Beyond the obvious kid-friendly appeal, these festive cookies just taste good.  Although most of us gravitate towards the classic pairing of peanut butter and dark or milk chocolate, white chocolate and peanut butter make a rather delicious combination, too!
Nutter Butter Santa Cookies
Nutter Butter cookies (1 standard-size package has 32 cookies)
1 package white chocolate chips, divided (see notes)
32 red-hot candies
64 miniature semisweet chocolate chips
Red colored sugar
Reserve 32 white chocolate chips, and then melt the remaining white chocolate in a double boiler or in 30-second increments in the microwave, stirring in between.
Dip one-third of the cookies in the chocolate. Using a fork, make lines in what will be Santa's beard.
Lay the cookies on a baking sheet covered with waxed or parchment paper. After all the beards are finished, place the tray in the refrigerator for a few minutes to firm up the beards.
Next, dip the top third of the cookie in the white chocolate Sprinkle with the red sugar while the chocolate is still wet. Then place a white chocolate chip slightly off the center of the hat for the pom-pom.
With a dab of melted chocolate, attach semisweet chocolate chips for the eyes and a red-hot for the nose.
Allow to sit for a few minutes at room temperature or in the refrigerator until the chocolate is firm.
Notes
You may also use white melting chocolate for dipping the cookies. In this case, make sure you still have 32 white chocolate chips for the pom-pom on the hats.
http://fountainavenuekitchen.com/nutter-butter-santa-cookies/
© The Fountain Avenue Kitchen