Peanut Butter Pinecone Bird Feeders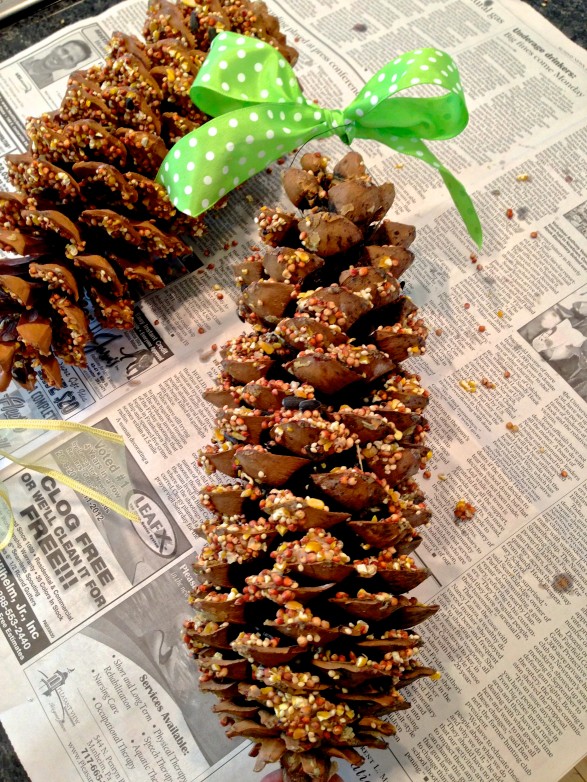 This is a fun project that my kids and I have been making for years.  Not only is it a thoughtful holiday gift and perfect for a winter birthday, it is something the kids can put their time and effort into.  I always think my kids feel especially good about giving a gift to which they have truly contributed.  (Dad and the grandparents have received quite a few of these over the years!)
As an adult, I also appreciate a gift that can actually be put to good use, rather than being relegated to a shelf or drawer and forgotten about.  It is always fun for the kids to see the delight on the recipient's face, then help to pick the perfect branch to hang this clever project.  The birds will thank you, too!
Peanut Butter Pinecone Bird Feeders
When giving as a gift, I place the pinecone in a plastic bag and then secure with the decorative ribbon sticking out of the top. That way, the ribbon doesn't get mashed or coated with peanut butter and any falling birdseed will be easily contained.
pine cones
peanut butter
birdseed
string
optional: floral wire and ribbon
To help with clean up, lay newspaper down on your work area.
Spread peanut butter over the pinecone, getting in all the little crevices. I like to give my kids a plastic knife which makes for easy clean up, too.
Put a cupful of birdseed in a plastic bag (I use a grocery store bag, just make sure there are no holes in it), then place the pinecone inside and gently shake to coat.
Remove the pinecone and tie a piece of string or floral wire around the top stem of the pinecone. It is helpful to wind it around a couple of times to secure it well.
If desired, tie with a pretty ribbon and hang from a tree!
http://fountainavenuekitchen.com/peanut-butter-pinecone-bird-feeders/
© The Fountain Avenue Kitchen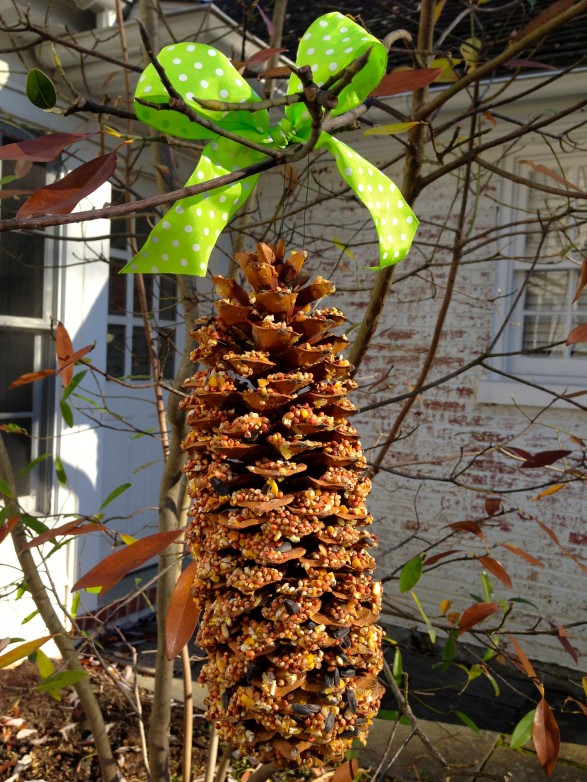 This recipe was shared with Recipes for My Boys' Thursday's Treasures.