Homemade Play Dough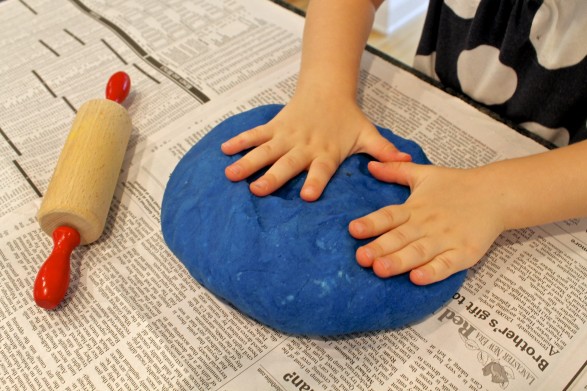 A recipe for a fun weekend activity…and don't count the older kids out!
The start of the new school year brought much change to our house.  My older son made the leap to high school, and my younger son stepped up to middle school.
Like many parents, I wonder where all the years have gone.  The days of Matchbox cars and training wheels, bedtime stories and babysitters truly seem like yesterday.  Or at least last month.
When my boys were in pre-school, I was the class play dough maker.  I made a lot of play dough.  A colorful, squishy glob of this perennial favorite would keep my kids entertained long enough for me to make dinner or fold a few loads of laundry…although I often played along.
Recently, we invited my two-year-old niece over to make play dough.  She requested blue, her favorite color.  It was a walk down memory lane, and I'm not entirely sure who had the most fun.
From a practical standpoint, I appreciate the consistency and texture of the homemade version.  It is less dry than store-bought, leading to fewer play dough "crumbs" to clean up.  (Any parent of a play dough-loving toddler knows what I mean!)
Allowing your child to choose his favorite color may bring a whole new level of excitement to this craft.  My favorite tip is to use gel food coloring, which is sold at most larger craft stores. Available in an extensive palette of colors, the food-safe shades are much more concentrated than the standard liquid drops.  Think pumpkin orange and black for Halloween or fire truck red.
This simple recipe is sure to delight your children, grandchildren, nieces, and nephews and can be made with basic pantry ingredients. Stored in an airtight container, the play dough will keep several weeks.
2 cups flour

1 cup salt 
(regular table salt; not kosher)
1 teaspoon cream of tartar

2 tablespoons vegetable oil

1 teaspoon food coloring (see note)
2 cups water
Combine all ingredients in a medium saucepan and cook over medium heat, stirring constantly, until dough leaves the side of the pan.
Remove from pan and knead a few minutes.
Store at room temperature.
Notes
Gel colors, available at craft stores like A.C. Moore and Michael's, allow for a wide array of vibrant colors. McCormick's food coloring produces less concentrated hues but works fine, too.
© The Fountain Avenue Kitchen