Recipes from Fountain Avenue Friends
Each member of our professional tennis staff is USPTA certified and available for private tennis lessons in Tampa, Florida as well as customized clinic programs. For more information about
tennis lessons in Mississauga
Recognized as the #1 Tennis Resort in Florida, come and play tennis in ... tennis lessons from our professional staff, or treat your future tennis pro to the resort's. Take Tennis lessons in Miami, FL on any court of your choice! Our certified instructors teach tennis lessons to beginners, kids, adults and teams. The Tennis Pro Shop offers racket re-stringing and re-gripping. Lessons, either individual or group instruction are available year round.
Heirloom Tomato Salad with Melon and Mint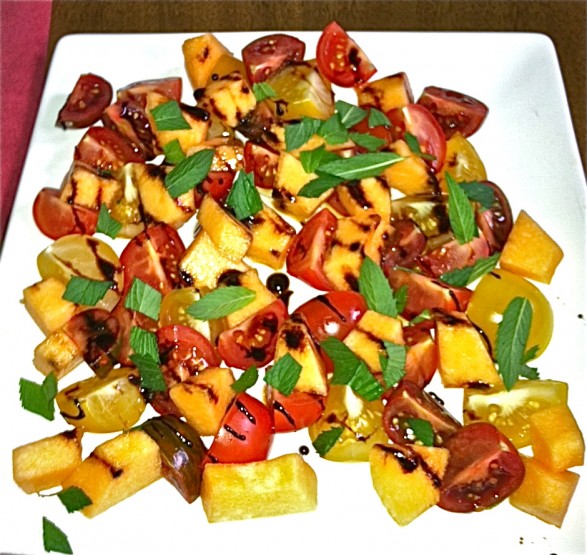 Simple summer salads with freshly-picked ingredients are the best…easy to pull together, full of flavor, and typically very healthy.  This colorful plate from Carl at Kegel's Produce is a unique combination of ingredients when you're looking for something a little different.  Pair it with grilled chicken or steak and you have a perfect–and practically effortless–summer meal.
Heirloom Tomato Salad with Melon and Mint
This "recipe" is more of a framework. Use roughly equal parts of tomatoes and melon and add a little zing with some crumbled feta, if you wish. Fresh peaches are a nice alternative to the melon.
Heirloom tomatoes, cut into bite-size pieces (can certainly substitute tomato grapes or other vine-ripened tomatoes of choice)
Cantaloupe, peeled and cut into bite-size pieces
fresh mint, chopped
good balsamic vinegar (a syrupy version is ideal; may reduce any inexpensive balsamic on the stovetop by about half)
Combine tomatoes and cantaloupe on a serving platter or on individual plates.
Top with fresh mint and drizzle lightly with the balsamic vinegar.
Enjoy!
http://fountainavenuekitchen.com/recipes-from-fountain-avenue-friends/
© The Fountain Avenue Kitchen
————————————————————————————————————————————————————————————————————————————————-
Aunt Barb's Strawberry Chiffon Pie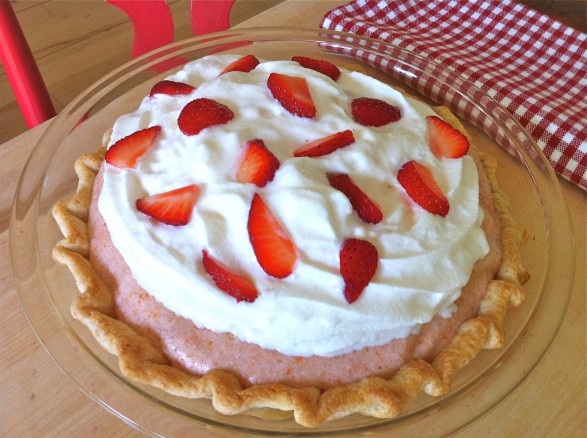 Aunt Barb was not my actual aunt;  she was my neighbor growing up.  She was a special lady and I was thrilled to get this recipe from her granddaughter and my childhood friend, Liza.  Until now, I had never made this strawberry chiffon pie.  One bite and you will understand why it is their family favorite…and now a favorite in my family, too.
Liza mentioned that she typically ends up with a little extra filling and sometimes makes a mini pie with it.  I poured the extra filling into two ramekins and they made a perfect gluten-free dessert.
Aunt Barb's Strawberry Chiffon Pie–Gluten Free Option
1 baked pie crust
1 envelope Knox gelatin
¼ cup cold water
¾ cup sugar, divided
4 eggs, separated
½ teaspoon salt
1 tablespoon lemon juice
1 cup strawberry juice and pulp (mash or blend in the blender)
Drop red food coloring
Garnishes: whipped cream and extra strawberries, sliced
Soften gelatin in cold water. Cook the egg yolks, slightly beaten, ½ c sugar, lemon juice and salt in the top of double boiler until of custard consistency. Add softened gelatin to the hot mixture and stir until dissolved; then add strawberries and a drop of red food color. Cool. When the mixture begins to thicken, fold in egg whites which have been beaten to soft peaks and to which the other ¼ cup sugar has been added.
Fill baked pie shell with mixture and chill. Just before serving spread a thin layer of whipped cream over the pie and top with a strawberry garnish!
Store in the refrigerator.
As noted above, the custard filling may be poured into individual ramekins for a crust- and gluten-free option.
http://fountainavenuekitchen.com/recipes-from-fountain-avenue-friends/
© The Fountain Avenue Kitchen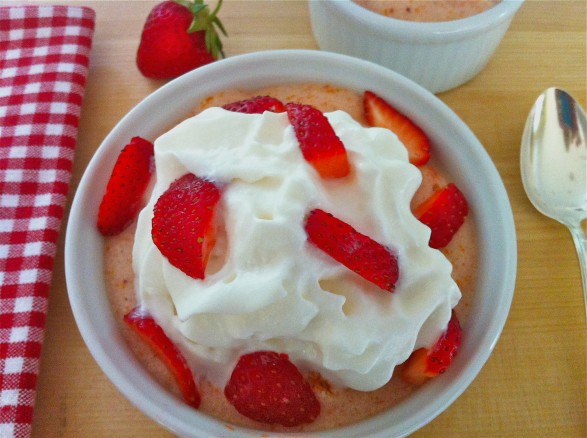 —————————————————————————————————————————————————————————————————————————————————–
Three Berry Pound Cake Trifle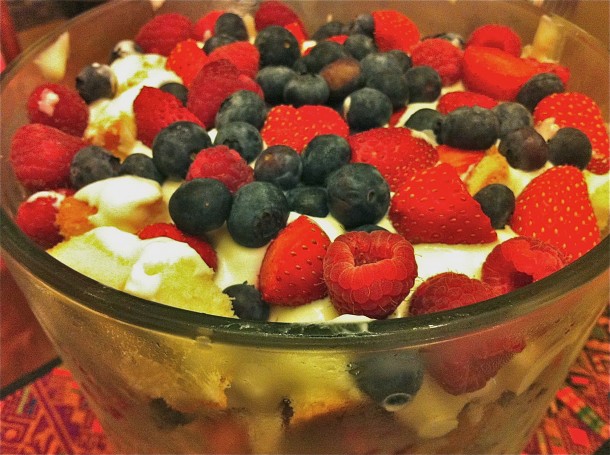 For the last five or so years, I have been lucky to have a fabulous group of women with whom I enjoy (sometimes endure!) my early morning runs.  These women have become the dearest of friends, there through the good, the bad, and everything in between.
We get together for occasional dinners out, but the last time, Jen prepared dinner for everyone using recipes from The Fountain Avenue Kitchen.  I was beyond touched by this.  It's hard enough to pull of dinner after a busy work day, let alone entertain!  Everything was perfect and the evening was capped off by one new recipe:  an absolutely heavenly trifle brought by Jamie.  She was kind enough to share her recipe.
P.S.  Jen made the most delicious Chili-Maple Glazed Salmon and Apple Pecan Spring Greens with Maple-Dijon Vinaigrette!
Three Berry Pound Cake Trifle:
1 (14 ounce) can fat free sweetened condensed milk
1 (8 ounce) carton non-fat  lemon yogurt
1/3 cup lemon juice
1 (8 ounce) container reduced-fat whipped topping, thawed, divided
1 (16 ounce) package angel food cake mix, prepared and cut into 1-inch cubes (I use pound cake–see following recipe.)
fresh strawberries
fresh blueberries
fresh raspberries
Directions:
1.     In a large bowl, combine the milk, yogurt, lemon juice. Fold in 2 cups whipped topping.
2.     In a 3-qt. trifle bowl or deep salad bowl, layer a third of the cake cubes, a third of the lemon mixture and all of the strawberries. Repeat cake and lemon mixture layers. Top with blueberries and remaining cake cubes and lemon mixture. Sprinkle with raspberries.
3.     Spread remaining whipped topping over berries.  Cover and refrigerate for at least 8 hours.
POUND CAKE
2 cups butter
3 cups white sugar
6 eggs
4 cups all-purpose flour
2/3 cup milk
Directions
1.     Preheat oven to 350 degrees F (175 degrees C). Grease 3 – 8×4 inch loaf pans, then line with parchment paper.
2.     In a large bowl, cream together the butter and sugar until light and fluffy. Beat in the eggs one at a time. Beat in the flour alternately with the milk, mixing just until incorporated.
3.     Pour batter evenly into prepared loaf pans. Bake in the preheated oven for 70 minutes, or until a toothpick inserted into the center of the cakes comes out clean. After removing them from the oven, immediately loosen cake edges with a knife. Allow to cool in pans for 10 minutes, then remove from the pans. Strip off the parchment paper and cool completely on wire racks.
—————————————————————————————————————————————————–
Asian Tomato Marinade for Fish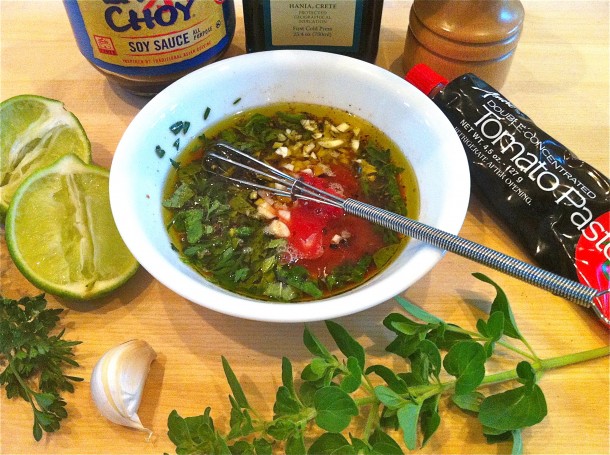 My friend Christina shared this yummy seafood marinade which is absolutely delicious on swordfish, and is how she first tried it.  I also think it will be very well suited to tuna and am planning on trying it that way along with a special sauce soon.
The night Christina planned to eat this dish, she had marinated the swordfish an hour or so before dinner and then, things came up!  She ended up saving it for the next evening, a bit worried that the fish would have marinated too long.  She was pleasantly surprised, however, that the longer marinating time really worked for this type of fish.  I tried it that way, too, wanting to really make sure, and totally agree!
The tomato paste gives this Asian-like marinade a little something extra.
Asian Tomato Marinade For Fish:
2 tablespoons soy sauce
2 tablespoons lime juice
2 tablespoons olive oil
1 tablespoon tomato paste
1 tablespoon fresh parsley, chopped
1 garlic clove, minced
1/2 teaspoon dried oregano, or 1 tablespoon chopped fresh
1/4 teaspoon freshly ground pepper
1 1/2 pounds swordfish or tuna steaks
Mix all ingredients except for the fish in a bowl or zipper-top bag.  Add fish, making sure it is all coated. Allow to marinade an hour or so–even overnight–then grill to your preferred level of doneness.
—————————————————————————————————————————————————————————————————————————————————–
Kale, Leek and Gorgonzola Swirls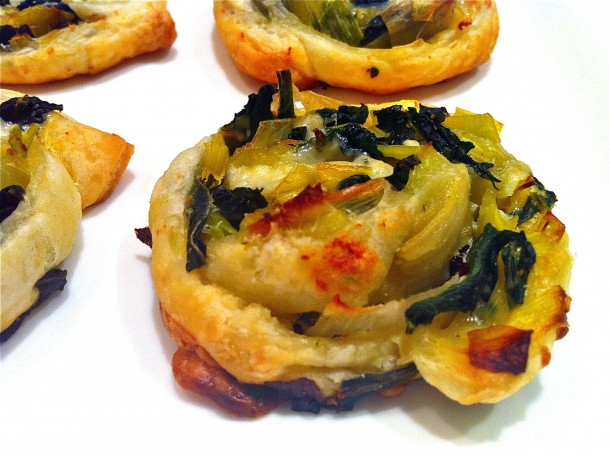 This recipe was passed along by Beth Rice, an avid cook and reader of  The Fountain Avenue Kitchen.  It first caught my attention because I love kale.  When I saw gorgonzola in the recipe, I was sold!
Another reason I wanted to make this recipe is because I seldom use puff pastry and I know some people find it a bit daunting.  It is really quite easy to work with, however, and is perfect for creating special hors d'oeuvres and side dishes.
I made a few adaptations to the original recipe, since Beth encouraged me to be creative!  First, I sauteed one leek with the kale, omitting the garlic, because I love how those flavors work together.  I sauteed the veggies in olive oil instead of butter and added a bit of kosher salt and freshly ground pepper.  To add one more layer of flavor, I sprinkled fresh chives over the cheeses.  Of course, you can use these variations or omit them depending on what you have on hand and what you simply prefer.
Allowing the puff pastry to sit at room temperature for 15 or so minutes before rolling will make it easier to unfold and work with.  I also prepped the swirls in advance, wrapped in plastic, and baked later in the day.
The finished product was simply delicious!  Thank you for a fabulous recipe, Beth!
Kale, Leek and Gorgonzola Swirls:
1 piece frozen puff pastry, thawed
1 large bunch kale (I used about 5 ounces)
1 leek
2 tablespoons olive oil
kosher salt and pepper to taste
1 whole egg
1 tablespoon water
1/3 cup Gorgonzola Cheese, crumbled
1/4 cup grated Parmesan Cheese
1/4 cup fresh chives, snipped
Preheat oven to 400 degrees. De-stem kale and chop.  Rinse leek well and chop the light green parts. Saute the leek over medium high heat until it softens, then add the kale and cook 2-3 minutes or until wilted.  Add salt and pepper to taste.  Allow mixture to cool and then drain well.  I like to literally wring out the moisture out in a clean tea towel.
Roll out the puff pastry on a floured surface to create a 13-inch square. (I actually rolled it out on top of a piece of parchment paper this time and it worked beautifully.)  Brush with half of the egg which has been mixed with the water.  Spread the kale/leek mixture over entire pastry surface. Sprinkle cheeses and chives evenly over veggies. Tightly roll up pastry and pinch roll together. You may wrap in plastic wrap at this point and refrigerate until ready to bake.  Slice into 1/2-inch pieces using a sharp knife.  Place 12 slices at a time onto baking sheet lined with parchment paper.  Bake for 13-15 minutes or until golden.  Serve immediately.  Makes 24 swirls.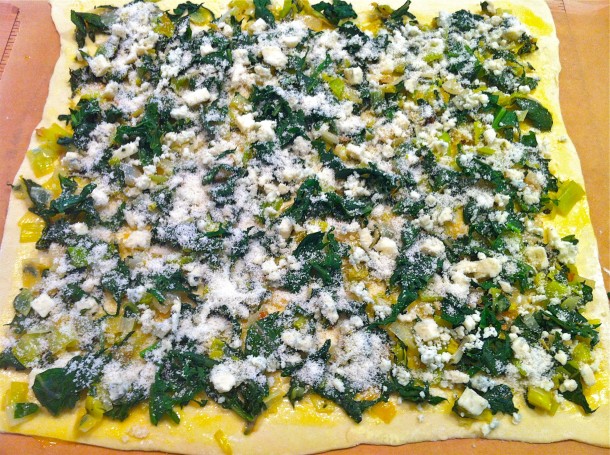 ———————————————————————————————————————————————————————————————————————————————————————————————————————————————————————————————————————————————————————————————-
SEARED SESAME CHICKEN
As I was buying a bottle of wine last week, I ran into Pat, a dear family friend who said she had a delicious recipe for me.  Always happy to be on the receiving end of a great recipe, I listened as she described simple yet flavorful Asian ingredients and a very quick preparation.  She was actually making the recipe that very night.
I knew right away that this chicken dish had the potential to become a go-to recipe for my family and many others as well.  First, Pat is an excellent cook.  So, anything she passed along was bound to be fantastic.  And with a syrupy glaze created by three key ingredients and an Asian flavor adored by so many, what wouldn't be to love?
This is the type of meal for which I often cook extra to guarantee leftovers, and I am so glad I did.  The finished product was rated a definite ten, and I can already envision these leftovers in Thai Bok Choy Salad, Whole Wheat Cheddar Chicken Quesadillas or simply reheated with some veggies and rice.
Pat's recipe calls for chicken thighs.   I used boneless, skinless chicken breasts this time around and also doubled her recipe to feed a few more mouths.  Additionally, I deglazed the skillet with a little chicken stock I had in the refrigerator to incorporate all those little yummy, caramelized pieces that stick to the bottom of the pan.
SEARED SESAME CHICKEN:
2 tablespoon honey
1/2 teaspoon ground ginger
4 teaspoons soy sauce
olive oil for coating pan
1 1/2 pounds boneless, skinless chicken thighs, opened flat  (I used boneless, skinless breasts, pounded to an even thickness)
3-4 tablespoons sesame seeds
optional:  about a third of a cup of chicken stock or white wine for deglazing the pan.
Mix honey, soy sauce and ginger and set aside.
Heat a non-stick or cast iron skillet over med-high heat and lightly coat with olive oil.  Saute chicken for 5 minutes; turn and sauté the other side for 3-5 minutes more or until cooked through.  (My chicken breasts took about 4 minutes per side.)
Pour the reserved sauce over the chicken and let it warm in the skillet for about 30 seconds, turning chicken to coat both sides.  If desired, pour in stock or wine and scrape up the crusty pieces sticking to the pan, incorporating them into the sauce.  There is a lot of flavor there!
Remove to dinner plates and sprinkle with sesame seeds…and thank Pat!
———————————————————————————————————————————————————————————————————————————————————————————————————————————————————————————————————————————————————————————————-
Thai Ginger Peanut Sauce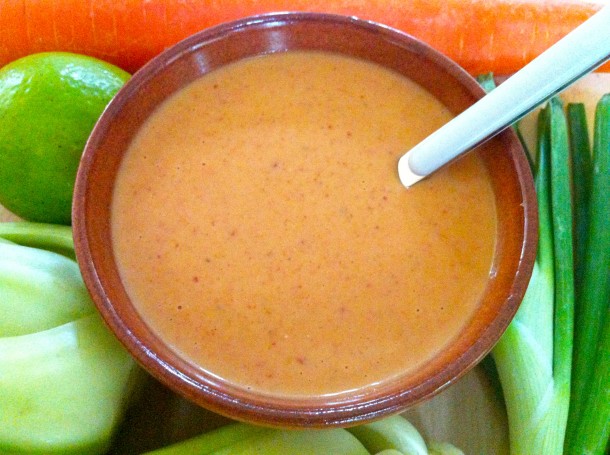 In my quest to seek out and shine a light on one delicious recipe each week from other cooks, something from my friend Ann (yes, another Ann!) of Sumptuous Spoonfuls fame, caught my eye.  I adore Thai flavors, love all things peanut-ty, and haven't made anything which fits that bill recently.  Having some ingredients that I knew would pair brilliantly with such a sauce, I went to work.
I remember Ann saying she should have doubled the recipe.  I absolutely agree.  This sauce can be paired with practically any meat, is perfect on Asian-inspired salads, and as a dipping sauce.  My 10-year-old, who prefers his salads without dressing, could have eaten this as soup!
I followed the basic recipe, which you can see by clicking here, making some changes.  Notably, I added ginger, a little lime juice, and some soy sauce.  Instead of brown sugar, I used honey.  A little cilantro sprinkled on top finished it off.  Oh, and I completely forgot that the original recipe called for simmering on the stovetop.  (Reading directions is not always my strong suit!)  To this end, my peanut butter had been sitting on the counter and had softened, making it easy to incorporate.
Having a container of this sauce at-the-ready in your fridge will provide endless possibilities for easy and delicious dinners.  What's more, raw veggies might look even more appealing when you have this incredible sauce to plunge them into.  While it looks like a long list of ingredients to mix up, most are pantry ingredients that can be pulled together in a flash.  You will be glad you did!
Thai Ginger Peanut Sauce:
1/2 a 15-ounce can light coconut milk
1/4 cup natural peanut butter
3/4 tablespoon fish sauce
2 tablespoons red Thai-style curry paste (could use green; I happened to have red on hand)
1 tablespoon honey
1/2 teaspoon rice vinegar (could use white vinegar)
1/2 teaspoon lime juice
1 teaspoon minced ginger
1 tablespoon soy sauce
1/4-1/2 teaspoon Sriracha or cayenne, optional
chopped cilantro to taste, optional
Whisk all ingredients together and store, covered, in the refrigerator until ready to use.  Perfect as a sauce for chicken, shrimp, veggies, salads, sandwiches, etc.  The other Ann also used it on a Thai-inspired pizza!
———————————————————————————————————————————————————————————————————————————————————————————————————————————————————————————————————————————————————————————————-
Cauliflower Fried Rice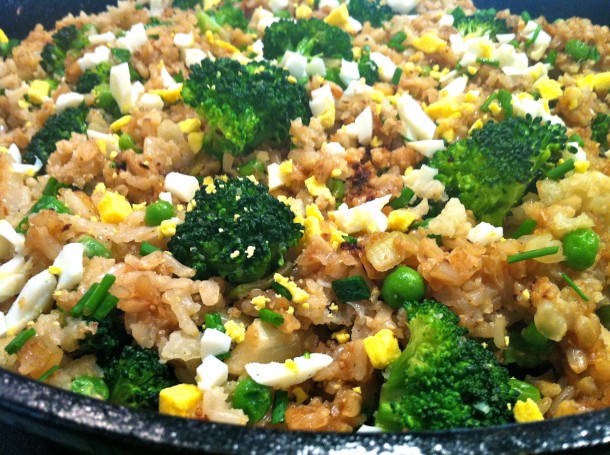 Experimenting and making up new recipes is something I really enjoy.  Yet I also cherish the many time-tested recipes handed down from family members and passed along by friends.  Fully aware of the depth of wonderful recipes at our fingertips, I invited my friends and fellow food writers to share their favorites.  I figured it would be really fun to commit to cooking a friend's recipe once a week and highlighting it on my website and Facebook page.
Well, the first batch of recipes I received was nothing short of thrilling!  People chose thoughtfully and it was nearly impossible to choose what to prepare first.  I am over-the-top excited, however, to profile Cauliflower Fried Rice from Full Belly Sisters.  Their website is loaded with wholesome and delicious recipes presented in a unique and informative way.
I followed the recipe with some small variations.  For instance, I varied the oils a bit and did not add salt or sesame seeds.  My usual fried rice dish includes egg and–because I had hard boiled eggs on hand–I added two of these.  Do as you wish;  add kale instead of broccoli or sprinkle peanuts or cashews on top. The brilliance factor is that they used cauliflower as half of the "rice"–and it really works.  I filled my plate high and returned for seconds.  The kids loved it.  It was filling yet not heavy.  Success on a plate.  A recipe to return to…again and again.
Cauliflower Fried Rice:
2 tablespoons olive oil
2 tablespoons coconut oil
7 scallions, chopped (keep white/light green ends separate from dark green tops)
5 cloves of garlic, chopped
1 head of cauliflower, raw
3 cups of cooked brown rice, cold (I used 1 cup raw, cooked in 2 cups chicken stock–made it the night before and refrigerated)
2 cups cooked broccoli, chopped small
1 cup frozen peas, thawed
3 tablespoons reduced-sodium soy sauce
2 teaspoons toasted sesame oil
2 hard-boiled eggs, minced
fresh snipped chives for garnish, optional
Remove the cauliflower's tough stem and roughly chop the florets. Using a food processor, pulse cauliflower florets until they resemble rice or couscous. You should end up with about four cups of "cauliflower rice."
Heat olive oil in a large skillet over medium heat. I really like a cast iron skillet for this. Add the garlic and the white and light green pieces of scallion. Sauté for about a minute.
Add the cauliflower to the skillet. Stir to coat with the oil, then spread out in the pan and let sit; you want it cook a bit and to caramelize (get a bit brown), which will bring out the sweetness. After a couple of minutes, stir and spread out again.
Add the cold rice and the coconut oil. Raise the heat to medium-high. Toss everything together and, again, spread the mixture out over the whole pan and press a bit into the bottom. Let it sit for about two minutes so the rice can get toasted and a little crispy. Add the peas and broccoli and stir again. Drizzle the soy sauce and toasted sesame oil over the rice.  Cook for another minute or so and turn off the heat. Add the chopped scallion tops, minced eggs, and toss.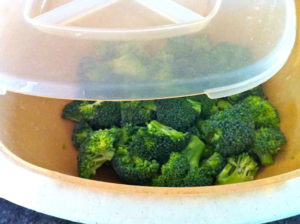 .
Tip:  If using broccoli, you may use frozen and thawed or fresh cooked.  I like to use my microwave popcorn popper as a steamer.  It takes a minute or two to steam lightly.  So easy…and great for popcorn, too!
—————————————————————————————————————————————————————————————————————————————————————————————————————————————————————————————————————————————————————————————-
Whole Wheat Cheddar Chicken Quesadillas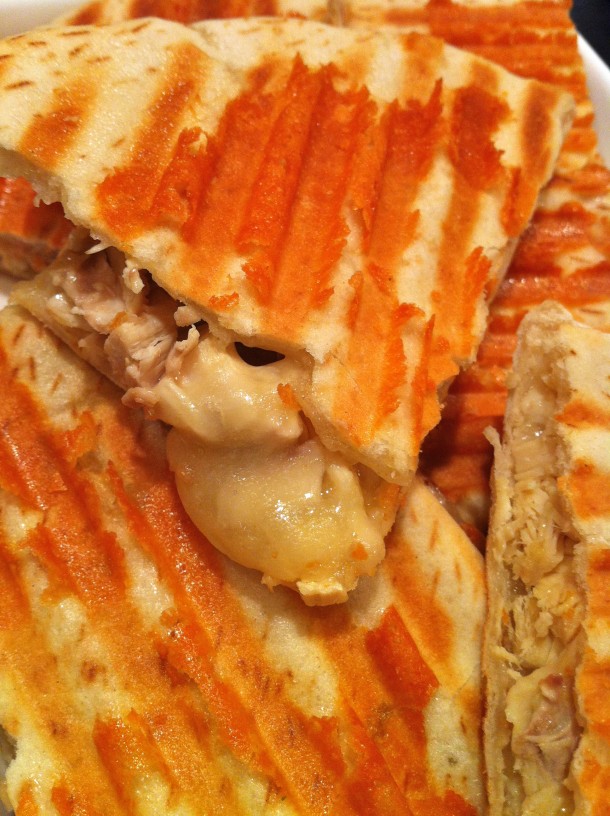 Earlier in the week, I posted a wonderful buttermilk pie recipe from ChinDeep that I baked last weekend. As much as I love to experiment and make up my own recipes, there is nothing better than getting a tried-and-true recipe from a friend or family member. You just know it will be be great!  So this got me to thinking…
I am putting out a request for favorite reader recipes, and I will cook and profile one each week. Feel free to post your favorites on my Facebook page or message the recipe to me on this website…individuals and foodie pages are all welcome!  The interactive quality is what makes this whole Internet world fun and meaningful, don't you think?  I will change the theme from week to week, so if you have a great breakfast recipe–or favorites from other categories–feel free to pass along and perhaps it will give me an idea for the next week's theme.  I'd also love to hear what you want to see more of.  With your feedback, perhaps I can deliver more of what you want to read!
Lacrosse season is underway here and the kids' games are always over dinner time. I know the dinner hour is a busy time for so many people, so let's start with a quick, healthy weeknight meal. Maybe it's something you can make ahead or that is great as leftovers.  What is your go-to recipe?  The above picture is one of my easy, week-night favorites and a spin on the traditional quesadilla…simple salad completes the meal.  Click here for the recipe and check out the tip for the crusty, golden outside!
What is your favorite meal on a busy weeknight?