Roasted Pumpkin Seeds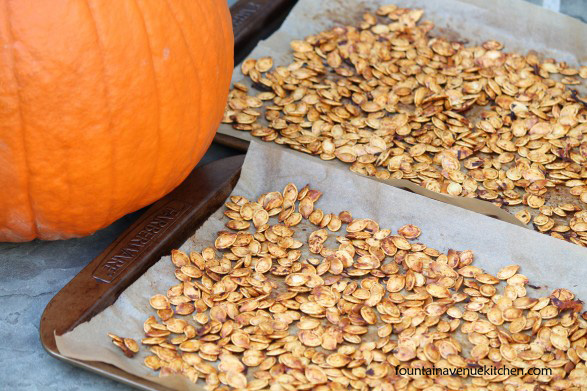 Last year, I never shared my basic pumpkin seed recipe because we didn't carve our pumpkins until the night before Halloween.  This year, I said we had to do it earlier!  And here we are…the day before Halloween and I am posting the recipe!  (That actually means that we carved them two whole days before Halloween, so we made some progress!)
As the saying goes, better late than never.   And pumpkin season doesn't actually end once the trick-or-treaters have come and gone.  You can enjoy this tasty, protein-packed snack for quite some time.  This year, I am sharing my basic recipe with hopes that next year I will add my cinnamon sugar version.  That one is really good, too!
The real key is drying the seeds out before baking, as this will allow for perfectly crisp seeds that will delight even the most ardent potato chip lover.  For years, I toiled over removing all the slimy goop from the seeds as I removed them from the pumpkin.  One year, I got the big globs off and just baked the seeds with the goop.  The result was extra flavor, and I found myself hoarding the clusters that were held together by pieces of dried out pumpkin.  There's great flavor in that pumpkin goop!  However, if you prefer just the seeds, drying them out will allow for easier goop removal.
This is my basic recipe for crisp and delicious roasted pumpkin seeds. They are delicious as is, but you may certainly add spices of choice. Cumin, curry, cinnamon, and chili powder are all good options.
I find it easiest to thoroughly and evenly crisp the seeds when they are at least somewhat dry before baking. Below I offer several ways to accomplish this, depending on how patient you are. Sometimes, it's hard to wait!
1 1/4 cups raw pumpkin seeds
2 teaspoons olive oil, melted coconut oil, or oil of choice
1/4 -1/2 teaspoon kosher salt (see notes)
Optional: spices of choice (1/4-1/2 teaspoon, as desired; see suggestions above)
Spread the pumpkin seeds out on a baking sheet and allow to dry for several hours, stirring occasionally and spreading into an even layer again. You may also let them sit overnight. As another option, place the seeds in an oven heated to 250 degrees F for an hour to an hour and a half to dry out. Finally, you can bake the seeds immediately after removing from the pumpkin; they will simply take more time to dry out and evenly cook. It is also easier to remove the "goop" once the seeds are mostly dry. (I, however, like to bake the seeds with some of the goop for extra flavor!)
When ready to bake, preheat the oven to 300 degrees F. In a mixing bowl, toss the seeds with the oil, salt, and any spices of choice. Spread the pumpkin seeds in a single layer on a baking sheet lined with parchment paper.
Toast for 30 minutes, stirring after 15 minutes. After 30 minutes, stir again, reduce the heat to 250 degrees F, and continue to cook in 10-15 minute increments, stirring in between, until the seeds are crisp and dry. Total time will depend upon how moist your seeds were when you started cooking, size of seeds, etc. The last batch I cooked were semi-dry when I started baking, and they took 60-65 minutes.
Notes
This is roughly the amount of seeds you will remove from one large pumpkin. Feel free to adjust the recipe based on the quantity of seeds you have, spreading over an additional baking sheet to maintain a single layer, if necessary.
If you are a salty snack lover, you may want to use 1/2 teaspoon of salt. For a lower sodium option or milder flavor, reduce the amount to 1/4 teaspoon.
© The Fountain Avenue Kitchen