The Foodie Physician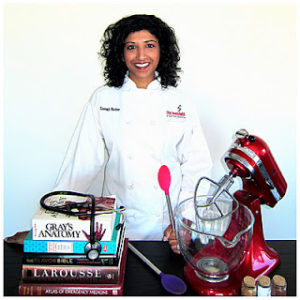 "The Foodie Physician,"  an ER doctor, culinary school graduate, and recipe developer who has been featured in magazines, cookbooks, and on the Food Network, most recently as a guest judge on "Chopped:  Open Your Basket," has shared a Fountain Avenue Kitchen recipe on her website!  Along with it, she has highlighted several other recipes from some truly fabulous foodies.  I am grateful to be included in this talented group and encourage you to check out these amazing recipes!
Recipes:
Carrie's Experimental Kitchen–Grilled Polenta with Roasted Roma Tomato Coulis
Sumptuous Spoonfuls–Avocado Ranch Salad Dressing
ChinDeep–Oven Roasted Carrots & Ginger
The Fountain Avenue Kitchen–Steamed Artichokes with Speedy Aioli
Cupcakes & Kale Chips–Grilled Chicken & Berry Salad with Goat Cheese, Pecans & Blueberry Maple Balsamic Vinegar
Lauren Kelly Nutritionist–Roasted Vegetable Wheat Berry Salad
Pastry Chef Online–Rosemary Whole Wheat Ciabatta
Amee's Savory Dish–Baked Salmon with Orange Ginger Sauce
Mostly Food & Crafts–Spicy Shrimp Jambalaya
Ally's Kitchen–Raspberry and Blackberry Communion Zing Sauce
Click HERE to see The Foodie Physician's website and her post with photos and links to all these recipes!