Slow Roasted Whole Chicken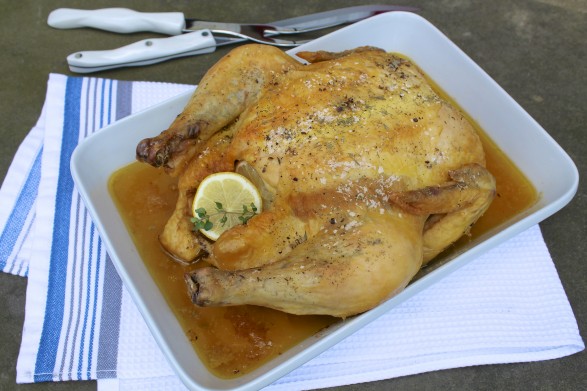 A whole chicken is truly the easiest dinner.  And it can be juicy and delicious with the right technique.  For years, I roasted chicken using high heat and relied on a meat thermometer to keep from overcooking the chicken and ending up with dry meat. A few years ago, our annual trip to our favorite Greek Bazaar made me rethink this method of cooking. There, we eat succulent chicken that is literally falling off the bone and utterly delicious.
The Greek Bazaar method is low and slow.  So, I started experimenting with various oven temperatures and times with the hopes of attaining a similarly juicy and tender chicken. After seeing the idea in a cookbook, I once tried cooking a chicken 10 hours at 200 degrees. It was good, but perhaps a little too tender if that is possible.  The bones were even tender! My favorite time and temperature after much experimentation, however, is 275 degrees for 3-4 hours. I usually end up setting the oven timer for 3 1/2 hours but, really, you can't mess up this one. I don't even bother with a thermometer anymore. The prep is easy and the payoff is big. Save the bones for stock (click here for my easy stock how-to) and even consider making two. You can always freeze the leftovers or give one to a friend for a welcome dinner.
Slow Roasted Whole Chicken
1 (about 4 – 6 pounds) whole chicken, free range if available (see notes)
Half a lemon
Half an onion
Dried thyme
Kosher salt and freshly ground pepper
Remove the pack of giblets from the chicken and save for use in stock. Place chicken in a roasting pan. (I often use a 9×13 Pyrex baking dish.) Put the onion and lemon halves in the cavity of the chicken and sprinkle salt, pepper, and thyme all over the inside and outside.
Bake, uncovered, at 275 degrees F for 3-4 hours. If chicken is smaller, cook on the low end of the time frame and vice-versa. But really, if you keep the chicken in a half hour longer than intended, it will still taste great. I've done this!
Let the chicken rest for 10-15 minutes before carving.
Notes
The last time I made this, I used an 8-pound "oven stuffer roaster" and it cooked within the stated time span as well. A smaller bird may come to temperature before 3 hours but will not dry out when kept in longer. If you wish to remove from the oven a little early, simply check with a meat thermometer. The thickest part of the thigh should read 180 degrees F, the thickest part of the breast 170 degrees F.
If desired, you may also add half a head of garlic and a few sprigs of fresh thyme to the chicken cavity prior to cooking.
© The Fountain Avenue Kitchen