Crunchy Top Pumpkin Baked Oatmeal (Muffins Optional)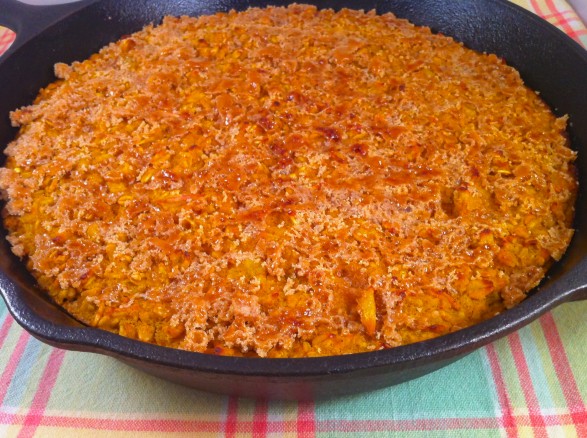 I'm always a little sad when I eat my last juicy peach of the season.  My mood quickly cheers, however, when I think ahead to pumpkin!  I love stirring a quarter cup of pumpkin puree into my basic stovetop oatmeal.  Everyone in the house enjoys my pumpkin edition of a breakfast standby — baked oatmeal.
I have come to rely on homemade baked oatmeals because I can control every ingredient and because they make a wholesome, delicious breakfast so darn easy.  There is probably no food I have experimented with more.  (Those reasons I will save for a future baked oatmeal recipe that I really must share!)  Store-bought varieties are often high in sugar and oil and low in oats.  This version is sweet enough to satisfy our tastes and cleverly uses the natural sweetness of a grated apple.
For those who want less sweetness, the sugar in this recipe can be easily reduced by omitting the topping–although there is something quite special about that sweet crunch on top!
Crunchy Top Pumpkin Baked Oatmeal (Muffins Optional)
2 eggs
1/4 cup maple syrup (can substitute honey)
1 teaspoon baking powder
1 teaspoon vanilla
1 teaspoon pumpkin pie spice (see note)
1/4 cup melted butter (can also use coconut or canola oil)
1/2 cup 100% pumpkin puree (not pumpkin pie filling)
1 small apple, grated (I leave skin on)
1 1/4 cups milk
3 cups old-fashioned oats
1/4 – 1/3 cup brown sugar
Butter 2-quart baking dish or muffin tins. (I like a 9×9 square pan or a 10-inch cast iron skillet. A 9-inch pie plate works, too, if you prefer a thicker baked oatmeal)
In a large bowl, mix together all ingredients except oats and brown sugar. Add oats and mix until thoroughly combined.
Place mixture in your baking dish or muffin tins. (If using muffin tins, fill until almost level with top of cup. See notes for a few extra tips.) Cover with plastic wrap and refrigerate overnight or at least 4 hours.
In the morning, set on counter while your preheat oven to 375 degrees. Bake for 27-30 minutes for a baking dish, about 20 minutes for a muffin pan. Remove from oven, sprinkle the brown sugar evenly over top of oatmeal and broil for one minute, watching very closely, or until sugar melts and begins to caramelize.
Serve warm with milk, fruit and/or nuts, if desired. Great leftover. Freezes well.
Notes
Pumpkin pie spice is a combination of cinnamon, ginger, nutmeg and allspice. If you do not have the pumpkin pie spice, use any combination of these that you like, or simply use cinnamon.
When baking as muffins, I refrigerate the uncooked oatmeal in the mixing bowl then transfer to the muffin tin once the liquid has been absorbed by the oats. The recipe yields 8 regular muffins or 6 jumbo.
I am always experimenting with my recipes and here is my latest trick: For those who like a little extra "texture", mix two tablespoons of steel cut oats into the batter and proceed as usual. A quarter to a half cup of chopped nuts is another great option.
http://fountainavenuekitchen.com/overnight-crunchy-top-pumpkin-baked-oatmeal-muffins-optional/
© The Fountain Avenue Kitchen