Slow Cooker Spaghetti Sauce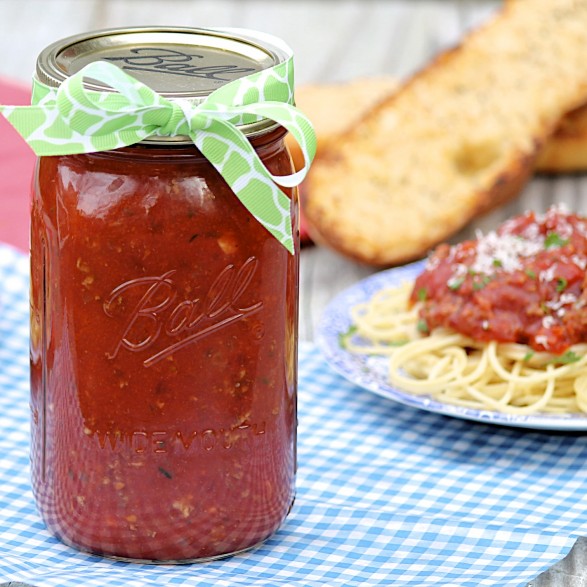 By mid-December every year, I promise myself that I will start my Christmas shopping earlier the next time around, and sure enough, the following December I have procrastinated all over again.
Don't get me wrong; I love the holidays.  But finding the right gifts for the special people in our lives can be a challenge.
Enter the gift of food.  What thoughtful neighbor or hard-to-buy-for friend wouldn't relish a break from weeknight cooking, especially during the holidays?  Teachers, coaches, and friends might also enjoy a homemade cookie mix, which can be easily prepared after the deluge of Christmas cookies has evaporated.
Packaged in a reusable Mason jar, the following two recipes are sure to delight any recipient, yet they need not be reserved solely for gift giving.  The ease and taste may make them year-round favorites in your house, too.
Slow Cooker Spaghetti Sauce
Packaged in quart-size Mason jars, this hearty and healthy sauce needs only a bow for perfect gift giving. This recipe will fill three 32-ounce containers. To make the gift into a complete dinner, consider including a box of pasta and a baguette or some crusty rolls.
While this recipe makes plenty to freeze or give away, it can easily be cut in half if you prefer a smaller batch.
1 pound ground beef
1 pound turkey or pork sausage, casings removed
1 medium onion, minced (or cut in half; see notes)
4 garlic cloves, minced
2 (28-ounce) cans diced tomatoes, with juice (I like petite diced)
2 (6-ounce) cans tomato paste
2 (8-ounce) cans tomato sauce
2 bay leaves
1 tablespoon dried oregano
1 teaspoon dried thyme
1 1/2 teaspoons kosher salt
1 tablespoon sugar
Optional: 1/4 cup torn fresh basil leaves
Brown the ground beef, sausage, and onion in a large skillet or the insert of your slow cooker. Break up the meat as it cooks and add the garlic in the final minute or so, stirring until fragrant but not brown.
If cooking in a separate skillet, transfer the mixture to your slow cooker.
Add the remaining ingredients, except the fresh basil if using, and mix well.
Cover and cook on low for 6-8 hours or on high for 3-4 hours. Stir in the optional fresh basil at the end of the cooking time.
Serve over hot spaghetti noodles, or cool and then refrigerate or freeze for later use.
Notes
My mother and grandmother taught me the importance of adding a touch of sugar to tomato-based sauces. The sugar balances out the acidity of the tomatoes, bringing the flavors together beautifully without tasting sweet.
If you like the flavor of onion but don't care for the pieces in your sauce, cut the peeled onion in half, add to the slow cooker with the tomatoes, cook as directed, and remove prior to eating.
http://fountainavenuekitchen.com/slow-cooker-spaghetti-sauce/
© The Fountain Avenue Kitchen