When it comes to delicious, healthy recipes, Justine Fontinell has a few up her sleeve. From the time I went out on a limb and made her Cauliflower Fried Rice, I was confident that her recipes could be trusted. The following recipe is another way Justine lets vegetables be the star in a flavorful and filling way.
As an introduction to her recipe, Justine, of Full Belly Sisters fame, mentioned that grilling is the perfect way to add sweetness to vegetables that tend to be bitter and extra flavor to veggies that tend to be bland. Zucchini falls into the latter category, and Justine noted it's precisely that lack of strong flavor that makes this summer staple a suitable foundation for a variety of dishes.
Topped with tangy cheese and syrupy balsamic, this seasonal side dish was a hands-down hit with my family. In fact, stealth fingers seemed to remove half of the bite-size pieces from the serving dish before they ever made it to the dinner table!
For those who count calories, Justine calculated that one could consume the entire platter of this flavor-packed zucchini recipe for approximately 500 calories. The balsamic-honey syrup may be prepared in advance, making a last-minute assembly of this dish quite easy.
Coincidentally, we first enjoyed Justine's contribution alongside Christine's chicken recipes (listed above), and found the balsamic syrup to be a delicious addition to the Lemon Herb Chicken. A drizzle of this easy balsamic reduction would pair equally well with grilled or broiled salmon or a simple tomato salad. Any remaining sauce may be stored in a small jar in a cool, dark place.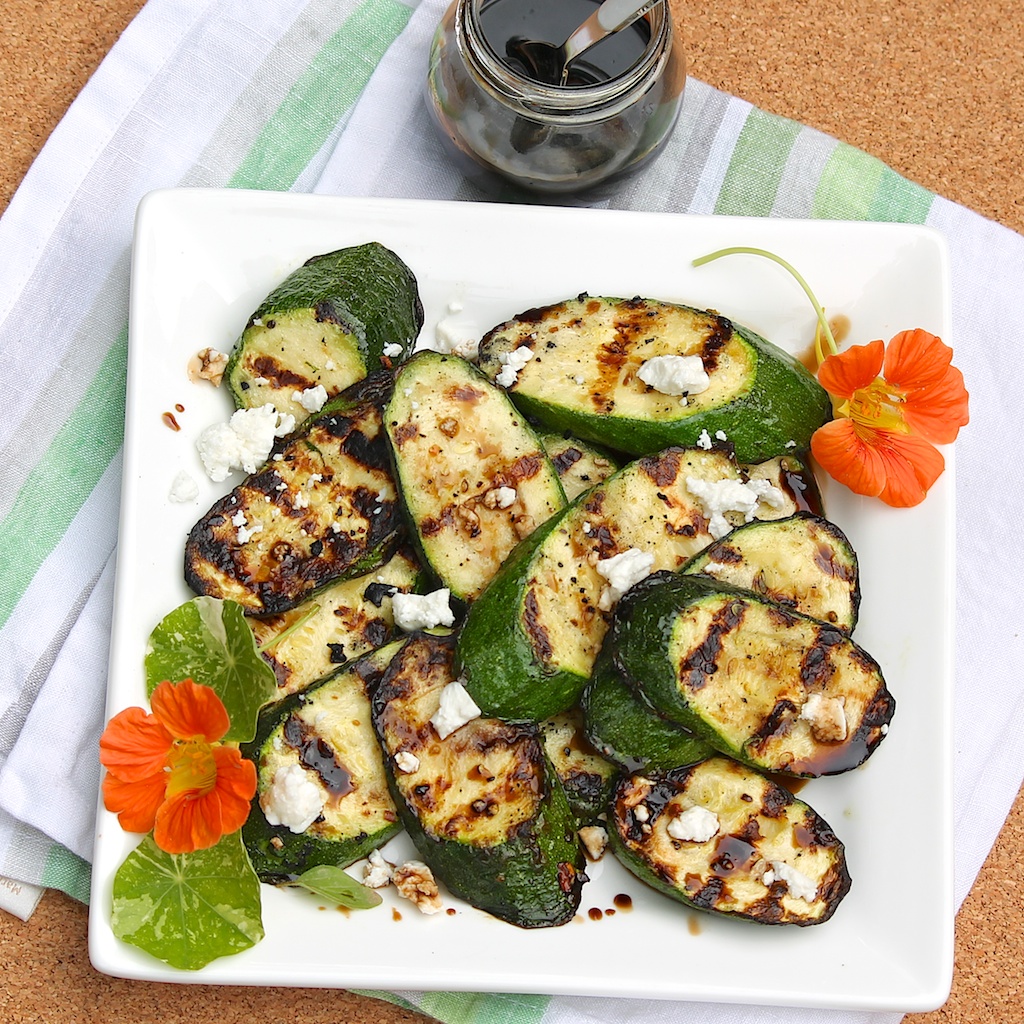 Grilled Zucchini with Goat Cheese and Balsamic-Honey Syrup
Plentiful zucchini paired with ingredients that are easy to have on hand make this savory dish both convenient and economical. If you are lucky enough to have leftovers, Justine recommends them for lunch with a side of fruit or crusty bread.

Yields 4 servings.
Ingredients
1/3 cup balsamic vinegar
2 tablespoons honey
2 medium to large zucchini (I used about 1 ¼ pounds)
1/2 teaspoon each kosher salt and freshly ground black pepper
1 tablespoon grapeseed oil (may substitute olive oil)
1/8 teaspoon red pepper flakes (optional)
2 ounces (½ cup) crumbled goat cheese, more or less to taste (may substitute feta)
Instructions
Place the balsamic vinegar and honey in a small pot. Bring to a boil, and then reduce to a simmer, stirring often. Simmer until the mixture is reduced by approximately half, stirring occasionally. The balsamic mixture should be slightly thick and syrupy, although it will thicken a little more as it cools. Remove from heat and set aside until zucchini is cooked.

Slice the zucchini into rounds on a slight diagonal, about ½-inch thick.

In a large bowl, toss the zucchini with the salt and allow to sit for 15-20 minutes. Drain the zucchini, and then toss with the oil, black pepper, and red pepper, if using. (I like to mix with my hands to make sure that the oil is evenly dispersed among the slices. Also, if you are in a hurry, you may skip the draining stage, although I find this enhances the texture of the zucchini by removing a lot of moisture.)

Heat the grill (or grill pan) to medium-high. Cook the zucchini for five or six minutes on the first side before flipping, and then cook for another three to five minutes on the second side. The zucchini should have nice grill marks on each side and be tender but not mushy. Note: Leaving the slices undisturbed while cooking will produce nice grill marks.

Arrange the zucchini slices on a large plate or platter. While the slices are still warm, sprinkle with the crumbled goat cheese, and then drizzle with a few tablespoons of the balsamic-honey syrup.
Notes
Justine has grilled the zucchini up to one day in advance, rewarming slightly and then adding the cheese and balsamic syrup just prior to serving.
The Fountain Avenue Kitchen https://fountainavenuekitchen.com/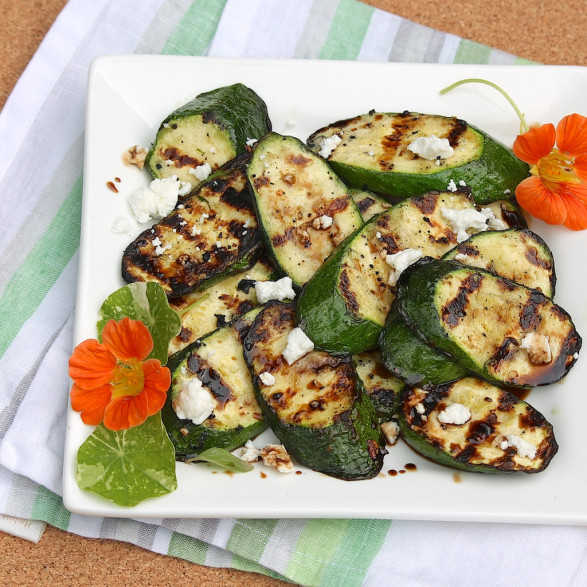 For Justine's original recipe, click here.