Coconut Pumpkin Granola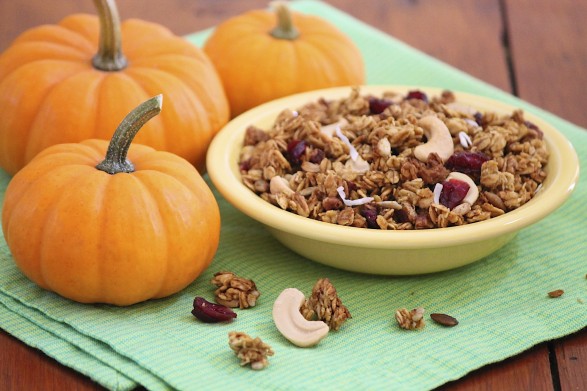 My go-to granola recipe is such a favorite, it takes a pretty terrific option for me to stray from my old standby!  But as fall rolls around and I find myself basking in the glow of one of my favorite seasonal fruits, I find myself making several batches of this delightful pumpkin version.
I have adjusted the recipe to include what I think is the ideal combination of nuts, seeds, and other add-ins.  While I adore the addition of coconut, I hesitated to include "coconut" in the recipe name.  For every person who adores coconut, there is one who steers clear.  And while this ingredient may absolutely be omitted from the recipe, I do find it adds a certain something special to the final outcome.
There is a short  list other extras, and we all have our favorites.  My favorite part of this granola is how the slight tartness of dried cranberries compliments the slightly sweet and just-a-tiny-bit salty granola.  If I want to bolster the granola into more of a snack mix, I enjoy a handful of lightly salted cashews and some sweetened coconut (even though I use unsweetened in the recipe).  My kids would also note that a sprinkle of white chocolate chips–or dark chocolate, for that matter–is an outstanding addition to a snack mix with this granola.  And I would have to agree!
5 cups old-fashioned oats (the kind that cook in 5 minutes)
1/2 cup pepitas and/or sunflower seeds
1/2 cup chopped pecans or slivered almonds (see notes)
1/3 cup shredded coconut (I use unsweetened, sweetened may be used; omit entirely if you don't care for coconut)
1 teaspoon pumpkin pie spice
1 teaspoon cinnamon
3/4 teaspoon kosher salt
3/4 cup brown sugar
1/2 cup pumpkin puree
1/4 cup maple syrup
1/4 cup melted coconut oil (may substitute mild-tasting oil of choice)
1 teaspoon vanilla
3/4 cup dried cranberries
Optional add-ins: lightly salted cashews or additional nuts of choice, coconut, chopped apricots
Preheat the oven to 325 degrees F. Line one large or two smaller baking sheets with sides with parchment paper. You may also cook directly on a lightly greased baking sheet.
In a large bowl, combine the oats, seeds, nuts if including, shredded coconut, pumpkin pie spice, cinnamon, salt, and brown sugar.
In another bowl, combine the pumpkin, maple syrup, oil, and vanilla.
Pour the wet mixture into the dry mixture, and toss until the oats are thoroughly coated.
Spread the granola onto the prepared baking sheet.
Bake for 20 minutes. Remove the granola and stir. Bake in 10 minutes increments or until the granola is mostly dry and crisp. (I typically bake for a total of 40 minutes; see notes.) Remove the granola from the oven and mix in the cranberries and any additional nuts or add-ins.
Notes
I like to add the nuts before baking so that they, too, are covered in the delicious flavors of this granola. Pecans tend to burn more easily than the seeds and almonds, so you may choose to stir them in with the dried cranberries after baking. If you do cook the granola with the nuts, simply turn down the oven temperature 25 degrees if they are sufficiently brown before the granola is finished cooking.
The granola will continue to crisp up as it cools. If you find it is not totally crisp once cooled, simply return to the oven for another 5-10 minutes. Sometimes, if I think the granola just needs a few more minutes to dry out but is mostly cooked, I turn the oven off and leave the tray in. The oven will be hot enough to keep cooking but less likely to burn the granola. (That said, set the timer so you don't forget about it!)
© The Fountain Avenue Kitchen
For related recipes, click on the following links: