Perfectly crunchy, not overly sweet, and loaded with chunks, this granola recipe makes two big baking sheets full and is a welcome breakfast or satisfying snack. It's basic pantry ingredient cooking at its best!
This recipe is one of the first I shared through the Fountain Avenue Kitchen. The accompanying photos were pretty bad, so it's unlikely that many people paid much attention to the recipe! Because I have continued to tweak the recipe–and because it's rather popular in our house–I thought it was time to give it a makeover.
As evidenced by the early pictures (see below), I have absolutely no photography training. Fortunately, my older son, John, was taking a photography class at school when I began my cooking adventure.  He gave me some of my best pointers.  I remember hovering over a tray of granola as he told me to get up close and try to show some of the texture in the food–using my iPhone camera, no less!  I have thought of that tip many times in the last couple of years.
When I first made granola from scratch, I started with a basic recipe and altered it over time.  My goal was granola with big, snack-worthy chunks, ideally with less sugar and oil than the variety I typically bought.
Delightful as a topping for yogurt or cereal-or eaten by the handful-this chunky granola also serves as a base for a hard-to-resist snack mix.  Dried cranberries, cashews, and white chocolate chips are our add-ins of choice. With the added benefit of being mostly healthy and portable, this mix is a welcome lunchbox addition and a filling snack.
My husband, a frequent flyer, thinks this is the perfect snack to take while traveling…no need to refrigerate and, when paired with fruit and a yogurt, can stand in for breakfast or lunch.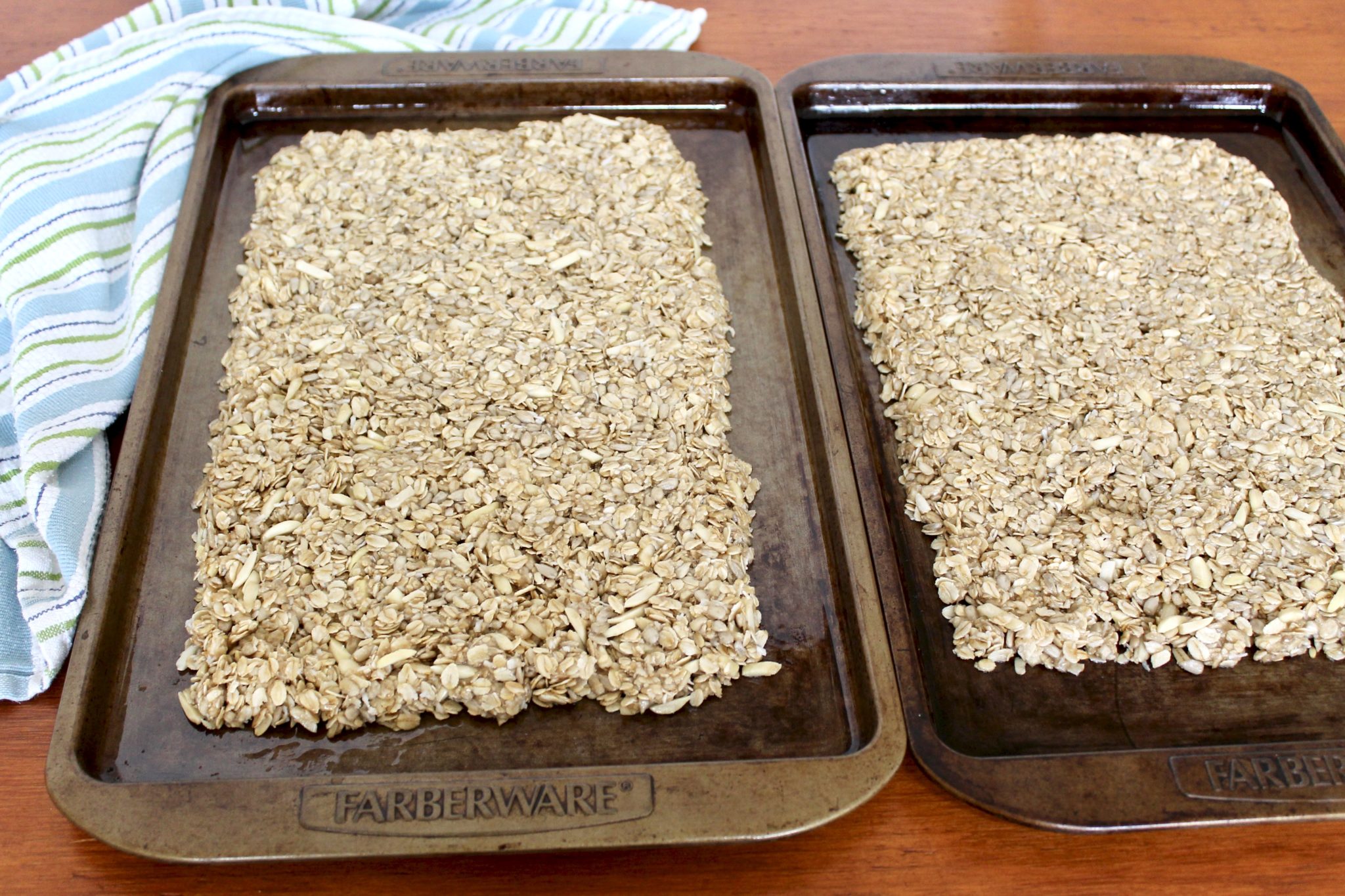 For maximum chunks, press the mixture together firmly before baking and flip in large sections. (A metal spatula and the flat bottom of a measuring cup come in handy to achieve the above look!)  For looser granola, simply distribute the mixture over the baking sheets (no pressing necessary) and break up the chunks when you stir.
The bottom photo shows just how big you can make the chunks if you follow this technique. (And this is after breaking some into smaller pieces.) More recently, I have also tried baking the granola without flipping or stirring at all, and that works quite well. If you want to try this, check occasionally to make sure the edges aren't becoming too brown. If they are, reduce the oven temperature by 25 degrees and move the browned edges to the center of the baking sheet.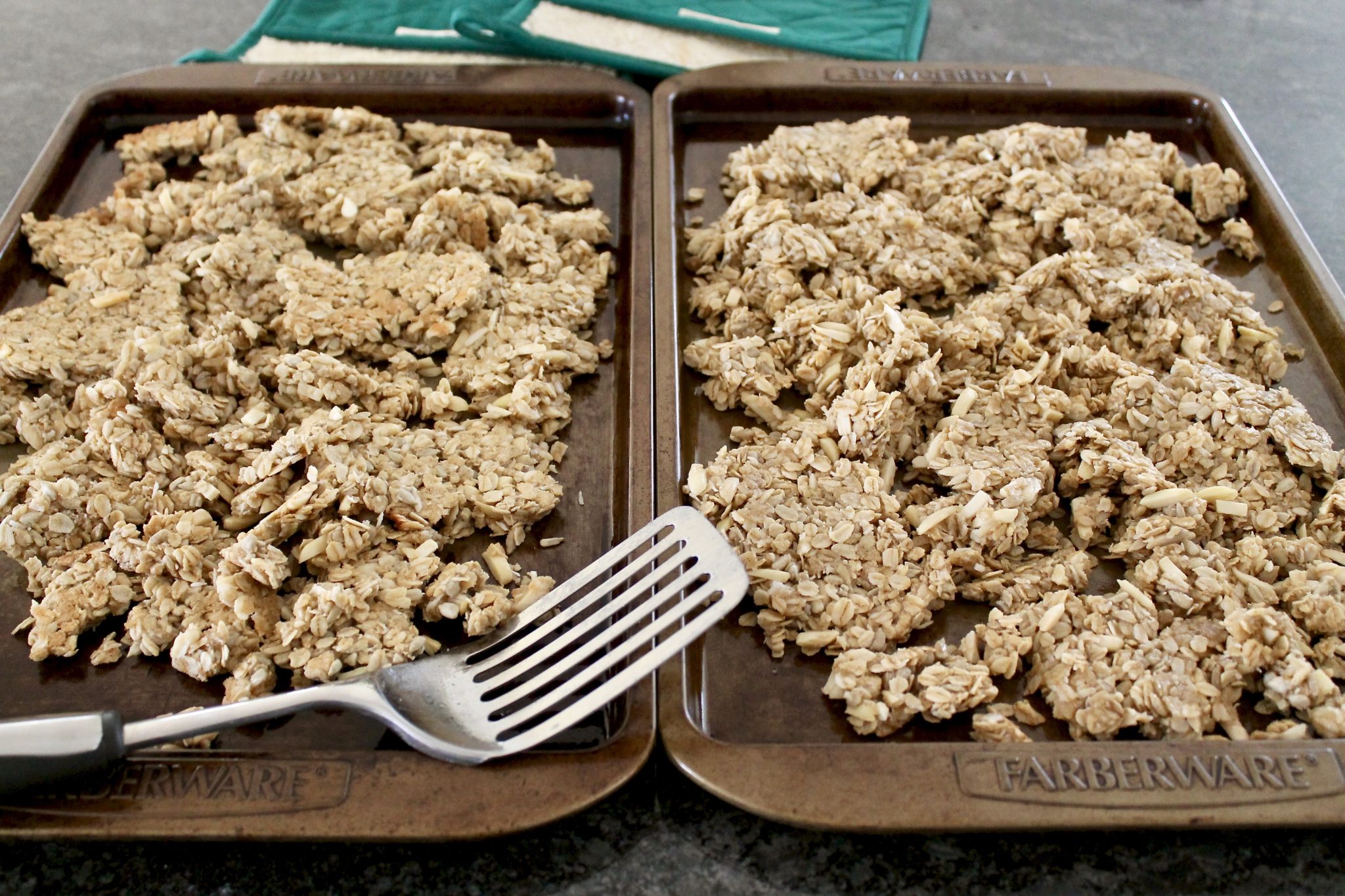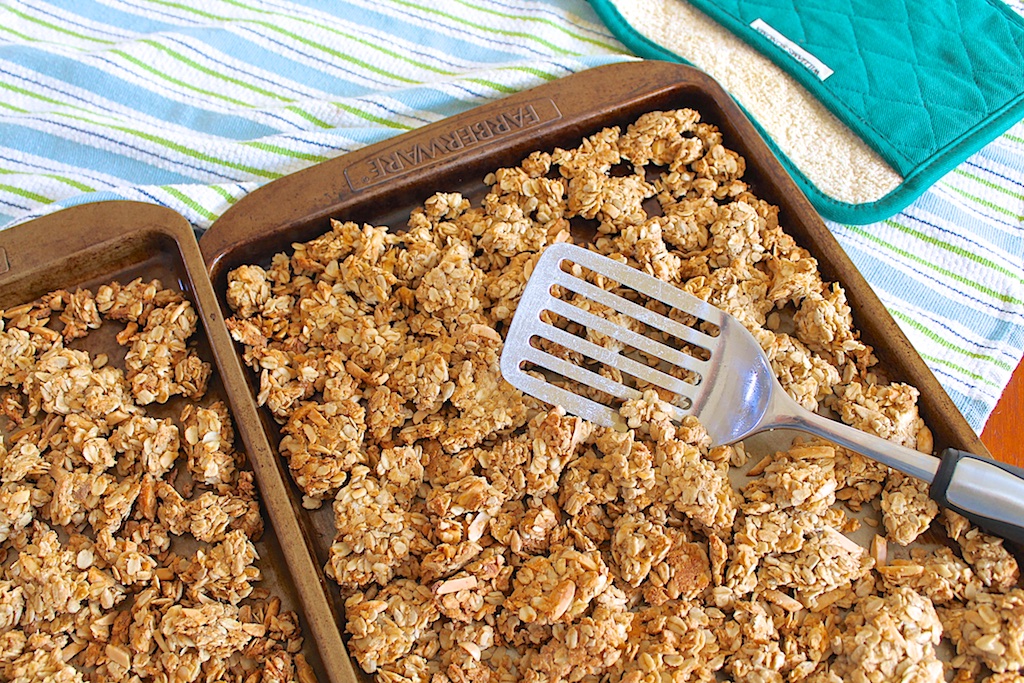 Chunky Homemade Granola
Yield: 2 full baking sheets
Ingredients
6 cups old-fashioned oats
1 1/2 cups slivered almonds
1 1/2 cups unsalted sunflower seeds
1 cup whole wheat flour (see notes for GF options)
3/4 cup brown sugar
1 teaspoon kosher salt
3/4 cup melted coconut oil (may substitute; see notes)
1/2 cup water
1/2 cup pure maple syrup (may substitute honey)
Optional: 2/3 cup shredded coconut (I use unsweetened)
Instructions
Preheat the oven to 300 degrees F. Grease or line with parchment paper two baking sheets (with sides).

In a very large bowl, combine the oats, almonds, sunflower seeds, flour, brown sugar, salt, and optional coconut. In a medium bowl, combine the oil, maple syrup, and water. Add the wet ingredients to the dry ingredients, and stir until the dry ingredients are completely moistened.

Spread the oat mixture over the prepared baking sheets. Press the mixture into a big, even rectangle on each baking sheet to start. (This will help the pieces bind.)

Bake for 20 minutes, flipping in large sections with a spatula after 10 minutes. After the first 20 minutes, switch the trays around in oven and bake 10-20 minutes more, flipping every 10 minutes, or until dried out and lightly golden. (If you're not interested in chunks, stir and break up the mixture as you go. If you want bigger chunks, flip in large sections. You can break them into smaller pieces later, if desired.)

Remove from the oven, and do not stir again until completely cooled. Stored in an airtight container, the granola will stay fresh for at least a week on the counter and a month or more in the refrigerator. Freezes well, too.
Notes
I have substituted my all-purpose, gluten-free flour blend and several store-bought blends with excellent results. Most recently, I used flax meal. The flavor difference with the flax meal was negligible, and while the granola was slightly less chunky, I wouldn't hesitate to make it this way again.
While my favorite oil in this granola is coconut oil (for both its aroma and light flavor), I have used canola and olive oil and both are fine substitutes.
Favorite combinations for snack mix add-ins include the following: 
white chocolate chips, dried cranberries, and cashews; dark chocolate chips, dried cherries, and walnuts or pecans; mini M&Ms, raisins, banana chips, and peanuts; butterscotch or cinnamon chips, chopped dried apricots, and macadamia nuts.
The Fountain Avenue Kitchen https://fountainavenuekitchen.com/
This is one of the first recipes I shared through The Fountain Avenue Kitchen.  Here are some early photos…