Beef & Brown Rice Stuffed 8-Ball Zucchini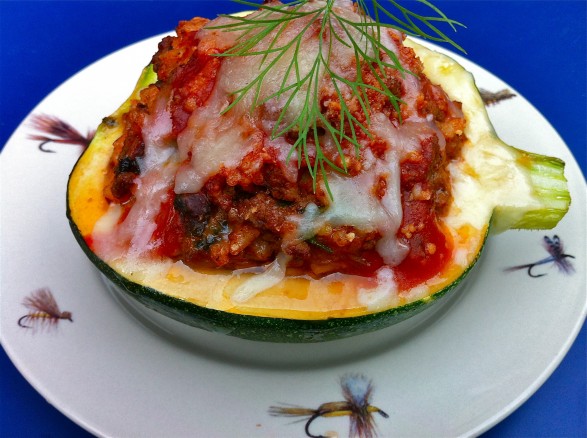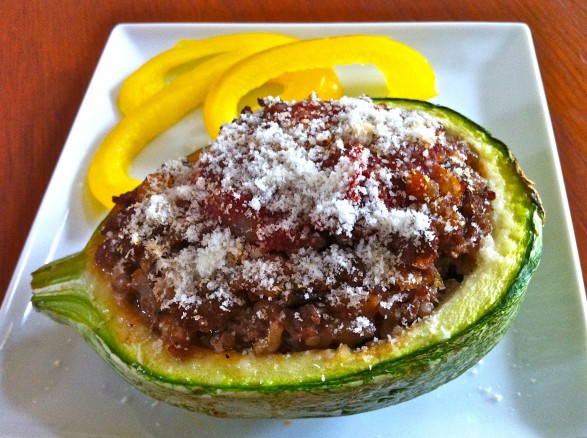 This recipe was inspired by some very novel and quite beautiful 8-ball zucchini I found strolling the grocery store aisles.  These orbs were so pretty, I almost hated to cut them! The 8-ball is a newer variety of zucchini that is becoming more popular in markets and home gardens, but regular zucchini may be used in its place.
The savory beef-rice mixture is similar to something I often bake in bell peppers, and peppers can certainly be used here, too.  If using the 8-ball zucchinis, you may also hollow them out from the top and stuff the whole zucchini.  I cut them in half which allowed for what I thought was the perfect ratio of filling to squash.  Either way, I think you will enjoy!
Update:  I just made these again–they were a request from my husband for dinner while visiting his parents.  After sautéing the meat, I stirred in a mixture of fresh herbs.  After 25 minutes of baking (I poke the zucchini with a knife to see if it's crisp-tender–if not, bake a few minutes more), I topped with cheddar cheese and baked about three minutes more.   I served with Corn and Cucumber Salad with Basil and Chives, although this is truly a satisfying meal all by itself!
Beef & Brown Rice Stuffed 8-Ball Zucchini
If 8-Ball Zucchini are not available, you may absolutely substitute regular zucchini or summer squash. Simply cut in half lengthwise and hollow out the halves like boats. Bell peppers are another great choice.
4 medium-size round (8-ball) zucchini (or use regular-shaped zucchini)
1 onion, chopped
1/2 bell pepper, chopped (use color of choice)
2 teaspoons olive oil
1 pound lean ground beef, grass-fed if possible
1 teaspoon all-natural Montreal Steak seasoning (See note)
1 teaspoon kosher salt and freshly ground pepper to taste
1 cup cooked brown rice
1 cup tomato sauce (plus more for topping, if desired)
1/4 cup finely grated Parmesan cheese (plus more for topping, if desired)
Preheat oven to 375 degrees.
Cut zucchini in half lengthwise. Then, using a teaspoon or melon baller, scoop out and discard most of the zucchini flesh and seeds, leaving a 1/2 inch of flesh attached to the skin. If your zucchini are rolling around a lot, you can cut a thin slice on the bottom side of each to make them stand up.
Heat the olive oil in a large skillet (cast iron works well) and sauté the chopped onions until they are just starting to soften, about 5 minutes. Add the ground beef to the pan and cook until starting to brown. When the meat is about half cooked, add the bell pepper along with the seasoning blend, salt and pepper. Stir and continue to cook until meat is well browned, breaking it into small pieces with your spoon or spatula.
Remove from heat, and stir in the rice, tomato sauce, and Parmesan cheese.
Choose a baking dish just big enough to hold the zucchini, and lightly grease it. Stuff the zucchini with the beef mixture, and top with a little extra tomato sauce and cheese.
Place the zucchini in the baking dish, and roast uncovered 20-30 minutes, until zucchini is tender-crisp, and the filling is hot and slightly browned.
Notes
My Montreal Steak seasoning is sodium free. If you use a blend with salt, you may want to omit the added salt or at least taste before adding more.
Ground sausage is a great option to the ground beef. Other vegetables, such as sautéed mushrooms, may be added, as well. Cheddar cheese may also be used in place of the Parmesan.
To give you an idea on size, my zucchinis were about the size of a softball.
http://fountainavenuekitchen.com/brown-rice-grass-fed-beef-stuffed-8-ball-zucchini/
© The Fountain Avenue Kitchen