Occasionally, I hear people say that they don't care for leftovers. The first thing that enters my mind is that their job of getting dinner on the table every night is undoubtedly harder than it is for those of us who embrace the extras. Then I think about all of the delicious things that really do improve with age. They might not know what they're missing!
Chicken and corn on the cob are two items I almost always stretch into a second meal. Some of my friends tell me that they never have leftovers, to which I say, buy a little more! And then set aside what you need for the next night to ensure your plan doesn't go awry.
Many frequent readers of this blog have enjoyed my fresh-tasting recipe for Corn and Cucumber Salad with Basil and Chives. It's an oldie-but-goodie that can be whipped up in minutes and is always a hit with company. Lately, we can't get enough of my spin on Elote, otherwise know as Mexican Street Corn. It's popular street food in Mexico that is typically served on a stick and topped with condiments including mayo or Mexican crema, lime juice, chili powder, and grated cotija cheese–a dry, salty cheese similar to feta.
For a quick and easy side dish that really satisfies, I turn that leftover corn into a wholesome Mexican street corn salad. We eat this often in the summer months, although frozen corn offers a worthy stand-in for fresh when an out-of-season craving hits. The salad's bright flavor makes it a true standout, and the simple addition of chicken or shrimp (again, leftover is fine–try black beans and/or chopped avocado for a vegetarian option) and perhaps some sliced, vine-ripened tomatoes, creates a complete meal that completely redefines the leftovers.
The last time I made this salad, I had invited a neighbor for dinner, and I ran a side-by-side taste test with a new-to-me mayonnaise made by Tessemae's. I'm a diehard mayo fan, although I try to limit my consumption given its less than wholesome nutritional profile. I tend to be skeptical about healthier versions, because I've eaten the same brand since I started eating cheese and mayo sandwiches as a very young girl. (Seriously, that was my school lunch for YEARS!)
At first glance, Tessemae's version looked a little smoother in texture and ever-so-slightly thinner in consistency than the mayo I grew up eating. The taste was mildly different but quite good. The taste test pitted Tessemae's mayo against a name brand standard. When I ultimately confused the samples and nobody could tell the difference, I figured I had my answer.
I am very careful about recommending products–I am choosy where my readers are concerned and do so only with products I genuinely use and feel good about serving my family. Since I often hear from readers who would like a healthier mayonnaise that doesn't sacrifice taste, I though this was worth a mention. If you try, feel free to report back!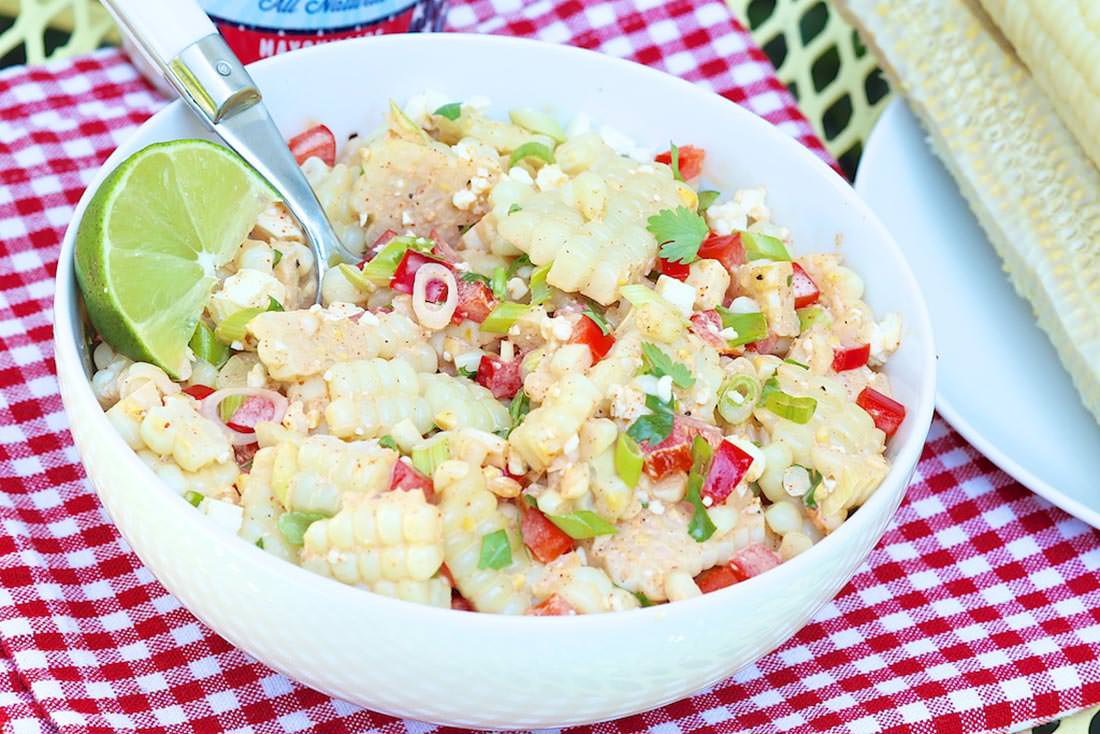 Mexican Street Corn Salad
2016-07-23 18:10:04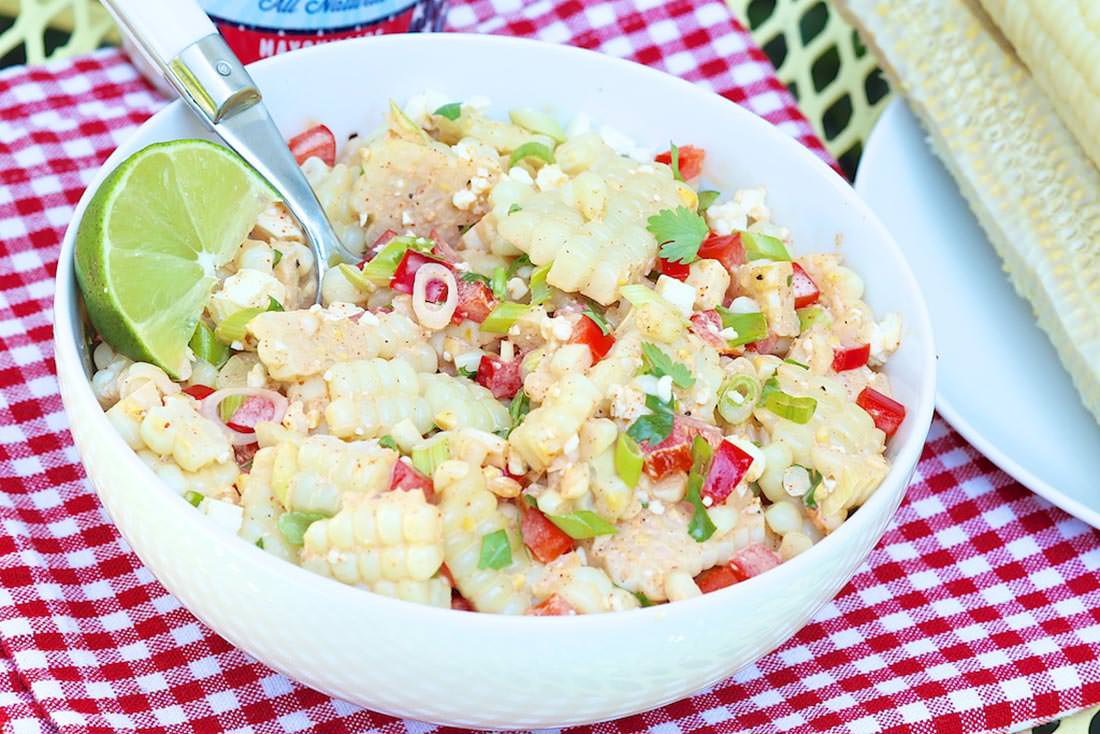 Yield: 6-8 side dish servings
Ingredients
4 ears of corn, grilled or steamed* (3 cups or 15 ounces kernels)
1 red bell pepper (1 cup), seeded and chopped so the pieces are about the same size as corn kernels
1/2 cup (2 ounces) crumbled feta cheese (may use cotija cheese if available)
1/4 cup (lightly packed) chopped fresh cilantro (may substitute fresh parsley)
2 green onions, sliced (could substitute 1/4 cup minced red onion)
1/4 cup (52 grams) mayonnaise (For a healthier, all-natural option, you might like Tessemae's mayo)
2 tablespoons (30 ml) freshly squeezed lime juice
1/2 teaspoon chili powder
Optional add-ins: chopped avocado; a cup or so of black beans, additional cilantro or parsley to taste; a handful of halved cherry or grape tomatoes, a few slices of cooked and crumbled bacon
Instructions
Slice the cooked corn off the cobs, and add to a large bowl along with the red pepper, feta, cilantro, and onions.
In a small bowl, mix the mayonnaise, lime juice and chili powder. (The mayo mixture may be prepared well in advance and refrigerated until ready to use.) Pour over the corn mixture and toss to evenly distribute.
The salad may be served right away, although the flavors will improve after a few hours in the fridge. Leftovers are delicious, too.
Notes
You may use frozen and thawed when fresh isn't available. In season, I often make extra corn on the cob, and then cool and refrigerate it to make this salad especially easy to prepare another night. For a slightly different flavor—and to perk up thawed, frozen corn--you can sear the corn in an oiled skillet over medium-high heat until the corn is lightly browned.
Feel free to add salt and pepper to taste. I omit the salt because the feta provides a hint of saltiness but often add several turns of the pepper mill.
The Fountain Avenue Kitchen https://fountainavenuekitchen.com/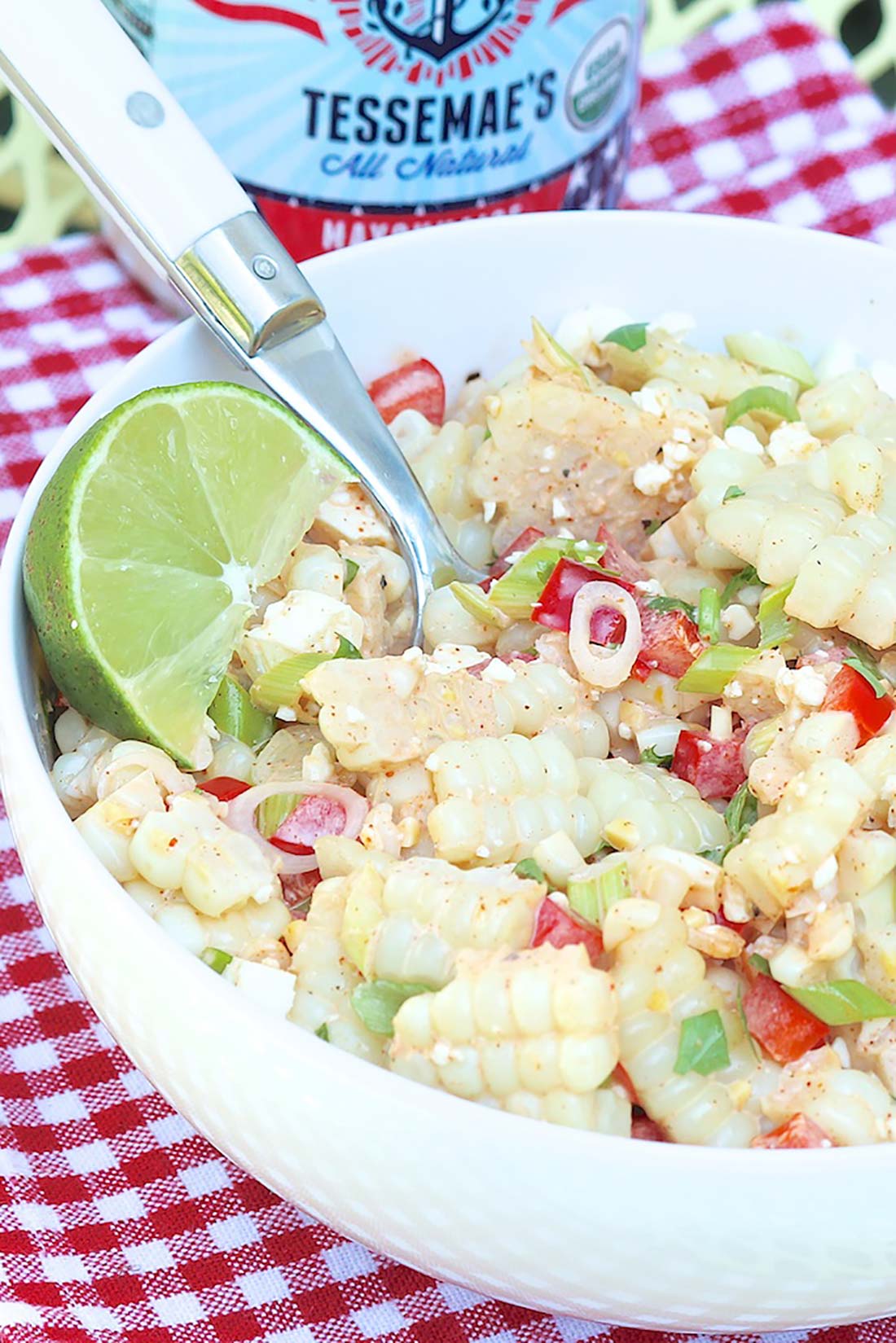 I have made this salad many times for family, friends and neighbors and it receives consistently glowing reviews. The flavor improves over time as the tangy lime juice mellows and contributes a bright taste that is memorable yet not overwhelming.