Giant Chipwich Cake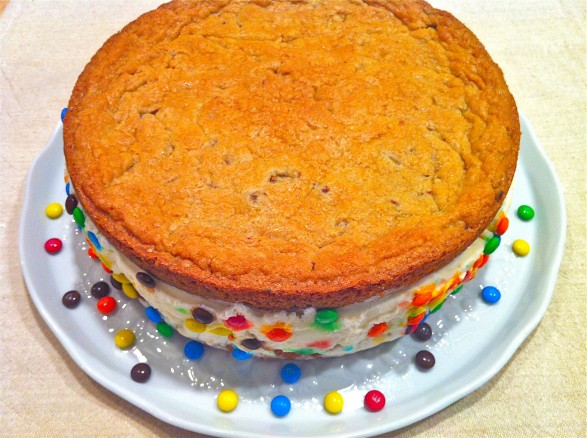 Wanting to do something different for my soon-to-be 14-year-old's birthday cake, I thought of a pizza-size chocolate chip cookie.  Those who know me well are aware of my fondness for ice cream, so it is no big surprise my mind wandered quickly to the thought of a great big chipwich!
I played with the classic Tollhouse cookie recipe, reducing the flour and adjusting the baking temperature.  I baked the dough in two cake pans but removed 1 1/4 cups of the dough (10 ounces) to achieve the right thickness.   If you are sticking with two over-sized cookies, you could divide all the dough between the two pans.   Conversely, you could make one big cookie, using a 14-inch pizza pan.  I baked the dough that I removed in a 6-inch pie dish, although you could make cookies instead.
After tasting the plain cookie with the modified recipe, I decided this would be my new way to make cookies.  Not only was it easy, the texture and taste was simply amazing.  You simply must try this!  Bonus:  the ice cream version made eyes pop and smiles stretch from ear to ear.  Not only did it look festive and fun, it tasted fabulous!
This recipe is really very easy and can be prepared in steps over time and made well in advance.  I am providing a few extra details on different cooking options and how to make the assembly simple.
1 cup butter, softened
3/4 cup granulated sugar
3/4 cup packed brown sugar
1 teaspoon vanilla extract
2 eggs
2 cups all-purpose flour
1 teaspoon salt
1 teaspoon baking soda
2 cups semisweet chocolate chips or chunks
1 ½ quarts vanilla ice cream (or flavor of choice)
Icing or decorations (sprinkles, mini M&Ms), if desired
In large bowl, beat butter, granulated sugar, brown sugar, and vanilla until light and fluffy. Add eggs, one at a time, beating well.
Gradually add flour, salt, and baking soda, beating until well blended. Stir in chocolate chips.
Spread into 2 9-inch cake pans (greased and lined with parchment paper for easy removal), removing 10 ounces or 1¼ cups of the dough if you want to make the chipwich. Bake at 350 degrees for approximately 15 minutes or until just cooked through in the center. Bake an additional 3 minutes or so if you are dividing all the dough between the two pans.
Cool the cookies for 10-15 minutes in the pan, and then remove to a cooling rack. If proceeding to make the chipwich, wrap and store in the refrigerator until ready to assemble.
Soften ice cream a bit. If you have a 10-inch spring-form pan, line it with foil and place one cookie, top down, in the pan. Spread the ice cream evenly over the cookie. Top with the second cookie. Wrap and freeze until ready to use. The pan allows you to fill the cookie with ice cream with little mess and can be easily removed at serving time.
If you wish to cover the edges with sprinkles, mini M&Ms, nuts, etc., allow ice cream to soften a bit, and then roll cookie edges in desired topping. Freeze until ready to eat.
Before serving, let sit for five minutes or so at room temperature for easier cutting. ENJOY!!!
Notes
I baked the removed dough in a 6-inch pie plate for 15 minutes at 350 degrees.
© The Fountain Avenue Kitchen