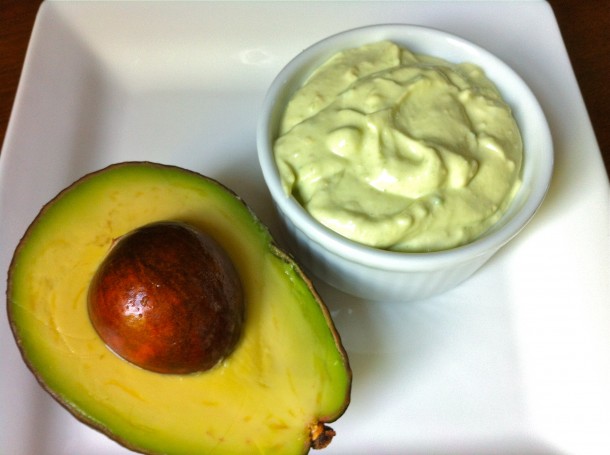 A simple wasabi sauce dresses up grilled tuna beautifully.  It is quick and easy and makes an otherwise unadorned tuna steak special.  Since I started making this with avocado, I love it ten times as much and have easily found ways to use the leftovers.  (And I no longer wait for just tuna to make it!)  Likewise, it has been a hit with kids and company.
Spoon over Asian Tomato Grilled Tuna (recipe coming soon) or any other fish you like.  I also loved it mashed into a baked potato or stirred into rice.  Come to think of it, I think it would be pretty fabulous on steak or grilled chicken.  (Can you tell I like this one?)  It is a rather healthy recipe, although you wouldn't guess it by the creaminess and flavor!
Note:  I have tried this recipe using all Greek yogurt but find the mayo balances the flavors nicely.
Avocado Wasabi Sauce:
1/2 a ripe avocado
1/4 cup plain Greek yogurt (I use Chobani non-fat for this)
1/4 cup mayonnaise
1 teaspoon wasabi powder (or more to taste)
1/2 tablespoon lime juice
1/2 teaspoon sea or kosher salt
In a medium bowl, dissolve the wasabi powder in the lime juice.  Scoop the avocado out of the shell and into the bowl.  Mash well.  Add the remaining ingredients and stir until completely blended.  Store in the refrigerator until ready to use.
Will keep several days stored, covered, in the fridge.  This recipe yields about one cup of sauce and may be doubled easily.
This recipe was shared with Recipes for my Boys Thursday's Treasures, week 35 and Amee's Savory Dish's Fit and Fabulous Fridays.