For many years, I owned a slow cooker that I hardly used. It was my grandmother's old Crock Pot, and it had a small crack down the side of the ceramic insert. While it still functioned, I eventually stopped using it. I knew that, one day, the small crack would turn into a big crack and our dinner would be all over the counter!
For Christmas two years ago, my mother-in-law gave me a brand new model that I have put to work more than I ever did my grandmother's relic. From breakfast to dessert options, I have discovered a myriad of uses for it that travel far beyond the beef stew that was my original Crock Pot meal.
I make no firm claims as to the ethnic authenticity of the following recipe, yet this speedy version of an Indian classic has become a go-to dinner for me on a busy day. It's great for casual weekend dinners with friends, too. The prep can be completed in a flash, and then the slow cooker takes over. The incredible aroma belies the ease of this comforting meal.
The complexity of this dish comes from a spice that may be new to many: garam masala. Like curry powder, garam masala is not just one spice, but a blend of many, including cumin, coriander, cardamom and cloves. Available in the spice aisle of most large grocery stores, smaller (and extremely fresh) quantities are available at the Herb Shop at Lancaster's Central Market, for those of you who live nearby.
Instead of using cream, I have substituted coconut milk for a healthier spin on the traditional recipe. (If you don't care for coconut, rest assured. My husband, who is not a big fan, hasn't detected this swap.) I also like to garnish with mint instead of the more commonly used cilantro. It adds a fresh flavor and is a great option for those who find cilantro to be a bit too pungent. A bit of chopped cucumber adds a crisp finish and a nice counterbalance in texture.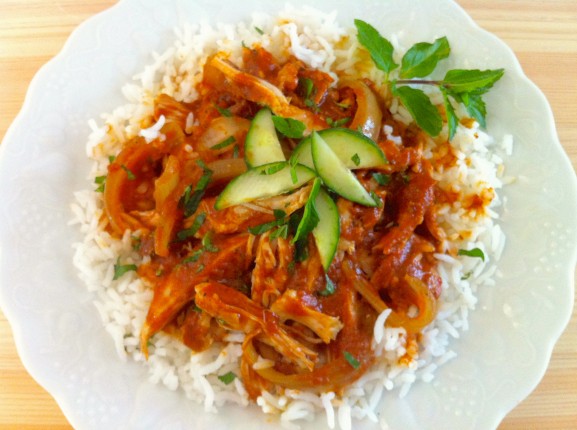 Easy Slow Cooker Chicken Tikka Masala
2015-11-20 10:28:03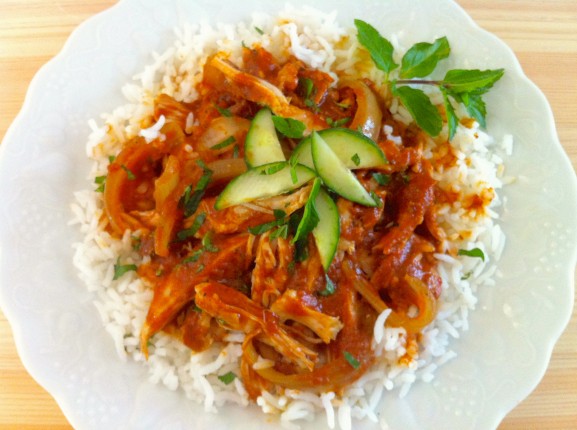 I have made this recipe using curry powder in place of the garam masala, and it is also delicious. If you have not tasted garam masala, however, I recommend that you try. You may further adapt this recipe by adding a cup or so of canned, rinsed garbanzo beans.
Ingredients
1 15-ounce can tomato sauce (or about two cups homemade)
1/2 cup light or regular coconut milk (see notes)
1 large onion, chopped or sliced
3-4 garlic cloves, chopped
2 tablespoons tomato paste (see notes)
2 teaspoons garam masala (Indian spice blend)
1/4 teaspoon sugar
Kosher salt and freshly ground pepper
2 1/2 pounds boneless, skinless chicken thighs (about 8-12, depending on size; could substitute chicken breasts)
Cooked rice for serving
Optional garnishes: chopped or sliced cucumber, fresh mint, and/or cilantro
Instructions
In a slow cooker, combine the tomato sauce, coconut milk, onion, garlic, tomato paste, garam masala, sugar, salt (I use about 3/4 teaspoon) and several turns of the pepper mill.
Place the chicken on top, flipping to moisten with the sauce. I put a few of the onion slices on top of the chicken as well.
Cover and cook until chicken is tender, 3-4 hours on high or 6-7 hours on low.
Shred chicken thighs, if desired, or leave whole. Serve chicken and sauce atop the cooked rice and garnish with cucumbers and fresh herbs, as desired.
Notes
You may substitute cream for the coconut milk. In that case, stir in at the end of the cooking time.
The tubes of tomato paste are handy when using small amounts. If using a can, consider freezing the leftover in one-tablespoon "globs" for future use.
The Fountain Avenue Kitchen http://fountainavenuekitchen.com/
This recipe was happily shared with Recipes for My Boys' Thursday's Treasures and Foodie Friends Friday.