When the first local asparagus hits our markets, I am so happy. There is just something about this crisp green stalk that tastes so good.
I could eat asparagus every night, simply roasted with a bit of salt and pepper. A well chosen extra ingredient or two, however, keeps the preparation easy while adding something particularly special to the taste.
Wrapping the spears in thin slivers of prosciutto, then roasting at a high heat, will add a salty, savory, crispy layer that is so very good. The trick, however, is making the prosciutto crispy. I like to roast the wrapped asparagus until it is not quite cooked, and then briefly broil to achieve perfection. If the spears are very thin, you can bundle a few together and wrap as directed.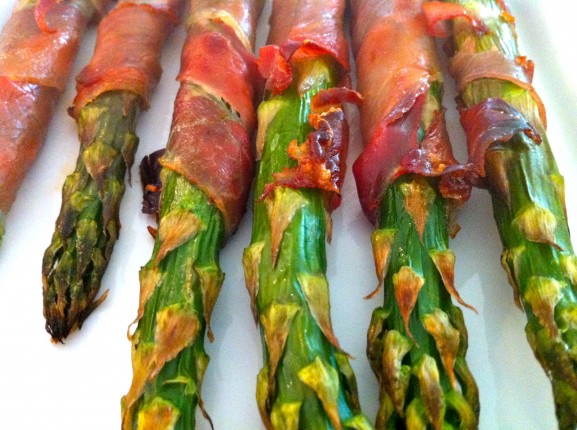 Prosciutto-Wrapped Asparagus
2015-12-09 13:45:02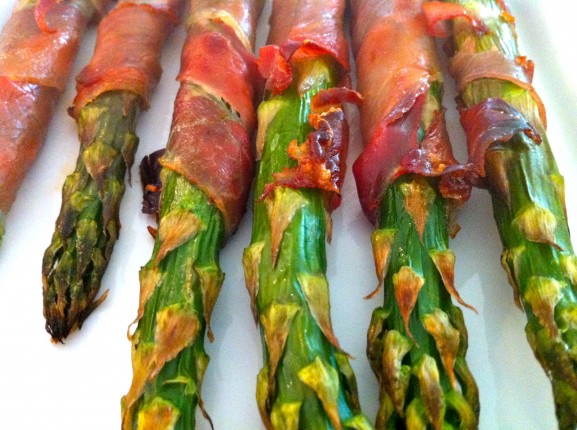 Ingredients
1/2 piece of paper-thin prosciutto for each thick spear of asparagus (you may bundle several thin spears)
Asparagus (tough bottom ends snapped off)
Instructions
Preheat the oven to 450 degrees F.
Wrap the asparagus with a piece of prosciutto that has been cut longways, starting at the bottom of the spear and working your way up. Wrap as tightly as you can. Place wrapped spears on a lightly-greased baking sheet, tucking under the prosciutto ends.
Roast for 5-8 minutes, depending on thickness. These spears were thick and took 8 minutes. You want them slightly more al dente than you want to eat them at this point; check early by inserting the sharp point of a knife into one of the spears. Switch the oven setting to broil, and broil 1-2 minutes, rotating once, or until the prosciutto is crisp. Watch carefully so as not to burn.
Remove from oven and enjoy!
The Fountain Avenue Kitchen http://fountainavenuekitchen.com/