Slow Cooker Spicy Mango Chicken Chili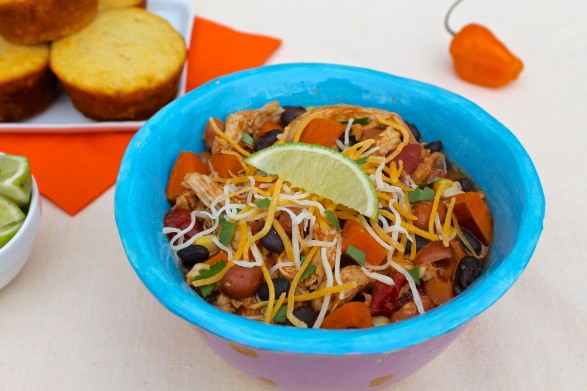 I have a lot of thoughts stemming from the pretty little bowl pictured above.  First, I should mention that this is the second recipe in my series for Sargento Cheese, and I am really excited about it.  (For the first recipe, a review of my flavor trend "journey", and Rick Bayless' top 10 food trends, click here.)  Secondly, the above-pictured bowl came from a school fundraiser called "Empty Bowls" where the students spend several months in art class molding and glazing hundreds of pottery bowls.  A five dollar admission to the school-provided dinner buys a bowl and soup to fill that hand-crafted bowl.  The proceeds from this very well attended event go to fight hunger.  We now have a nice collection of bowls with special meaning, and I thought this student-driven idea was worth a mention.
So back to the cheese.  The day after I returned from visiting the Sargento headquarters outside of Milwaukee, Wisconsin in February, my sons' school held its annual chili cook-off. There is a long-standing rivalry between the science and English departments along with many other worthy entries.  The chili is ladled into small cups so we can sample many entries before becoming too full to swallow one more bean.  The event is as delicious as it is fun–a great time to visit with friends, parents, and teachers while eating well and casting votes for the best bowl of chili.
The chili that unexpectedly peaked my interest this year was one with mango in it.  I have to admit, I didn't think I was going to like it.  I wasn't sure I wanted fruit in my chili!  Ultimately, this chili with a sweet and spicy kick was my favorite and I immediately knew I wanted to create a recipe around these amazing flavors.  I knew this would be a perfect way to incorporate my  "braised meats" flavor trend with another trend that Rick Bayless really got me thinking about:  habanero peppers.  For the record, the spiciness of this pepper that is known to be HOT can be mitigated by removing the seeds and veins.  (Wear gloves in case you accidentally touch your eyes after handling them.)  Once the seeds and veins are removed, this pepper has a fruitiness that is welcoming to other fruits such as strawberries, kiwi, and mango.
While the mango chili chef kindly shared her recipe after I went back for thirds, I adapted the recipe to include my trends and create a level of "soupiness" that I think is just right.  And then there is the cheese.  Cheese is the perfect match to a spicy pepper, mitigating some of the heat.  The use of mango salsa provides a hint of sweetness that is not at all overpowering, and it eliminates the need to wait for a perfectly ripe mango, which can be elusive.  I do not have a high threshold for spiciness and, to me, this recipe is spicy in a comfortable way.  My husband and kids enjoyed the level of heat and were happy when I made this recipe subsequent times as I tweaked the ingredients.  Mango Chicken Chili is quickly turning into a favorite here for both its taste and ease of preparation.  Moreover, it is loaded with healthy ingredients and leftovers taste terrific!
This recipe also includes sweet potatoes.  The funny thing is that my younger son, who does not like sweet potatoes, gobbled up every last bite.  When I commented on his clean bowl, he mentioned all those yummy mango pieces.  I explained to him that the mango pieces in the salsa were quite small; the bigger orange chunks were sweet potatoes.  His chin sort of dropped and I said, "Well, I guess you like sweet potatoes now!"  We all laughed.  He doesn't like black beans either.  I didn't say anything.  Do you think he thought they were raisins?
For the Honey Sweetened Corn Muffin recipe in the photo above, click here.
Slow Cooker Spicy Mango Chicken Chili
The spicy-sweet combination in this chili makes it uniquely delicious. If you aren't a big fan of heat or are starting with a spicy salsa, you may certainly forego the chili pepper; I have made this recipe with and without it. Once the seeds and veins are removed from the habanero, however, the heat is greatly reduced and the fruity undertones pair beautifully with the mango.
2 pounds boneless, skinless chicken breasts
1 pound sweet potato, chopped (about two medium or one very large potato; I keep skin on)
1 15.5-ounce can pinto beans, rinsed and drained
1 15.5-ounce can black beans, rinsed and drained
1 12-ounce bottle of beer (I used Corona; use your favorite or substitute low-sodium chicken broth)
1 habanero chili pepper, seeds and veins removed and minced (see note)
1 small onion to medium, chopped (red or yellow)
4 garlic cloves, minced
1 16-ounce jar mango salsa (see note)
2 teaspoons chili powder
1 teaspoon ground cumin
1 slightly-rounded cup frozen corn (could substitute canned or fresh when in season)
1 cup Sargento Cheddar Jack or Mexican 4 Cheese (for extra heat, try Pepper Jack)
3/4 teaspoon kosher salt
Optional garnishes: additional cheese; cilantro; lime wedges; chopped avocado or guacamole; sour cream or Greek yogurt
Place all the ingredients except the corn and the cheese in the slow cooker.
Cook on high for 3-4 hours or on low for 6-8 hours.
Remove the chicken to a plate. With two forks, shred the chicken into bite-size pieces and return to the slow cooker. At the same time, add the corn, cheese, and salt.
Cook for 10 minutes more or until the corn is heated and the cheese is melted.
Ladle into warm bowls and garnish, as desired.
Notes
The brand of mango salsa I used was Mrs. Renfro's. My friend who inspired this recipe raves about a peach mango salsa by Desert Pepper Trading Company. Both are medium hot.
When removing the seeds and veins from the habanero, consider wearing gloves. If not, make extra sure not to touch your hands to your eyes before a thorough washing. This holds true for any hot pepper.
http://fountainavenuekitchen.com/slow-cooker-spicy-mango-chicken-chili/
© The Fountain Avenue Kitchen