Many years ago, when my then-two-year-old son was recovering from a tonsillectomy, our dog Angus got sick. Really sick.
I vividly remember walking my older son to the bus stop one cold winter morning. My husband had just left for an extended business trip, my house smelled like a very ill dog, and my younger son—who refused to eat, drink, or sleep–was flopped over my shoulder. I couldn't leave him alone, and my older son was too young to stand at the bus stop unattended. I literally burst into tears at the sight of my friend Judy.
She immediately asked if there were complications from the surgery and if there was anything she could do. I managed a little laugh and said that I thought I had everything under control—until the dog got sick. That curveball tested my limits.
Angus, our beloved springer spaniel, was on and off IV fluids for several days and for many weeks I fed him a vet-recommended diet of rice and boiled meat. When a friend shared her timesaving trick of mixing jarred baby food beef into the cooked rice, it was a breath of fresh air. As I played nurse to son and dog, any timesaving shortcut was a welcome lifeline.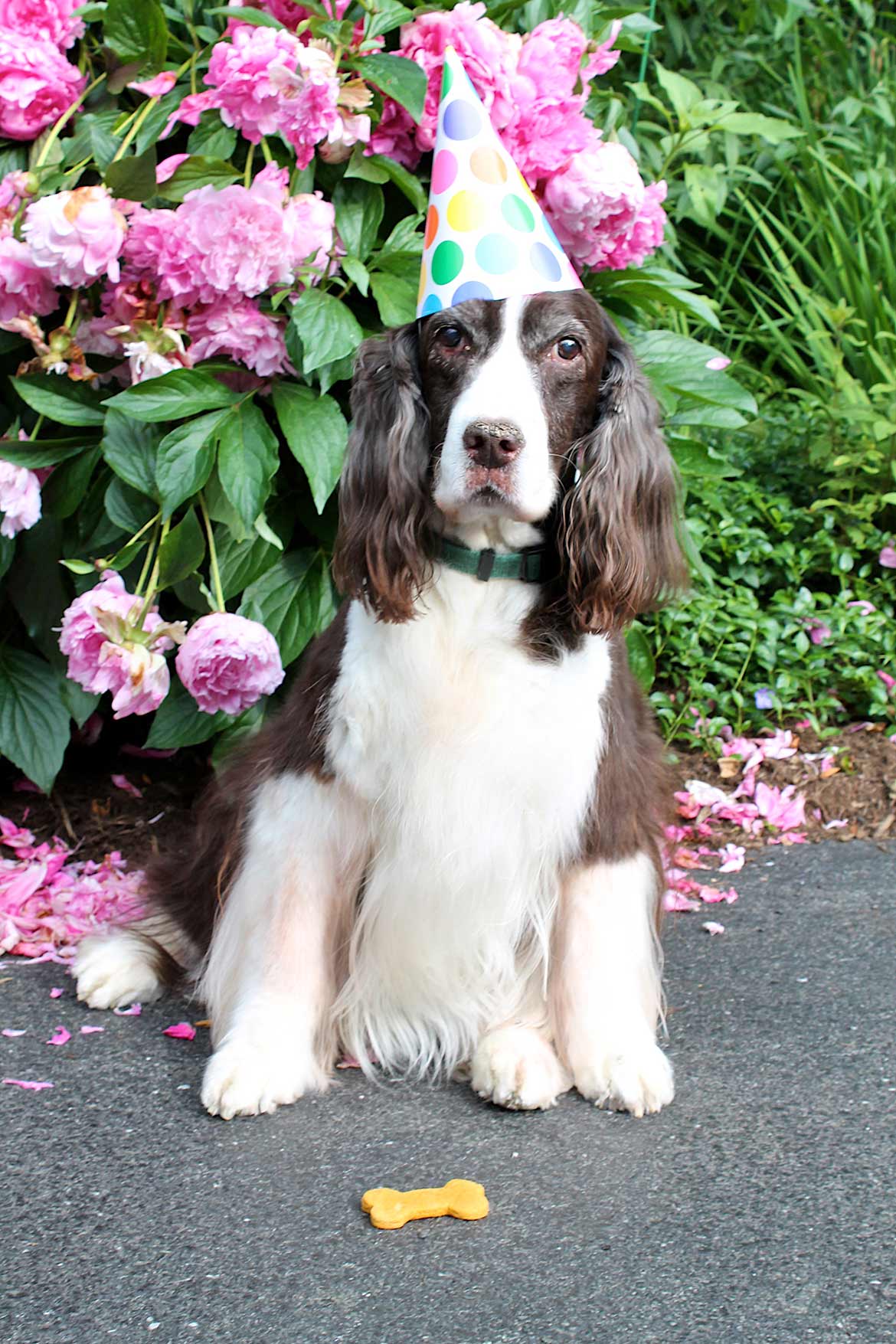 That was the first time I cooked specifically for Angus. We had always stuck to dog food and a few safe treats, as the occasional scraps from our plates never sat well. So later, when I decided to bake homemade dog bones, I did some research as to the ingredients that are generally considered safe for our furry friends.
Some dogs develop skin issues from wheat, so these wholesome bones rely on rice flour. A whole can of pumpkin (I sometimes use canned sweet potato as an alternative) supplies fiber and beta-carotene, and protein-rich eggs are an easily digestible source of riboflavin and selenium. Though your dog will likely want more than one or two of these treats at a time, portion control is always advisable.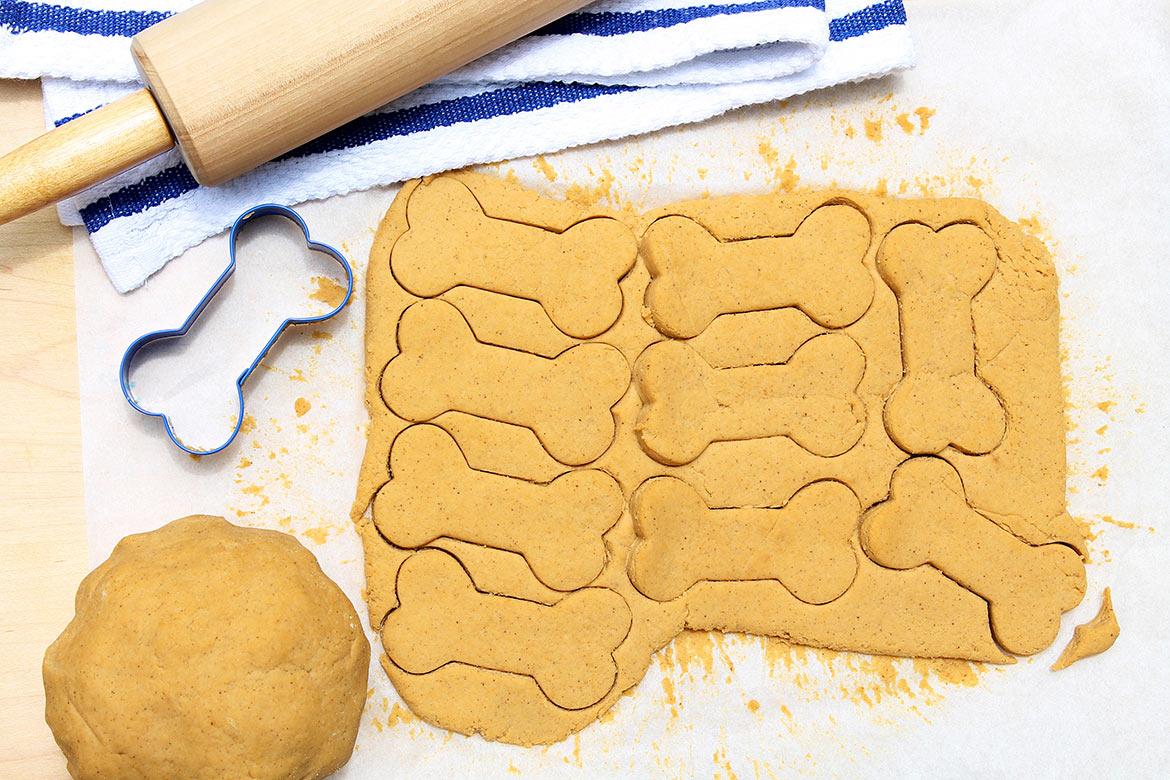 Every pet is different, but Angus tolerates these treats quite well and gets incredibly excited when he sees or smells one. If you're the kind of cook who appreciates positive feedback from those who benefit from your time in the kitchen (who doesn't?), these homemade treats will likely accomplish that!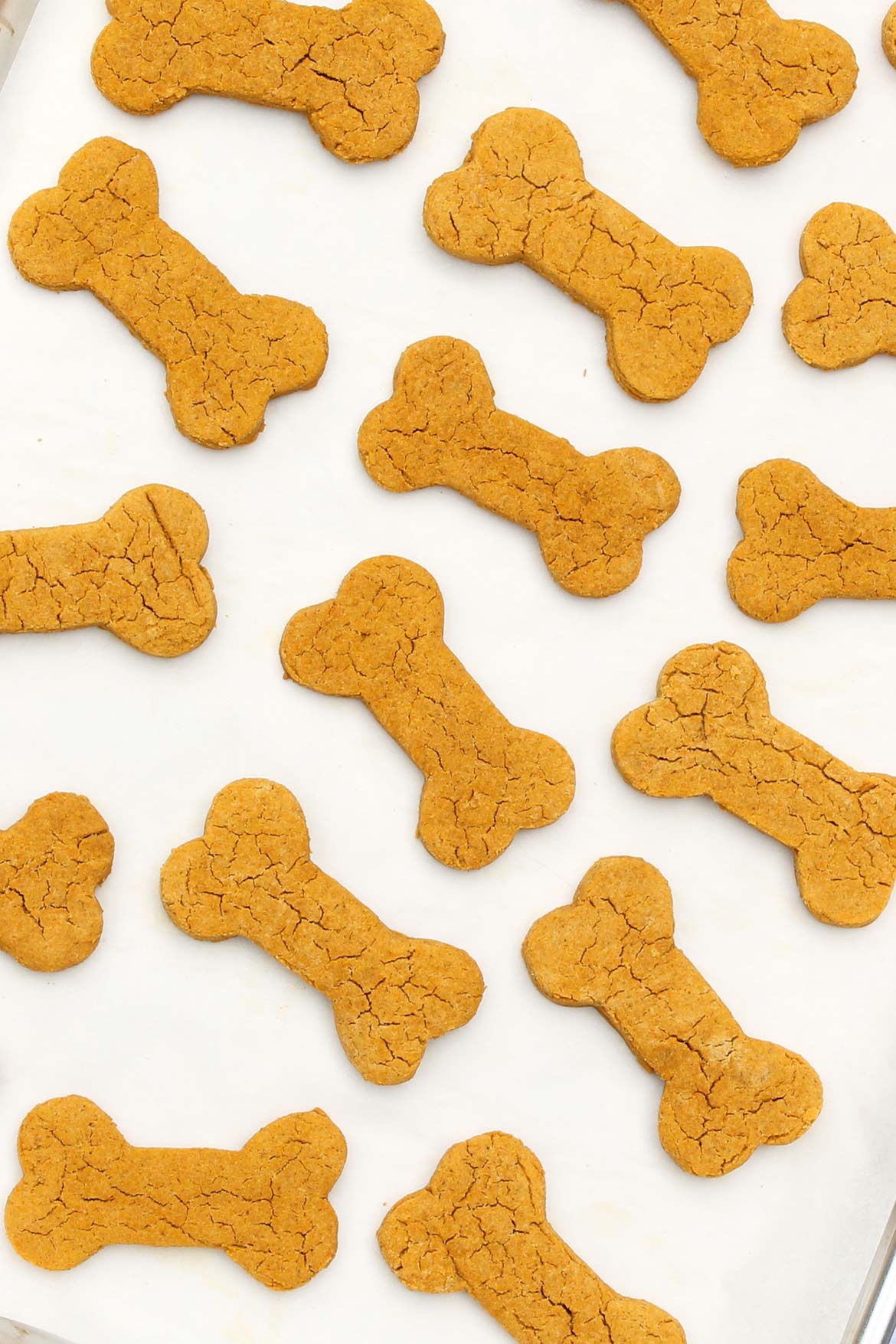 An important note: Dogs tend to adore peanut butter and can smell it a mile away. Most dogs tolerate peanut butter, and it's a good source of protein, healthy fats, vitamin B, niacin, and vitamin E. It is critical, however, to avoid any peanut butter that contains xylitol. Some manufacturers have started using this product because its level of sweetness is similar to sucrose, but with approximately one-third less calories. According to VCA Hospitals xylitol is extremely toxic to dogs. Even small amounts of xylitol can cause hypoglycemia (low blood sugar), seizures, liver failure or even death in dogs. I use Jif for these treats, but always check your label because ingredients may change over time.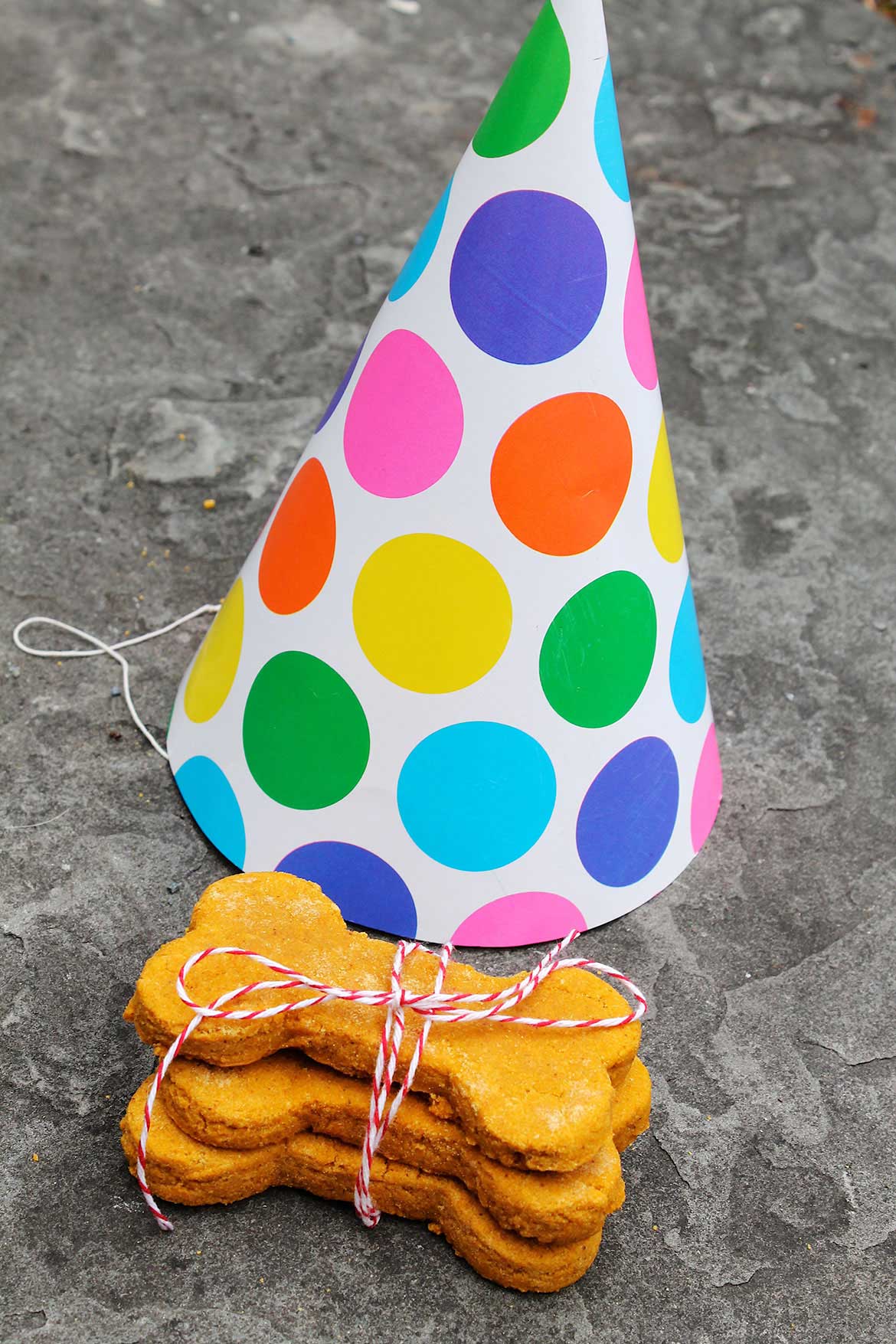 Homemade Dog Treats

Yield: 34 cookies (when using a 3-inch long bone-shaped cookie cutter and shaping the last of the scraps into rounds)

These are sure to please your four-legged friends—and they make thoughtful holiday gifts for their owners!

Ingredients

3 cups (480 grams) brown rice flour
1 teaspoon ground cinnamon
1/4 cup (64 grams) peanut butter (I use Jif—make sure your brand does not contain xylitol)
2 eggs
1 can (15-ounce) pumpkin or sweet potato puree (not the sweetened pie mix)

Directions

Preheat the oven to 325 degrees F. In large bowl stir all of the ingredients until a soft dough forms. (I find it easier to start with a spoon and then to use my hands.)

Divide the dough in half. Using brown-rice-floured rolling pin (or between two pieces of parchment paper*), roll each dough half to a 1/2-inch thickness on a rice-floured surface. Cut into desired shape with a cookie cutter, and then place the cutouts an inch apart on a lightly greased or parchment-lined cookie sheet. Reroll any scraps.**

Bake for approximately 25 minutes or until dry and golden brown. Cool for 1-2 minutes, and then remove to a cooling rack and cool completely.

Store the treats in an airtight container at room temperature up to 1 week, or refrigerate or freeze for longer storage.

Notes

*If using parchment paper, the dough will begin to stick after repeated rolling. You can either dust it lightly with brown rice flour or use fresh parchment as the dough beings to stick.

**In lieu of using a cookie cutter, you may roll the dough into balls and then flatten the balls into 1/2-inch thick circles.

A few more thoughts… I recently shared the recipe with a friend who said she rolled the dough into a cylinder, chilled, and then sliced before baking. I haven't tried this myself, but mention it as a possibility. Another friend said she saw a recipe for dog treats that included fish oil and mashed sardines—and warned that they should be baked with the windows open!

 

The Fountain Avenue Kitchen https://fountainavenuekitchen.com/
 People foods that your pets shouldn't eat:
Alcohol
Avocado
Chocolate, Coffee and Caffeine
Citrus
Coconut and Coconut Oil
Grapes and Raisins
Macadamia Nuts
Milk and Dairy
Nuts (peanuts are a legume but see note about xylitol)
Onions, Garlic and Chives
Raw/Undercooked Meat, Eggs and Bones
Salt and Salty Snack Foods
Xylitol (check peanut butter labels as it is sometimes used in place of sugar)
Yeast Dough
For more information as to why these foods are harmful, use this link: https://www.aspca.org/pet-care/animal-poison-control/people-foods-avoid-feeding-your-pets. (Source: ASPCA)
There is also literature that puts bacon, shrimp, pomegranate, peaches, plums, sugary foods, and people medicine in the off-limits-for-your-pet box.
Recipe adapted from Betty Crocker.