Rice and beans. Who doesn't love them? Yet rice and beans can mean so many different things depending on where a person is from.
After returning from a family trip to Puerto Rico last month, I got on a rice and beans kick. (Such a special get-away, by the way, and a welcome escape from what was an arctic winter here!) Puerto Rico, Cuba, Jamaica, Brazil, Mexico and New Orleans all have their own unique variations on this traditional dish. In addition to being affordable, readily available fare, the rice provides fuel for energy and the beans offer protein and iron…and the various ethnic spins all taste great in their own special way.
Depending on the origin, different versions of rice and beans are mixed with a variety of spices, herbs, and sometimes meat or vegetables. Below, I am offering a Jamaican rendition that's quite simple and relies on thyme and coconut milk mixed with chicken broth for it's subtle yet appealing flavor. While reading up on different rice and beans traditions, I read a comment by a Jamaican woman who said that serving rice and "peas" (as rice and beans are commonly referred to in Jamaica) on Sundays was an unspoken rule. If you served plain old white rice, she said, people would think you were lazy. She inspired this recipe. Luckily, it doesn't take much work to bring an authentic version of a cultural mainstay to your kitchen–whatever day of the week you may serve it!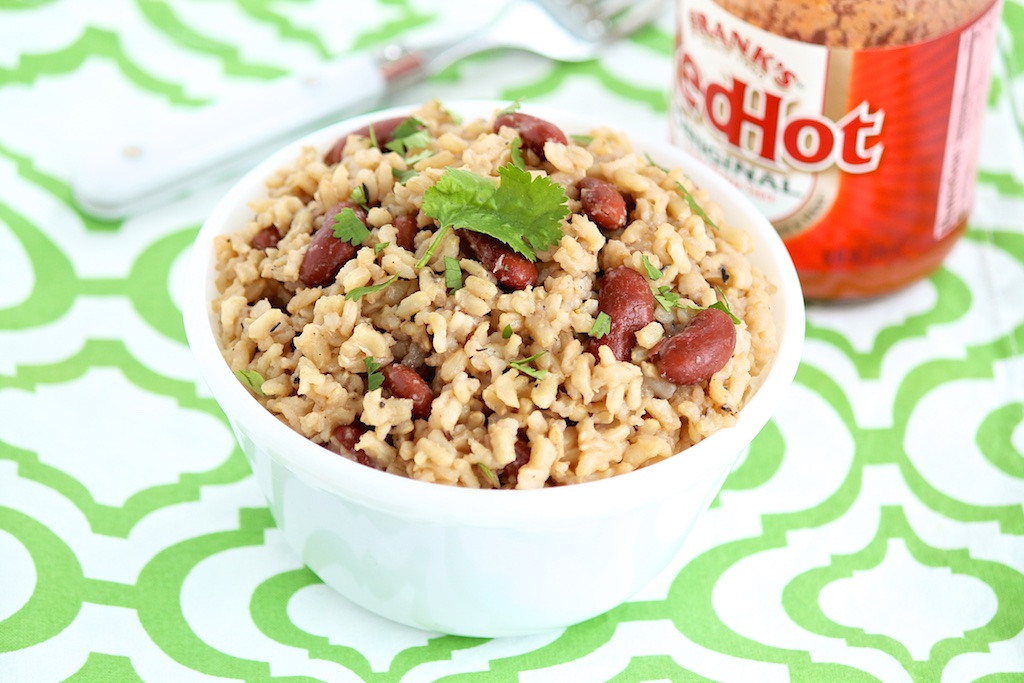 Jamaican Rice and Peas Recipe
Feel free to try this dish with black eyed peas, black beans, or the more traditional pigeon beans if you can find them.  For yellow rice, you may add 1/2 teaspoon of turmeric. If you are tempted to drain the beans and rinse them, simply note that all the liquid for this recipe – water, coconut milk, liquid from beans – should add up to 4 cups.

Yields 8-10 servings.
Ingredients
1 small onion, diced
3 garlic cloves, minced
1 (14.5-ounce) can chicken broth (or vegetable broth for a vegetarian dish)
1 (14-ounce) can light coconut milk
1 (15-ounce) can kidney beans, including liquid
1 red chile or jalapeño pepper, finely chopped (seeded to reduce heat; see notes)
1 teaspoon dried thyme leaves
1/2 teaspoon kosher salt and 1/4 teaspoon freshly ground pepper (or to taste)
2 cups long grain rice (brown or white, according to preference)
For serving:  chopped cilantro, hot sauce
Instructions
In a large, oiled pot with a tight-fitting lid, sauté the onion over medium-high heat until softened and beginning to turn golden, 5-6 minutes.  Add the garlic and sauté for 30 seconds more.

Pour in the broth, stirring to deglaze the pan.  Stir in the coconut milk, undrained beans, thyme, salt and pepper.  Bring the mixture to a boil, and then add the rice.  Boil for 2 minutes, and then reduce the heat, cover the pot, and simmer until the rice is tender and the liquid has been absorbed. (Depending on the precise heat level and dimension of the pot, this should take approximately 35-45 minutes for brown rice or 15-20 minutes for white rice.)  Remove from the burner and allow the rice to sit, covered, for 5 minutes.  Fluff with a fork and sprinkle with cilantro and/or drizzle with hot sauce, if desired.
Notes
Some recipes for rice and peas call for adding a whole Scotch bonnet pepper and simmering while the rice cooks to infuse the flavor.  Feel free to choose based on your penchant for spice…or omit the pepper entirely and simple serve with hot sauce on the side.
The Fountain Avenue Kitchen https://fountainavenuekitchen.com/
You may also enjoy: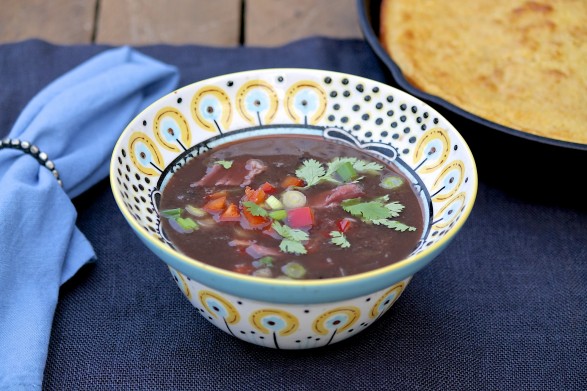 Flavor-packed Cuban Black Bean Soup is a hearty, healthy meal with stovetop and slow cooker options.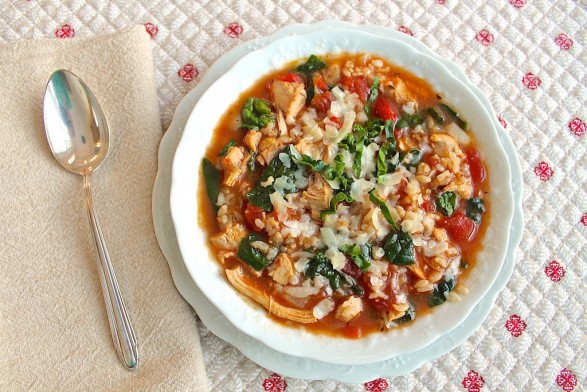 This comforting one-pan chicken and rice dish is Greek inspired and incorporates spinach but no beans.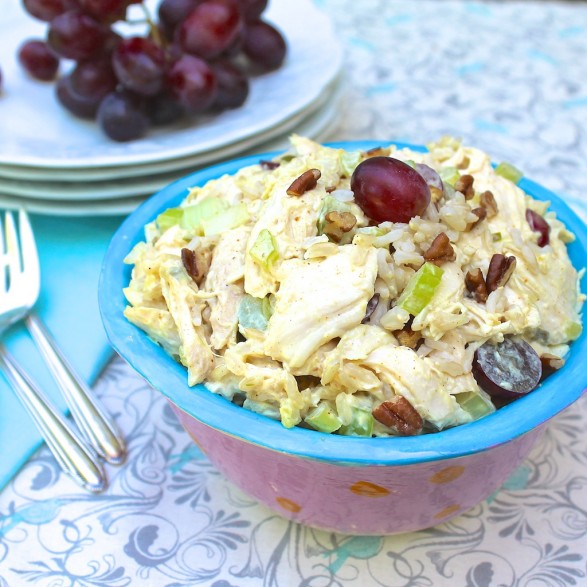 Curried Chicken Rice Salad has southern roots and is a potluck pleaser when the weather warms.