April Fool's Fruit Punch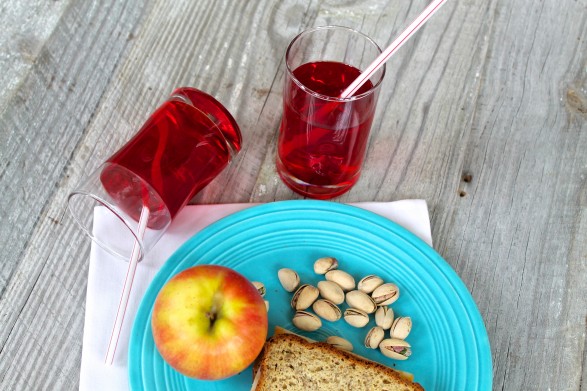 We don't often have lots of juice or soda on hand, so when I offered tall glasses of fruit punch last April Fool's Day, my kids were rather excited.  I served the glasses right side up, but the picture illustrates the point.
While away with family a few weeks earlier, I saw the idea in a Real Simple magazine I was flipping through.  I couldn't resist.  And I wish you were with us in our kitchen to see how hard we laughed when they tried to sip from the straw.
If you don't get around to this silly prank this year, have your Jell-O ready for next year.  (Also, feel free to comment or email me if you have a favorite April Fool's food hijinks.  I need a good idea for next year!)
1 (3-ounce) box cherry-flavored Jell-O (or number to make desired amount of servings)
2 straws
Mix according to package directions, pour into glasses, and insert a straw before placing the glasses in the refrigerator to set. Punching a piece of plastic wrap over the straw will keep it upright, although allowing the straw to tilt against the side is the "natural" look, as it would normally rest.
Get ready to laugh!
Notes
A standard serving of Jell-O is 4 ounces (or 4 servings per 3-ounce box), but that is not quite enough to fill most glasses.
© The Fountain Avenue Kitchen