Baked Denver Omelet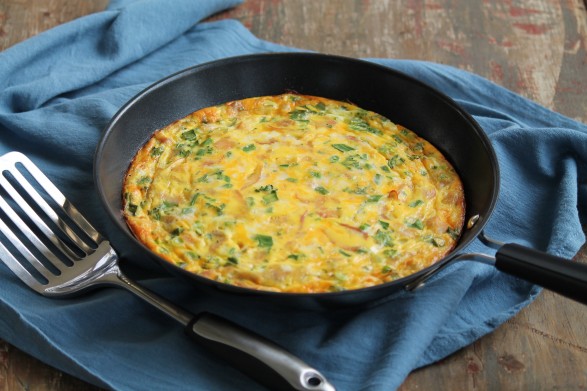 Is is possible that Christmas is behind us and a new year is just days away?  Where does the time go?  For all those who celebrated, I hope your day was merry.  I hosted breakfast and dinner here and enjoyed every moment surrounded by family and friends.  Unexpected and most appreciated gifts included a pair of pot holders from my mother-in-law to replace my burned, falling-apart pair that I have used for countless years.  I had been in search of the same inexpensive pair that worked so well and could not find them.  She did!   Sometimes, it truly is the little things.  A pretty sweater from my husband, a charm necklace from my parents, and the best ever homemade cards from my kids rounded things out more than I could have ever hoped.  Now onto the food….
An omelet that is filled with diced ham, onions, and green bell peppers is commonly referred to as a Denver omelet, and sometimes a Southwest or Western omelet.  An oven version of this classic egg dish is a recipe I reach for when I have a little leftover ham, perhaps after a holiday meal.  We often eat eggs for dinner in our house, and this type of recipe is perfect when time is short.  Serve it with a green vegetable or salad and you have a complete meal that really satisfies.  It's ideal for brunch, too.
An added bonus is that all the ingredients can be mixed ahead and refrigerated overnight or until ready to bake.  When I made this the last time, I had a little leftover Sargento Taco shredded cheese and mixed that with my go-to 4 State Cheddar.  The hint of Mexican flavor was perfectly matched with the minced pepper and another reminder that straying from the usual choices–even if only for the sake of not wasting what you have opened already and don't want to waste–often has an unexpectedly delicious payoff!
Similar to a frittata, this baked omelet can be mixed in one bowl and requires no sautéing prior to baking. It's a super speedy meal that is perfect when you have a little leftover ham but is also reason to buy a small amount of your favorite deli ham.
8 eggs
1/2 cup 2% milk (could use half and half)
1 cup Sargento shredded cheddar cheese (I love their 4 State cheddar or sharp cheddar in this recipe)
1 cup finely chopped cooked ham (When I don't have leftover ham, I use 4 ounces chipped and roughly chopped deli ham)
1/4 cup minced green pepper
2 green onions (about 1/4 cup), thinly sliced
1/4 cup chopped fresh parsley
Kosher salt and freshly ground pepper (I use a scant 1/2 teaspoon salt and about 1/4 teaspoon pepper)
Preheat the oven to 400 degrees F. Grease a 10-inch ovenproof skillet or a 9×9-inch baking pan and set aside.
In a large bowl, whisk the eggs until completely blended. Stir in the milk and remaining ingredients. (At this point, you may cover and refrigerate overnight or until ready to bake.)
Pour egg mixture into the prepared skillet or baking dish.
Bake for 25 minutes or until just set in the middle.
© The Fountain Avenue Kitchen