I first made this hearty, meatless dish after the holidays last year when I felt the need to eat a little healthier. While I was prepared for minor protests from the troops, the meal was greeted with excellent reviews and has become a regular on my family's dinner rotation and that of several friends.
One friend mentioned that, until this recipe, she had never in her forty-plus years eaten a lentil. When she read that my two boys liked this recipe, she figured it was high time she tried.
Not only does she now make this satisfying dish regularly, she recently reported that it was her family's pick for their final meal prior to a kitchen renovation project. Who would have guessed?
Note: I have made this recipe many times, tweaking a bit here and there. For those who have been fans of this recipe to date, I recently increased the number of eggs by one and decreased the amount of milk from a half cup to a mere two tablespoons. I have made these adjustments to the recipe below, as I think it creates an even more satisfying binder for the lentils. If you try, I hope you enjoy as much as we do!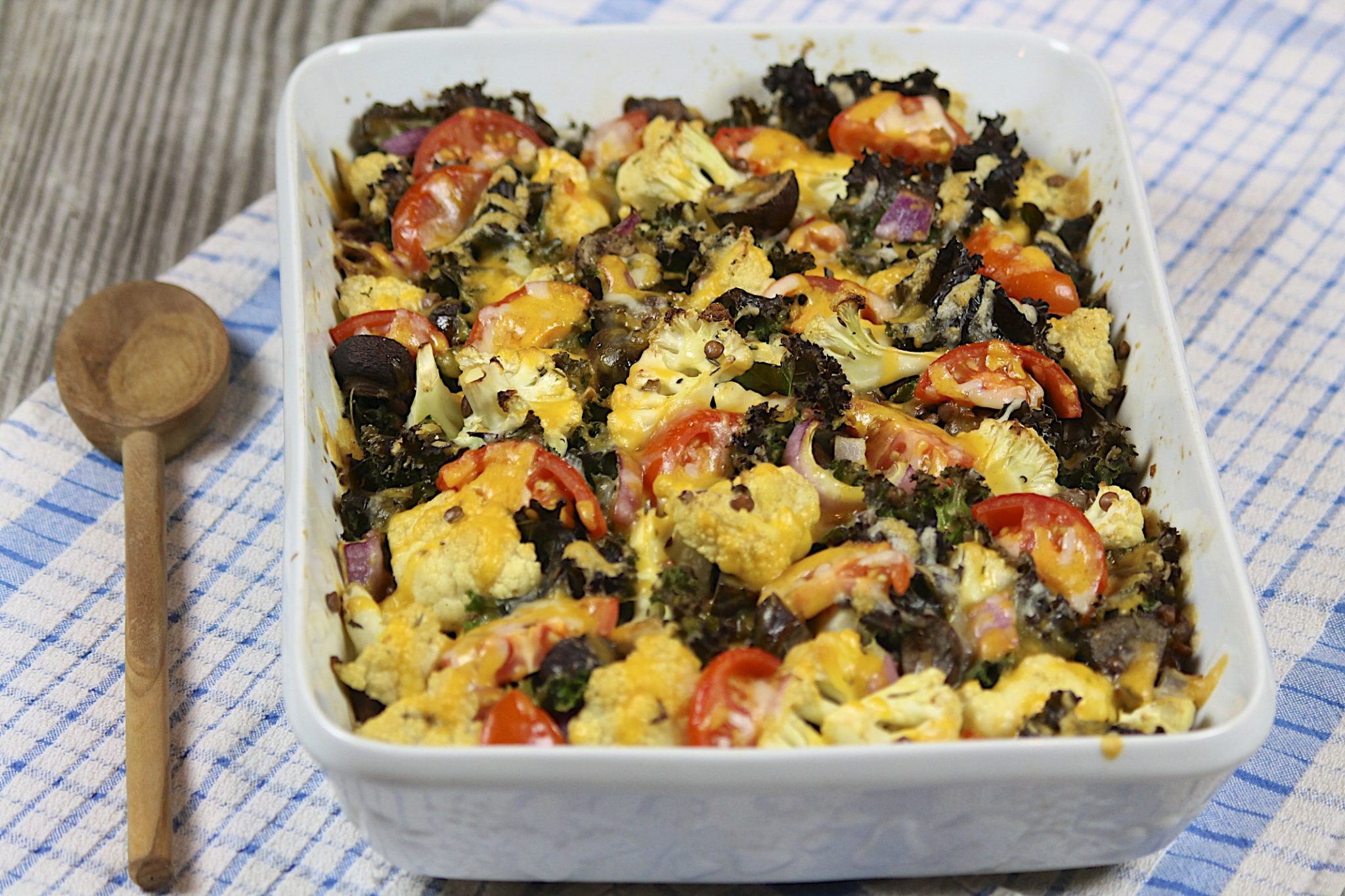 Cheesy Roasted Lentil and Veggie Casserole
2015-11-22 20:40:27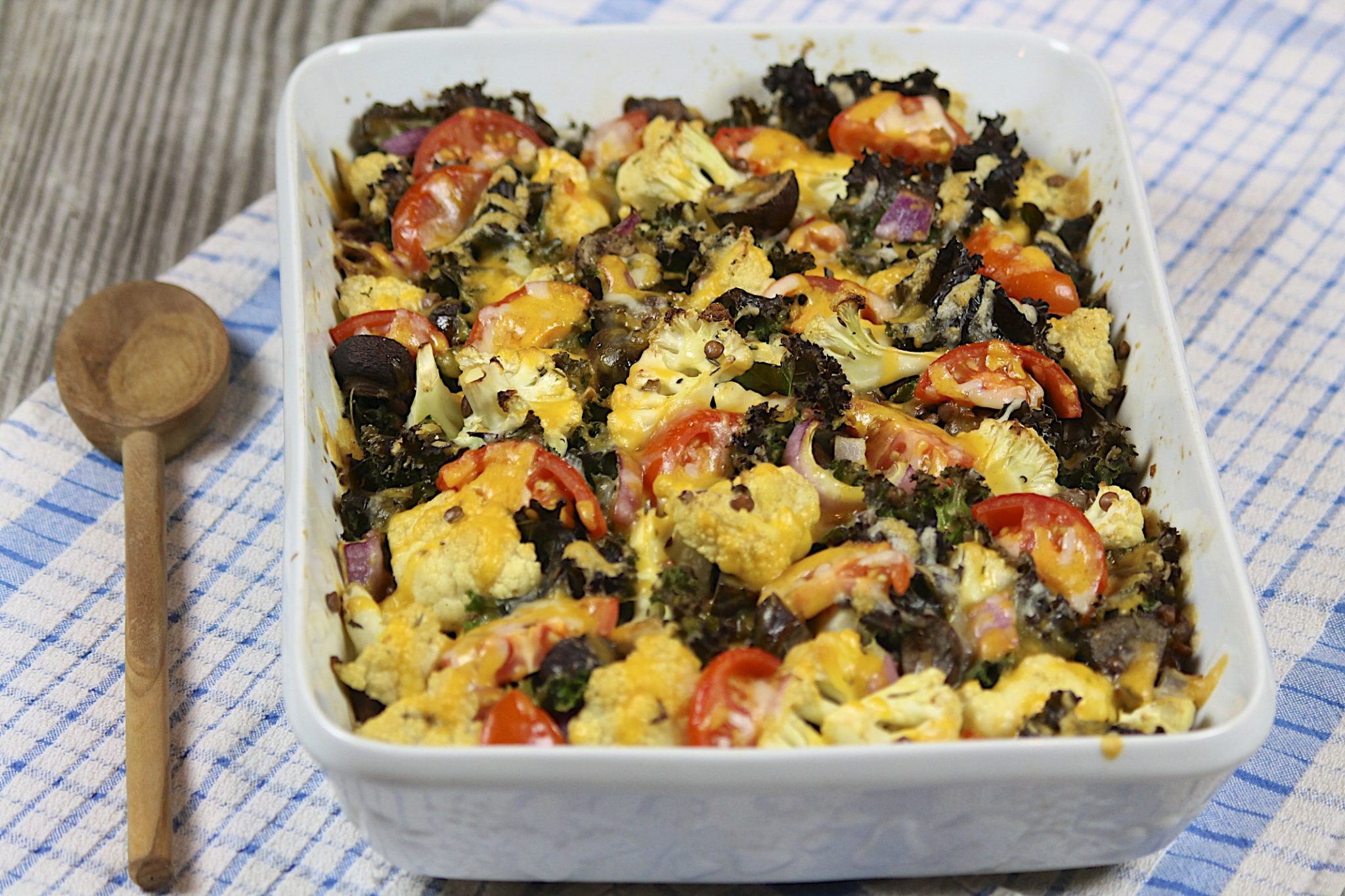 I typically use grated cheddar, but Gruyere would be nice, as would almost any flavorful cheese. I was recently thinking that a combination of feta for flavor and mozzarella for gooeyness would also be delicious! To make the preparation super simple, cook the lentils up to a day or two in advance and refrigerate. I often chop the cauliflower and other vegetables ahead of time, too, and store in a plastic container or bag in the fridge. Yields 6 regular portions; 4 hearty portions.
Ingredients
1 cup uncooked lentils (I use brown lentils)
1 head cauliflower, chopped into bite-size florets
8 ounces mushrooms, halved or quartered depending on size
2 cups lightly packed kale leaves, chopped
1 small onion, peeled and coarsely chopped
Kosher or sea salt and freshly ground pepper, to taste (I use about 3/4 and 1/4 teaspoon, respectively)
1/2 teaspoon dried thyme
3 eggs, lightly beaten
2 tablespoons milk
1 large tomato, sliced and halved (or 1/2-1 cup of grape tomatoes)
1 cup freshly grated sharp cheddar cheese
Instructions
Rinse the lentils, and then simmer (covered) in water to cover for 15-20 minutes, or until the lentils are just soft. (I like to keep just a little "bite" to them. Taste and then remove from the heat when the lentils are cooked to your liking.)
Drain the lentils well. You may cook the lentils in advance and refrigerate at this point until ready to proceed.
Preheat the oven to 400 degrees, and grease a 9×13 pan or another large baking dish.
Combine the eggs, milk, salt, pepper, and thyme in a small bowl.
In a separate large bowl, combine the lentils with all of the vegetables except for the tomato. Do not mix in the cheese either.
Pour the egg mixture over the veggie mixture, and toss until evenly coated.
Spread the mixture evenly into the prepared baking dish. I find it easiest to toss with my hands and allow most of the lentils to settle to the bottom. This way, they will bind with the egg mixture and form a tasty bottom layer.
Bake for 20-25 minutes or until the veggies are becoming tender but still crisp. Remove from the oven, top with the tomato, and sprinkle evenly with the cheese.
Return to the oven for another 10 to 15 minutes, or until the veggies are tender and the cheese is melted. All ovens vary but, in my oven, 20 minutes followed by 10 minutes yields vegetables that are lightly golden yet still crisp-tender.
The Fountain Avenue Kitchen http://fountainavenuekitchen.com/