Gluten-Free Almond-Coconut Strawberry Shortcakes
Growing up, it was a tradition in my family to eat strawberry shortcake for dinner once or twice during the local strawberry season.  When I was first married, I assumed this was true for everyone.  I made it for dinner one night and, when my husband came home from work and I happily started serving, he thought I was joking.  He actually looked in the oven, figuring I had hidden the real dinner in there!
Realizing that everyone is not satisfied with what is basically dessert for dinner, combined with my father developing a gluten intolerance, this tradition went by the wayside.  Thanks to a great gluten-free alternative–and a hearty salad on the side–the tradition returned.  It is an excuse to get my extended family together for a fun dinner and, with this delicious, protein-packed option, some who don't have to eat gluten-free choose it anyway!
Traditionally, my family poured warm milk over the shortcake and piled on the berries.  I now prefer topping it with Greek yogurt.  Depending on your taste, you can use plain or sweetened.  (Cabot's 2% vanilla is my favorite for this.  Plain Greek yogurt with maple syrup stirred in is terrific, too.) The shortcake also makes a wonderful breakfast option and is quite good eaten like a cookie.
Gluten-Free Almond-Coconut Strawberry Shortcakes:
8 shortcakes (4 servings)
I have used both blanched almond flour and coarser almond meal in this recipe, and they are both delicious.  The latter is pictured above, although the former will provide a slightly lighter, more tender shortcake.
1 cup almond flour or almond meal
2 tablespoons coconut flour
1/2 teaspoon baking soda
1/8 teaspoon kosher or sea salt
2 eggs, room temperature
1/4 cup melted coconut oil or butter
3 tablespoons honey
1/2 teaspoon almond extract (could substitute vanilla extract)
Toppings as desired:  sliced strawberries; milk, whipped cream, or yogurt; slivered almonds; shredded coconut
Directions:
Preheat oven to 325 degrees.
Combine the almond and coconut flours, baking soda, and salt in a medium bowl.  Whisk together the remaining ingredients in a small bowl, and add to the flour mixture.  Combine well.
Using an ice cream scoop, scoop the batter onto a parchment paper-lined baking sheet, leaving some room for the shortcakes to expand while cooking.  You will get about 8.  (I figure 2 per person.)
Bake for 11-14 minutes or until golden brown.
Serve warm or at room temperature with desired toppings.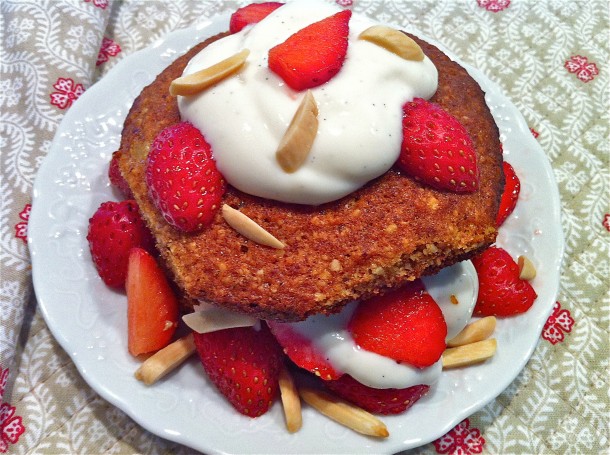 This recipe was shared with Recipes for My Boys Thursdays Treasures Week 36.