Grilled Balsamic Carrots with Rosemary and Thyme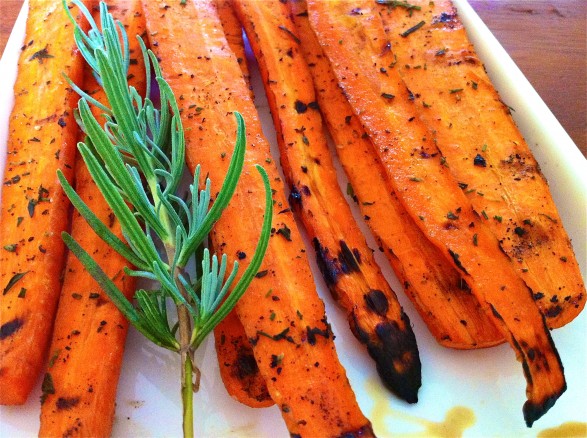 Cooked carrots are not a food which elicit oohs and aahs from most people.  When carrots are grilled or roasted, however, their flavor is enhanced and they don't become mushy. They are really quite good!
I occasionally roast carrots in the winter and love to use my Maple-Dijon Vinaigrette as a marinade.  Grilling is another great option which allows for speedy prep and clean-up. What's more, I always seem to have a bag of carrots in my veggie drawer so it's an easy, last-minute side and can grill along with whatever protein you may be having.
Grilled Balsamic Carrots with Rosemary and Thyme
If your carrots are not especially large, you can grill them whole.
4 large carrots, peeled and halved lengthwise
1 tablespoon olive oil
1 tablespoon balsamic vinegar
1 rounded tablespoon minced fresh rosemary and/or thyme
kosher salt and freshly ground pepper to taste
Toss carrots with the olive oil, vinegar, herbs, and sprinkle with salt and pepper to taste.
Grill over medium heat about 15-20 minutes, turning a few times, or until the carrots are cooked to al dente. Exact time will depend on the thickness of the carrots.
http://fountainavenuekitchen.com/grilled-balsamic-carrots-with-rosemary-and-thyme/
© The Fountain Avenue Kitchen