Pumpkin Bran Muffins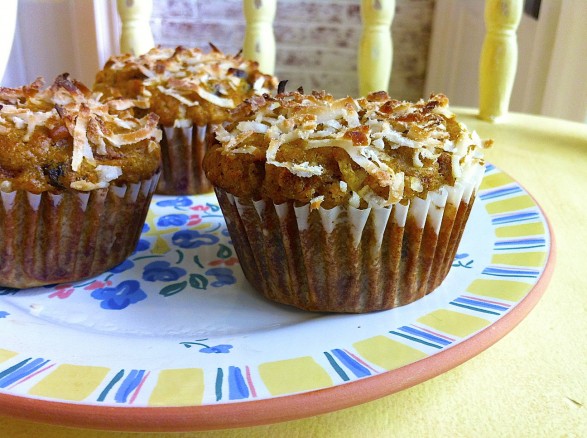 I truly adore these muffins.  In general, I really like bran muffins, but most bran muffins rely on sugar and oil to make the bran taste so good.  Enter pumpkin!
Not only do these muffins boast the health benefits of bran and pumpkin, I used a whole can of pumpkin so they are extremely moist and flavorful.  In my house, there are always boxes of the kids' favorite cereals available.  My true test of a successful breakfast recipe is when the kids choose it over their favorite cereal; they chose these muffins every day for a week, until I couldn't make anymore because I ran out of pumpkin!
This is also a motivating force for me to prepare breakfast options like these muffins and my baked oatmeal recipes.  Not only does it make for a smooth morning routine — they can be baked in advance and keep for about a week in the fridge, if they last that long! — but it ensures that we are eating something we really enjoy which is less processed and better for us than some of our other quick breakfast options.
Pumpkin Bran Muffins
When using melted coconut oil or butter, it is helpful to have your ingredients at room temperature prior to mixing. This will prevent the oil or butter from solidifying again.
My latest favorite addition to these muffins is coconut, which compliments the flavor of pumpkin beautifully. If you are a fan, consider stirring up to half a cup of shredded coconut (unsweetened or sweetened according to preference) into the batter and sprinkling a small amount on the muffin tops prior to baking.
1 15-ounce can 100% pure pumpkin (not pie filling)
1 cup bran cereal (like Fiber One or All Bran)
3/4 cup raisins
1/4 cup melted butter or coconut oil
1/2 cup sugar
2 tablespoons brown sugar
2 eggs, lightly beaten
3/4 cup buttermilk
1 cup plus 2 tablespoons all-purpose flour
1 teaspoon cinnamon
1/2 teaspoon freshly grated nutmeg
1 1/2 teaspoons baking soda
1 teaspoon baking powder
1/2 teaspoon kosher salt
Coarse sugar for sprinkling, optional
In a large mixing bowl, combine the pumpkin, bran cereal, raisins, butter or melted coconut oil, and sugars. Stir in the eggs and the buttermilk.
In another bowl, whisk together the flour, cinnamon, nutmeg, baking soda, baking powder, and salt. Add to the pumpkin mixture and stir to just combine.
Cover the bowl and refrigerate for at least three hours or overnight.
Preheat the oven to 375 degrees.
Grease or line a 12-cup muffin tin and scoop the batter into the pan. I like to use a large ice cream scoop. Cups will be rather full but they will not overflow.
Sprinkle the tops with a little coarse sugar, if desired, then bake for 23-28 minutes or until the muffins pass the toothpick test.
Allow muffins to cool for 5 minutes in the pan, and then remove to rack to cool completely.
Store leftovers in refrigerator and rewarm gently in microwave, if desired.
© The Fountain Avenue Kitchen