Roasted Asparagus with Egg and Prosciutto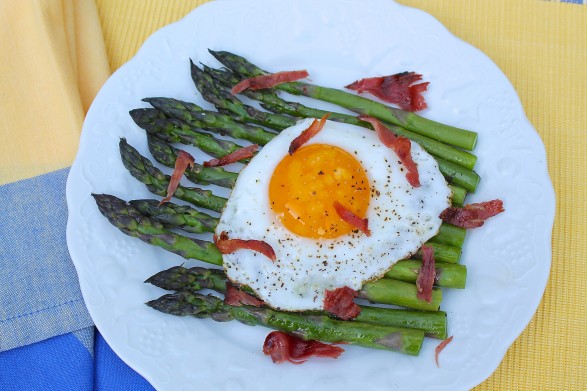 Normally, I like my eggs over-easy.  But these eggs had such beautiful, orange yolks, I couldn't bare to flip them!  This dinner is one big reason I look forward to asparagus season. So simple, yet the taste is incredible and the meal is equal parts healthy and satisfying. The yolk of the egg creates the perfect sauce, while crumbling a bit of crispy prosciutto over the top provides a salty, savory kick.  If you don't have prosciutto on hand or you are pressed for time, the dish is still wonderful without it.  Eggs and asparagus are truly a marriage made it heaven!
A side of Brown Soda Bread with Steel Cut Oats rounded this meal out beautifully, but your favorite toast would be a great addition.  Perfect for dipping!
By the way, the reason the yolks are so bright is that they are from pastured chickens that don't eat a diet of all corn.  We have backyard hens but prior to that, I bought pastured eggs and I recommend them if they are available where you shop.
Roasted Asparagus with Egg and Prosciutto
Eggs (1-2 per person)
Asparagus (about 8 ounces or half a bunch per person)
Prosciutto (1/2-1 piece per person)
Kosher or sea salt and freshly ground pepper
Olive oil for coating pans and tossing with asparagus
Place prosciutto on a baking sheet and bake in a 350-degree oven for approximately 10 minutes or until crispy. Watch closely so that it does not burn towards the end of the cooking time. Remove from oven, cool slightly, and break into pieces. You may also grill for about one minute for perfectly crisp prosciutto.
Toss asparagus with a small amount of olive oil. I use a mister and coat with just enough for the salt and pepper to stick. Sprinkle with salt and pepper to taste, then bake at 400 degrees for about 10 minutes, depending on thickness of asparagus. I like it to be on the all dente side and test by sticking the end of a knife into the thick end of the spear. If your asparagus is thin, you may want to check several minutes early.
Cook eggs to your liking in a skillet coated with olive oil. Sprinkle with salt and pepper to taste. Serve eggs over asparagus, then top with crumbled prosciutto.
http://fountainavenuekitchen.com/roasted-asparagus-with-egg-and-prosciutto/
© The Fountain Avenue Kitchen