Southwestern Chicken (or Turkey) Quesadilla Salad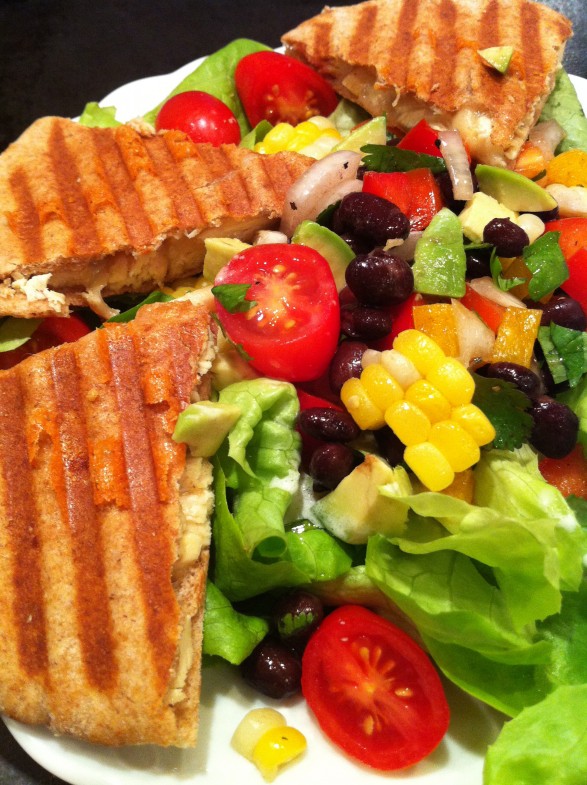 This is my FAVORITE restaurant salad–well, my rendition of it, anyway!  I usually make it when I have leftover chicken, but leftover turkey works well, too.  Packed with flavor and various textures, it is a satisfying yet healthy meal, especially perfect amidst the overindulgences of the holidays!
This meal is also an excellent example of how I stretch and repurpose leftovers.  As much as I like to cook, life gets busy and this approach helps me get a meal on the table most nights. With this recipe, I often start with a Slow Roasted Whole Chicken or Slow Cooker Turkey Breast.  A rotisserie chicken works well, too.  Enjoy the quesadillas one evening with a simple green veggie;  make extras and warm in the oven or toaster oven to serve with the Southwestern Quesadilla Salad the next night.  The black bean salsa may also be made ahead and used another night as a topping on Baked Tilapia or your favorite fish, even grilled chicken or steak. (Delicious as a dip for my homemade version of " Hint of Lime" tortilla chips, too!) The ranch dressing is perfect on a basic green salad, as a dip for your favorite veggies, and even in my Baked Cheddar Broccoli Rice Cups.  You get the idea!
All these recipes might sound like a lot of time in the kitchen, but the components may be prepared ahead, will last for several days or more in your fridge, and incorporate basic pantry ingredients.  The actual meals are hands-off slow cooking options or quick throw-together dishes that are wholesome, taste great and might even reward you with more leftovers!
For all the recipes I mention above, simply click on the highlighted words to see them.
Southwestern Chicken Quesadilla Salad
The recipes are listed so that you may print them individually for easy use on their own or together in the quesadilla salad.
Mixed greens, romaine, or lettuce of choice
Tomato grapes, halved
Black bean salsa
Ranch dressing
Whole wheat cheddar chicken quesadillas
Optional garnishes: avocado, chopped cilantro, salsa, black olives
Lightly toss lettuce greens with ranch dressing.
Top with black bean salsa, tomatoes, and optional garnishes.
Place a few wedges of quesadilla around the edges and enjoy!
http://fountainavenuekitchen.com/southwestern-chicken-quesadilla-salad/
© The Fountain Avenue Kitchen
1 red pepper, diced
1 yellow pepper, diced
1/2 cup red onion, diced
1 cup corn, frozen and thawed; may use fresh if available
1 15-ounce can black beans, rinsed and drained
1/4 cup cilantro, chopped
1/4 cup olive oil
2 tablespoons red wine vinegar
2 tablespoons lime juice
Kosher salt and freshly ground pepper to taste
In a large bowl, add all ingredients and toss to mix.
The flavor of this salsa will improve over time, so this recipe may be made earlier in the day or the night before.
http://fountainavenuekitchen.com/southwestern-chicken-quesadilla-salad/
© The Fountain Avenue Kitchen
Whole Wheat Cheddar Chicken Quesadillas
While I like using whole wheat pita bread, your favorite tortilla may also be used. My favorite tip for a crusty top: sprinkle a teaspoon or two of additional cheese on top of the quesadilla prior to grilling.
Whole wheat pita bread
Shredded cheddar cheese
Cooked chicken, sliced or shredded
Salsa for serving, optional
Carefully cut the pita bread in half horizontally. It will be like you have two round tortillas.
Rub a little olive oil on the outside of both halves. Layer cheese, then chicken, then a bit more cheese on one half. I use about a quarter cup of each, but you can eyeball it.
Top with the other pita half and grill on a panini maker for three minutes. You may also grill one side at a time on the stove top. A cast iron pan or grill pan work especially well.
http://fountainavenuekitchen.com/southwestern-chicken-quesadilla-salad/
© The Fountain Avenue Kitchen
Better-For-You Ranch Dressing
1/3 cup low-fat buttermilk
3 tablespoons plain Greek yogurt (I use non-fat or 2% Chobani; choose your favorite)
3 tablespoons mayonnaise
1 tablespoon apple cider vinegar
2 tablespoons canola oil
1/2 teaspoon kosher salt and freshly ground pepper to taste
3 tablespoons minced chives
Whisk all ingredients together.
Cover and store in the refrigerator.
http://fountainavenuekitchen.com/southwestern-chicken-quesadilla-salad/
© The Fountain Avenue Kitchen