Spooky Spaghetti Stuffed Peppers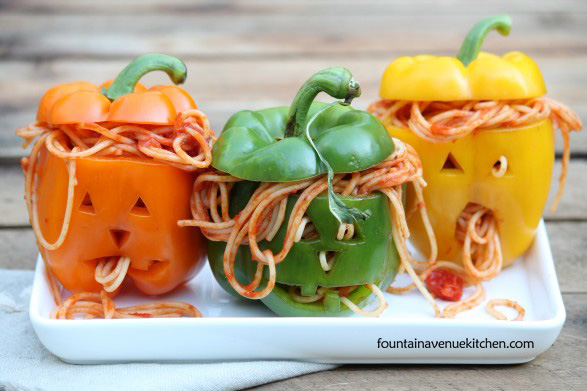 I had to do it!  I saw this silly idea last year but didn't make it happen.  When I was shopping at our famers market the other day, I spied some vibrant bell peppers and the memory came back.
As I combed through the peppers, looking for several that had a nice flat side for "carving," I mentioned to the stand holder what I was planning to make.  We laughed and I commented–as she got to work helping me look for some good candidates among some rather bumpy specimens!–that this was probably one of the stranger requests she has heard.  She said she gets quite a few odd requests…although she said this one was the weirdest yet that day!
The best part is, there is no special recipe.  Have fun carving a spooky or silly face on the pepper and stuff it with your favorite spaghetti recipe.  Store-bought sauce is fine, although this recipe for Basic Marinara is an old standby here if you'd like to make your own.  If the peppers are a little wobbly, slice a thin piece off the bottom to help them stand a little straighter.
While you could precook the peppers to soften them, my crew prefers them raw, so I simply stuffed the cooked spaghetti right in.  After you put the top back on, make sure to pull a few strands out through the various holes you have cut.  Although this is not the most appetizing thought, the spaghetti is supposed to be brains.  My kids made sure I knew this.
This dinner is as fun as it is easy.  My kids loved it and my husband thought it was pretty clever, too.  They all ate the whole bell pepper, so they got their veggies and enjoyed them along the way!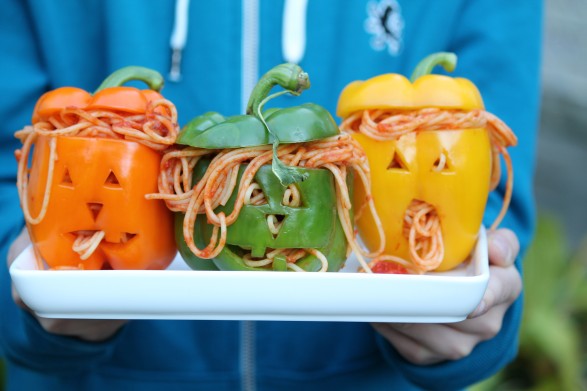 For a deliciously easy sauce, try the following recipe for Slow Cooker Spaghetti Sauce.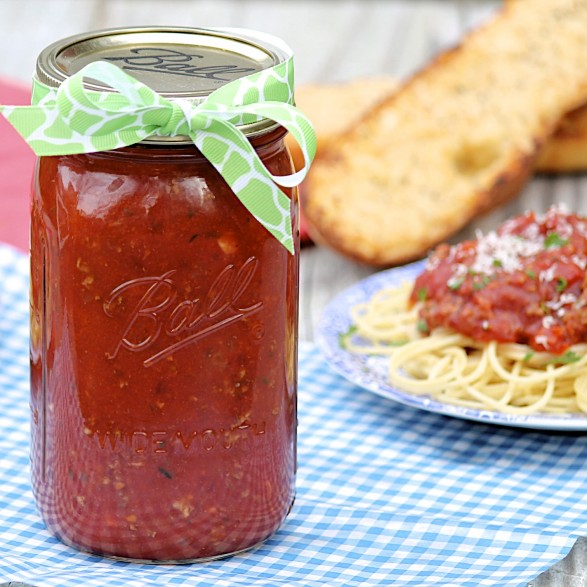 …and to stretch a little leftover spaghetti into a fun and tasty meal, consider this recipe for Leftover Spaghetti Pizza.