Strawberry Rhubarb Sauce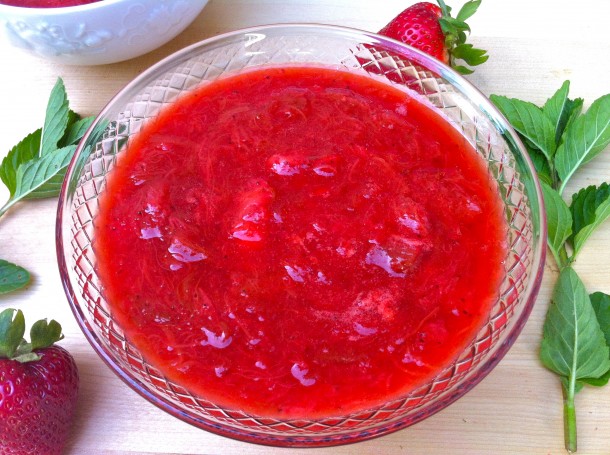 Strawberry Rhubarb Sauce is one of my much-loved recipes for so many reasons.  First, it's delicious. Moreover, the strawberry-rhubarb combination is a sweet harbinger of summer and a versatile sauce that can be used as a topping on so many things.  It even freezes well, so I always make extra to enjoy throughout the winter months.
Stir some into plain Greek yogurt or your morning oatmeal.  Spoon over plain vanilla ice cream or pound cake.  Add a splash of vinegar and create a chutney for grilled chicken or pork.  With a smear of goat cheese and a drizzle of good balsamic, it makes a wonderful bruschetta.  Put some on whole-grain toast that has been spread with cream cheese or mascarpone.  My kids love to eat it as they would applesauce, straight out of a bowl!  Any other ideas??
Strawberry Rhubarb Sauce:
1 pint strawberries, stems removed and halved (quartered if large)
1 pound rhubarb, sliced into 2-inch pieces
3/4 cups sugar
1/2 cup freshly squeezed orange juice
In a medium saucepan, bring rhubarb, sugar, and orange juice to a boil.  Reduce heat, add strawberries, and simmer for approximately 10 minutes or until the rhubarb and berries break down a bit.
Remove from heat and cool completely before storing in refrigerator.  Freezes well, too.
This recipe was shared with Amee's Savory Dish's Fit and Fabulous Fridays.