For many years, my maternal great-grandmother taught in a one-room Amish schoolhouse. That meant teaching all of the subjects to children in grades one through eight. No small task!
In a stroll down memory lane, my mom recently mentioned how much she enjoyed visiting that schoolhouse. She has keen memories of the simple wooden desks, black boards, and wood-burning stove. Grandma D, as we called her, also kept her piano in the schoolhouse and frequently played for her students. The rickety outhouse made quite an impression, too.
Apparently, Grandma D often shared the fruits of her "homework" with her Amish students. One such treat was her rhubarb sauce. My mom vividly recalls a wide bed in her grandparents' backyard dedicated solely to rhubarb. It ran the length of the clothesline–that's a lot of rhubarb.
In a spring ritual, the celery-like stalks would be chopped and then cooked down in several enormous pots, all destined for the sweet, rose-colored sauce. As a kid, I simply thought of rhubarb as pink applesauce.
On its own, rhubarb is quite tart and requires some form of sweetener to make it palatable. As an adult, I began adding strawberries to my sauce. The natural sweetness of the berries allows for less added sugar to temper the tartness of rhubarb. And like peanut butter and jelly, strawberries and rhubarb just belong together.
Aside from eating by the bowlful, there are multitudes of other ways to enjoy this sweet-tart sauce. We've enjoyed our fair share drizzled over vanilla ice cream. Angel food and pound cake make tasty bases, too. Stir some into plain Greek yogurt or your morning oatmeal. Or spoon the sauce over whole-grain toast that has been spread first with mascarpone or cream cheese. Similarly, make a springy bruschetta with a base of goat cheese and a drizzle of aged balsamic. For more savory options, create a chutney for grilled chicken or pork by adding a splash of balsamic vinegar to a portion of the sauce.
Other than straight off the spoon, my kids' favorite way to enjoy rhubarb sauce is in an easy breakfast parfait. (Make-ahead recipe coming later this week.) If you think of additional ways to enjoy this versatile sauce, please let me know. : )
As an added bonus, both the finished sauce and the uncooked stalks freeze extremely well. In the case of the stalks, simply chop into one- to two-inch-long pieces and freeze on a baking sheet. Once frozen, transfer to a zip-top bag or other airtight container. No need to cook or blanch first. That way, a variety of delicious rhubarb treats are within easy reach all year round.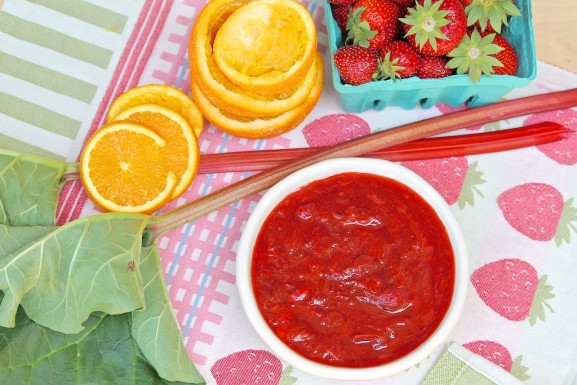 Strawberry Rhubarb Sauce
Yields 3 1/2+ cups.
Ingredients
1 pint strawberries, stems removed and halved (quartered if large)
1 pound rhubarb, sliced into 1 to 2-inch pieces
3/4 cup sugar
1/2 cup freshly squeezed orange juice
Instructions
In a medium saucepan, bring the rhubarb, sugar, and orange juice to a boil.  Reduce the heat, add the strawberries, and simmer for approximately 10 minutes or until the rhubarb and berries break down.

Remove from the heat and cool completely before storing in the refrigerator or freezing for later enjoyment.
The Fountain Avenue Kitchen https://fountainavenuekitchen.com/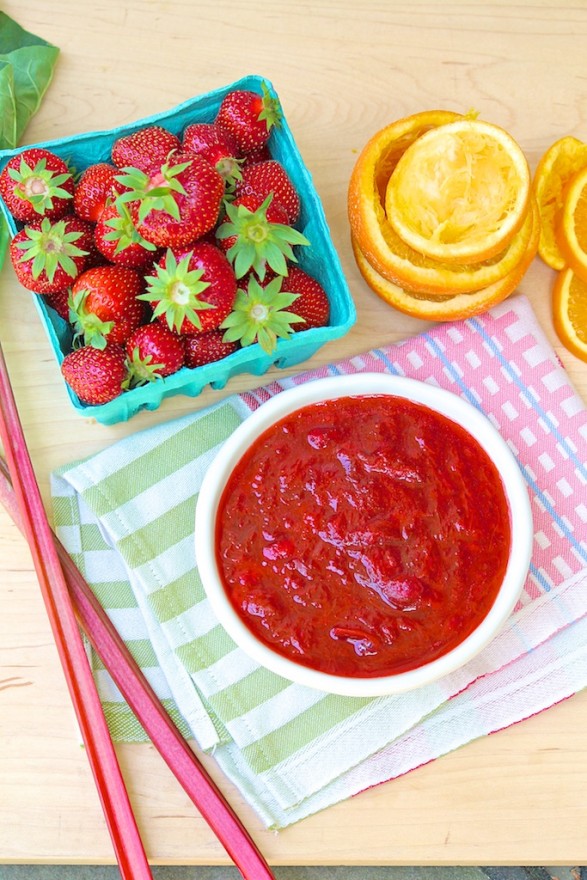 Strawberries and freshly squeezed orange juice add natural sweetness and incredible flavor to tart rhubarb in this quick, versatile sauce.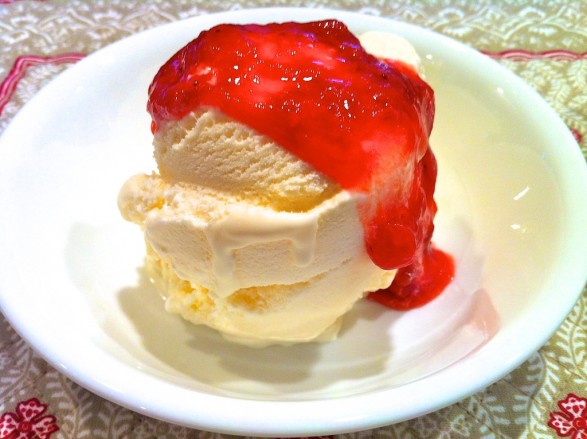 A 2012 picture of a refreshing dessert. Simply spoon the sauce over vanilla ice cream or frozen yogurt and enjoy.
You may also enjoy: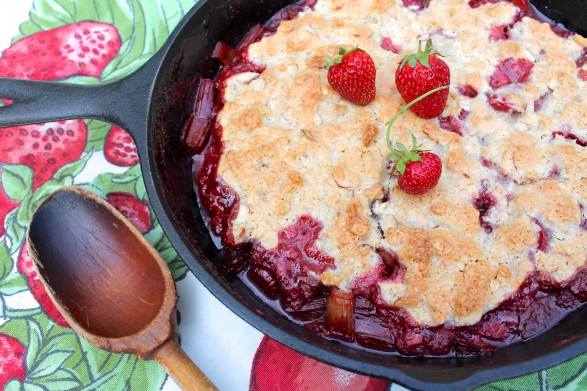 Strawberry Rhubarb Cobbler — A delicious almond-oat topping makes this a family favorite…gluten-free, too.