This absolutely delicious reader recipe was sent to me by Leola, Pennsylvania native Nancy Irvin James, who mentioned that this recipe got its name because she developed it while residing in California. Nancy and her family lived in quite a few states and even France during her husband's time as an air force officer, landing back in my hometown of Lancaster, Pennsylvania 45 years later. Nancy reported that this recipe moved along with them, delighting everyone who ate it along the way.
Nancy did not mention the way she cooks her potatoes for this recipe so, although they may be boiled as is traditionally done, I used my favorite trick for great potato salad–roasting them. This creates a slight crispness and, combined with the other ingredients in this salad, was satisfying enough to be the whole meal. This is a definite make-again (and again and again) recipe in our house!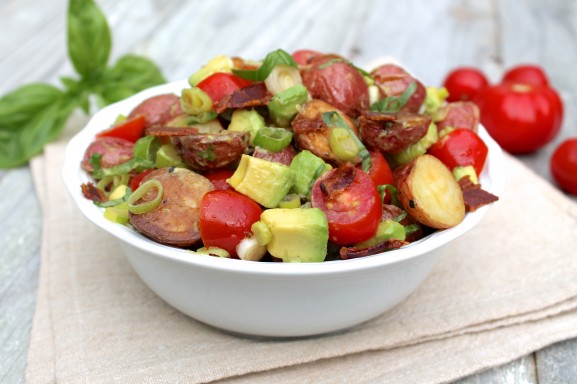 California Potato Salad
Yields 2 as a main dish, 4 as a side
Ingredients
¾ pound small red potatoes, cooked and cut in half or quartered if large (see note)
2 slices of bacon, cooked and crumbled
1 cup cherry tomatoes, quartered
1 avocado, peeled, pitted, and cut into ½ " cubes
2 scallions, sliced thin
2 tablespoons finely chopped fresh basil, or to taste
1 tablespoon red wine vinegar
2 tablespoons olive oil
Instructions
Combine the first five ingredients in a large bowl.

Whisk together the basil, vinegar, and olive oil in small bowl, adding salt and pepper to taste. (I added ¼ teaspoon of kosher salt and several grinds of the pepper mill.)

Drizzle the dressing over the potato mixture, and toss the salad gently until well combined.
Notes
If you wish to roast the potatoes instead of boiling them, cut them in half or quarter, toss with 1 ½ teaspoons of olive oil, sprinkle lightly with salt and pepper, and place cut-side down on an oiled baking sheet. Bake in an oven preheated to 400 degrees F until potatoes are tender and the cut sides are golden, about 20 minutes.
If you think there will be leftovers, reserve the avocado and add as a topping to individual servings. The avocado will brown slightly overnight when combined in the salad.
The Fountain Avenue Kitchen https://fountainavenuekitchen.com/