Blueberry Peach Pound Cake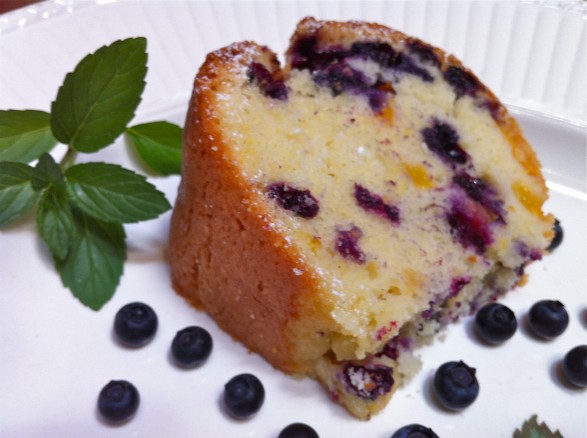 When I'm visiting my in-laws and their blueberry bushes are bursting, my mind goes straight to this pound cake (and Blueberry Jammie!).  It is a simple recipe, not too sweet, and the addition of peaches lends an extra level of flavor and moistness.  This cake tastes divine after dinner with a scoop of vanilla ice cream, and I've been known to call it coffee cake in the morning hours!  We all think it is one of those cakes that actually tastes even better the second day, so this recipe is especially perfect if you are looking for advance preparation.
Blueberry Peach Pound Cake
1/2 cup butter, softened
1 1/4 cups sugar
3 eggs
1/4 cup milk
2 1/4 cups cake flour (I have substituted all-purpose flour and that works fine, too.)
2 teaspoons baking powder
1/2 teaspoon kosher salt
2 cups fresh blueberries (can substitute frozen; do not thaw)
2 cups peeled, diced peaches (I cut into about 1/4-inch pieces)
Confectioner's sugar, optional
In a large bowl, cream the butter and sugar. Beat in the eggs, one at a time. Beat in the milk.
In a medium bowl, combine the flour, baking powder, and salt.
Add the dry mixture to the wet mixture and beat until just combined.
Fold in the blueberries and peaches.
Pour batter into a greased, 10-inch Bundt pan, and bake at 350 degrees for 60-70 minutes or until a toothpick inserted into the center comes out clean.
Cool in the pan for 15 minutes; remove to wire rack and cool completely.
If desired, dust with confectioner's sugar.
© The Fountain Avenue Kitchen