Chocolate Peanut Butter Eggs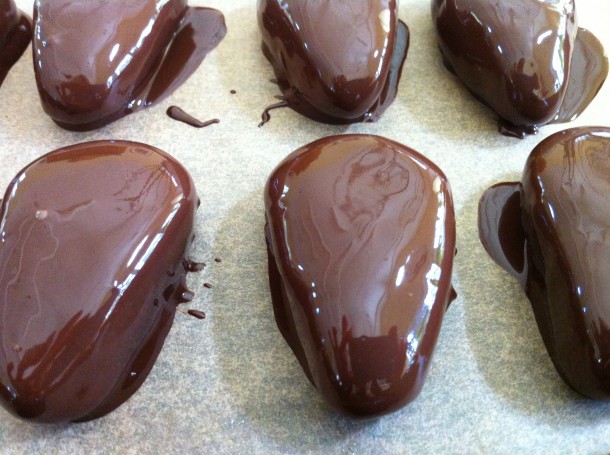 My grandmother delighted people with her absolutely perfect Easter eggs.  Because it simply wasn't enough to have them only at Easter time, she made then in the shape of a ball at Christmas time.  I have many memories of making these with my grandmother in her Fountain Avenue Kitchen.  For years now, I have carried on the tradition, giving countless boxes to family and friends as a way to remember my grandmother and give a little gift of love to those for whom I care so much.
I roll the eggs fairly small and get about 100 per batch.  As mentioned, these make wonderful gifts and also freeze well, although the recipe can easily be halved.  In the recipe below, I offer some helpful tips as well as details on how to temper chocolate if you'd like to purchase a higher quality chocolate that has not been tempered.  Good melting chocolate (often sold in disk shapes) works quite well though.  If you live in an area where Wilbur Chocolate is available, I highly recommend it.  Wilbur offers both the melting chocolate and the type which requires tempering.  Feel free to comment on brands that you have tried and enjoyed.
Chocolate Peanut Butter Eggs
When finished, I refrigerate the eggs and pack either in airtight containers or white craft store boxes (tied with a pretty ribbon) for gift giving. We like to eat the eggs cold; some people prefer them room temperature. Either way, they are delicious!
1 12-oz jar creamy peanut butter (or just over 1 1/4 cups)
1 8-oz package Philadelphia Cream Cheese, room temperature
1/4 pound (8 tablespoons/one stick) butter, room temperature
1 teaspoon vanilla
1 (2-pound) bag confectioner's sugar
Approximately 1 pound good melting chocolate (milk or dark, according to your preference)
Mix all ingredients except the sugar until thoroughly combined. Then, stir in sugar, a third at a time, until completely incorporated. (I find this is easiest if I get in there with my clean hands!) Next, I form into a big rectangular block so that I can slice into equal-size pieces for rolling. At this point, you may wrap in parchment or wax paper, and then again in plastic wrap, and refrigerate for up to a few days.
When ready to make the eggs, I find it easiest to have the dough cold. Using about a tablespoon of the mix at a time, form into oval or egg shapes, placing them on a parchment paper-lined baking sheet as you go. You may again cover and refrigerate until you are ready to coat the eggs in chocolate.
Finally, melt chocolate in a double boiler. Dip the eggs and remove to a parchment-lined baking sheet. I like to keep twenty or so out at a time, leaving the remaining eggs in the refrigerator. They will be easier to dip if they are cold. I have tried the utensils made for dipping chocolates, toothpicks, and any way I can think of to make this process easy and less messy! The way that has ultimately worked best for me is to use a dinner fork. I drop the egg in the chocolate, roll gently to coat, and lift it out with the fork. Hold the egg on the fork for a few seconds, allowing the excess chocolate to drip back into pot, then gently slide off of fork and onto baking sheet. If you end up with "feet"–a puddle of chocolate that pools around the egg–you can gently break this off once the chocolate hardens. My kids, however, think these are the best ones because they get more chocolate!
Note: One year, I thought I would be smart and put the dipped eggs on a cooling rack figuring this was a fast, easy way to drain the excess chocolate. Don't do it! The eggs stick to the rack and part of the bottom will break off when you try to remove them.
If you want to try tempering chocolate: I've had a few questions on tempering, so here is a quick how-to…I used to buy the melting chocolate that didn't need to be tempered, which is totally fine. Now I buy the kind that does. It simply has fewer things added to it which is why it requires tempering. The main risk you run if you don't temper it properly is that the finished chocolate looks a little streaky. It will still taste fabulous. What I do, however, is melt small amounts at a time–maybe 8 ounces–over low heat in a double boiler. Then turn the heat off and add about a quarter cup (no need to measure, just a small handful) of chopped chocolate and stir it in. This brings the temperature back down which is how it tempers. I turn the heat back on when I need to add more chocolate or if I get sidetracked and the chocolate cools too much and starts to thicken. Repeat the process as needed, adding a little more chopped chocolate after the bigger chunks are melted.
When you are melting chocolate in the microwave (which I often do when making Oreo, pretzel or salted almond bark), you can use a similar process. Just heat in 30-second intervals, stirring as you go. When all chocolate is just melted, stir in some chopped chocolate and let it melt in the heat of the already-warm chocolate. I do find that the stove-top method works best for the extended process of egg dipping. I sometimes use the microwave when making quick recipes like Oreo Bark.
Once dipped, the chocolate should be put in a cool place to set up properly. I put the baking sheets of dipped candy in the refrigerator or near a cool window to set and fully cool.
Stored in an airtight container and refrigerated, the eggs will keep for several weeks–if they last that long! They also freeze well.
Notes
I have also dipped a few of the eggs in unsweetened chocolate, wondering how that would balance with the sweet filling. I am a fan of dark chocolate, in general, and I loved this truly bitter-sweet pairing. If interested, you could set aside a few of the eggs and experiment with a bar of melted unsweetened baking chocolate.
http://fountainavenuekitchen.com/chocolate-peanut-butter-eggs/
© The Fountain Avenue Kitchen
Click here for the Coconut Cream Egg recipe, shown with the peanut butter filling, above.