Growing up, my family used to eat apple dumplings for dinner once or twice every fall. We would pour warm milk and sprinkle a little sugar over the top. It was a real treat.
In recent years, I have taken to baked apples and have created a crust-free version that is wholesome and every bit as delicious as what I ate growing up. I like to make a half dozen or so at a time. Extras reheat beautifully and make a satisfying lunch on a chilly day. A dollop of Greek yogurt over the top rounds out the meal. For a dessert option, whipped cream or ice cream are equally delicious. In the morning, I like to chop some leftover baked apple and top my morning oatmeal.
Feel free to vary the recipe by adding cranberries, raisins, a combination of nuts, or whatever sounds good to you. Omit the coconut if you aren't a fan. Experimenting with different apples at the same time is a great way to determine which you prefer for baking. That way, you can have a side-by-side comparison as to how different apples yield varying textures and sweetness after the same amount of cooking time. I've tried nearly every type of apple at some point and, though no two are the same, I'd be hard-pressed to pick a favorite!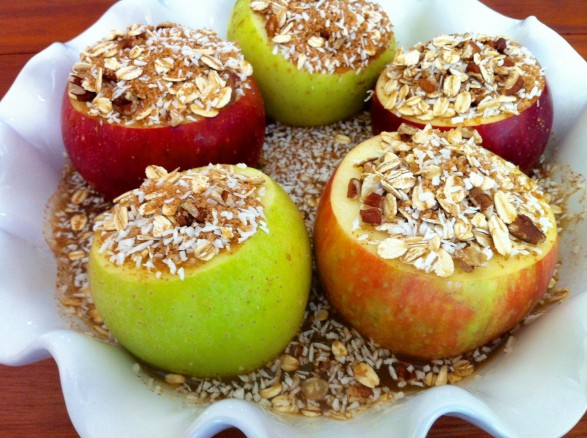 Cider Baked Apples
2015-11-20 14:25:47
If you are not a coconut fan, you may simply omit this ingredient. The same goes for the chopped nuts. Depending on what you add to the stuffing mixture, you may end up with extra. Simply place any leftovers in a small zipper top bag and refrigerate for future use. When using raisins or cranberries, I like to sprinkle them around the base of the apples and allow them to bake in the cider mixture.
Yields 4-6 servings
Ingredients
4-6 apples, depending on size (I often use a mix--Granny Smith, Golden Delicious, Staymans, Fuji, etc.)
1/4 cup old fashioned oats
1/4 cup brown sugar
1/4 cup unsweetened coconut
1/4 cup chopped nuts (I like pecans or walnuts)
1 teaspoon cinnamon
1/4 teaspoon freshly grated nutmeg
1 teaspoon butter or coconut oil per apple
1 cup apple cider
Optional: fresh cranberries or raisins
Toppings: Greek yogurt, whipped cream, or ice cream
Instructions
Preheat the oven to 375 degrees.
Slice a thin layer off the top of the apple (to hold more of the topping) and core, leaving about a half inch of the bottom in tact. (I typically use an apple corer, take the whole core out, then cut the very bottom off the core and plug the whole. I find it so much easier that way.)
Set the apples in a pie plate or square baking dish. Then mix the remaining ingredients except the butter or coconut oil and cider.
Stuff the holes with the oat mixture and mound slightly on top of the apples. Sprinkle a slightly rounded quarter cup around the bottom of the baking dish. This will help thicken the cider into a syrupy sauce. If using, scatter the fresh cranberries or raisins around the base of the baking dish.
Pour the cider around the apples (but not on top), and then top each apple with a teaspoon of butter or coconut oil.
Cover the apples loosely with foil and bake for 20 minutes. Remove the foil and continue baking for another 10-20 minutes or until you can poke a knife through the apple with no resistance.
Serve warm with a dollop of Greek yogurt, whipped cream or ice cream, if desired.
The Fountain Avenue Kitchen http://fountainavenuekitchen.com/