Crispy Baked Eggplant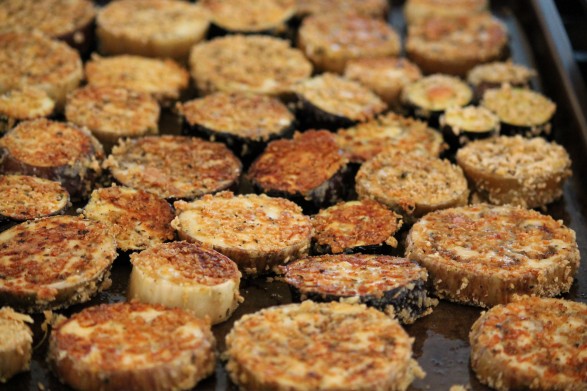 Everyone in my family always felt lukewarm about eggplant.  Until this recipe.  Dredging slices of egg-dipped eggplant into a flavorful combination of Parmesan, crumbs, and seasoning and roasting them just long enough to crisp the outside before the inside gets mushy is all that's required.
As for the aforementioned crumbs, I mention in the recipe that I began using crushed Rice Chex as a gluten-free alternative to panko or dry breadcrumbs when cooking for gluten-free family and friends.  I now use the Rice Chex crumbs, even when not required by a dietary restriction.  Even the gluten eaters claim to prefer the flavor and texture they deliver more than the old standby.  That said, feel free to use panko if you don't have the Chex on hand.  But if you are inclined to try, three cups of Rice Chex yield about one cup of crumbs and may be stored for a couple of months in an airtight container, just like breadcrumbs.
If available, using thinner eggplants will allow for bite-size rounds that are perfect poppers for an appetizer or side dish.  For an easy-to-prepare, rustic tomato sauce that I love to serve with these tasty bites, follow this recipe link for Speedy Cherry Tomato Sauce. Putting both recipes together and piling atop hot-cooked pasta creates a simple twist on the classic eggplant Parmesan.  I especially love this Deconstructed Eggplant Parmesan because the eggplant stays nice and crispy.
Perfect all by themselves or dipped in your favorite marinara sauce, these tasty mouthfuls are best with smaller eggplant and often vanish straight from the baking sheet in our house!
2 pounds small to medium-size eggplant (about 6 depending on exact size)
2 large eggs
3/4 cup finely grated Parmesan cheese
3/4 cup plain panko breadcrumbs (use Rice Chex crumbs for a gluten-free option)
1 teaspoon dried Italian Seasoning
1/2 teaspoon each kosher salt and freshly ground pepper
Olive oil, for baking sheets
Optional: marinara sauce for dipping
Preheat oven to 375 degrees F. Thoroughly coat a baking sheet with oil; set aside. (You may need to use two sheets.)
In a shallow bowl, whisk together eggs and 1 tablespoons water. In another bowl (a pie plate works well), combine panko or Rice Chex crumbs, Parmesan, Italian seasoning, salt and pepper.
Cut the eggplants into thick rounds. (I like them to be between 1/2 and 3/4 inches thick so they have time to brown in the oven before they get too soft.) Dip eggplant slices in egg mixture, letting the excess drip off. Dredge the dipped slices in the Parmesan mixture, pushing down gently to coat well. Then transfer slices to the baking sheet.
Bake until golden brown on the bottom, 17-20 minutes. (Peek underneath using a spatula; if they aren't yet golden, give them a few more minutes and check again.) Flip the slices and continue baking until lightly browned on other side but still just slightly firm, about 10 minutes more. (All ovens vary a bit, so don't hesitate to adjust a few minutes either way. You want the first side golden brown; then worry more about doneness and texture than getting the second side equally browned.) Remove from the oven, and serve as is or with a side of marinara sauce for dipping.
Notes
Although I began using crushed Rice Chex as a substitute for panko and regular breadcrumbs when needing a gluten-free option, I now prefer them to panko and use the Chex crumbs almost anywhere panko or dry breadcrumbs are required. The texture and flavor are quite good.
© The Fountain Avenue Kitchen