This is the sort of easy summer cooking I love:  basic, fresh ingredients coming together as something altogether pleasing in a few short minutes.  Although perfect over pasta–and I have included a simple, "every-night" recipe along with the sauce instructions below–this sauce is incredibly versatile.  Use your imagination to create quick, flavorful meals based on what you love.
I particularly enjoy this rustic sauce over roasted or grilled eggplant, zucchini, and mushrooms. Consider picking your grain of preference, be it quinoa or brown rice, and creating your own option to the traditional pasta dinner.  After cooking the grain, add the grilled or roasted veggies (even leftovers work well), stir in some of this chunky sauce, adding any other flavor boosters that may appeal.  Mozzarella or feta cheese and Kalamata olives pair particularly well and make a simple combination of ingredients a little extra special.
Speedy Cherry Tomato Sauce is also delicious on this recipe for Deconstructed Eggplant Parmesan, and I have a new all-in-one seafood spin on this recipe coming soon.
UPDATE: For variety, I occasionally make this by first sautéing 12 ounces of sausage (turkey or pork), removing the cooked and crumbled sausage to a plate, and then proceeding with the sauce recipe.  When I don't have fresh basil, I add 1/2 teaspoon of dried oregano or Italian seasoning along with the salt and pepper.  I've also added 2 thinly sliced shallots to the oil, cooking to soften, before adding the garlic. (More shallots would be good!) Then I toss in 12 ounces of cooked pasta, sprinkling with grated Parmesan to taste.  A little reserved pasta water is nice to have on hand to loosen after the pasta been sitting a while.😊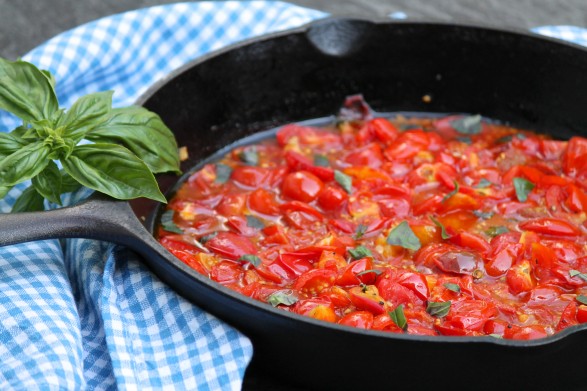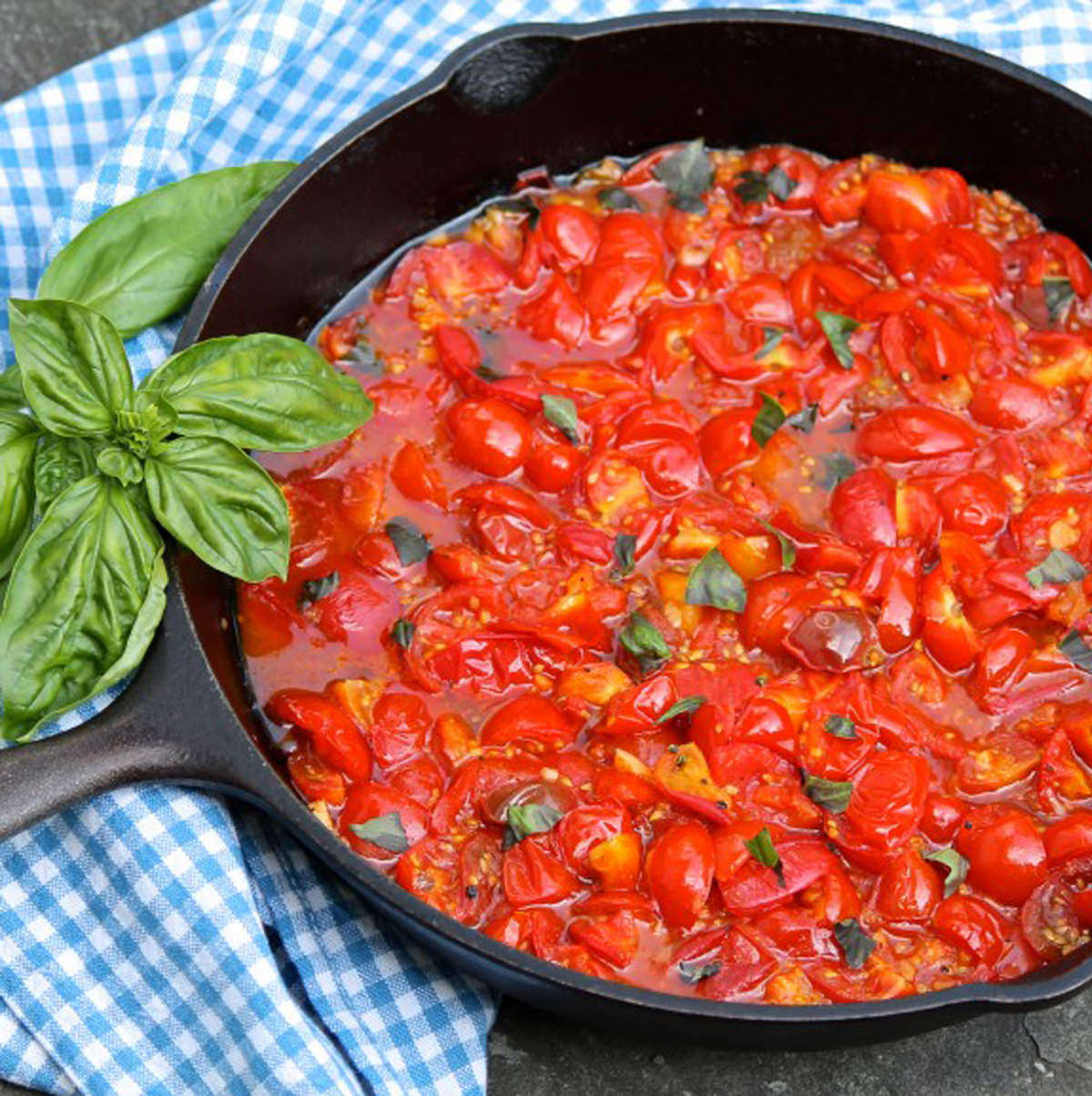 Speedy Cherry Tomato Sauce

When cherry tomatoes are plentiful, I adore this quick-cooking chunky sauce on pizza, pasta, roasted eggplant, or by the spoonful! Don't hesitate to get creative and use it over rice, quinoa, and/or sautéed zucchini. The flavors are even better the second day, so feel free to prepare in advance. If making ahead, sprinkle the basil on just before serving to retain its bright green color.

Yields 4 - 6 servings; approximately 20 ounces of cooked sauce.

Ingredients
1/4 cup olive oil
4 garlic cloves, minced
4 cups cherry tomatoes, quartered (2 pints or 1 quart)
1 teaspoon kosher salt
1/2 teaspoon fresh ground black pepper
1/4 teaspoon sugar
1/4 cup lightly packed fresh basil leaves, torn into small pieces
If serving with pasta
12-16 ounces fusilli, rotini, penne, or other short spiral or tubular pasta, cooked according to package directions (reserve a cup of pasta cooking water; see notes)
1 cup fresh mozzarella cheese, diced (about 8 ounces)
Instructions
In a large skillet, heat the olive oil over medium heat. Add the garlic and sauté 1 minute or until fragrant but not turning brown.

Add the tomatoes, salt, pepper, and sugar. As the tomatoes cook and soften, mash them with a fork to help them form a chunky, rustic sauce. Cook the tomatoes for approximately 5-6 minutes total.

Sprinkle with torn basil before serving.

If serving with pasta, transfer the tomato sauce to a bowl with the pasta, and toss to combine.

Stir in the mozzarella and add the reserved pasta water, 1/4 cup at a time, until the pasta is moist. Garnish with additional basil, if desired.
Notes
Choose the amount of pasta based on whether you like your pasta extra saucy or not. I like a high ratio of sauce to pasta so use the lesser amount of pasta.
The Fountain Avenue Kitchen https://fountainavenuekitchen.com/