Jump to Recipe
This quick and easy sauce is a versatile summertime staple and a delicious way to use an abundance of cherry or grape tomatoes. It will even make the most of off-season cherry tomatoes.
This is the sort of easy summer cooking I love: basic, fresh ingredients coming together as something altogether pleasing in a few short minutes.
Although perfect over pasta–and I have included a simple, "every-night" recipe along with the sauce instructions below–this sauce is incredibly versatile.
You can use your imagination to create quick, flavorful meals based on what you love. I've also included a few ways that we enjoy the recipe.
I particularly enjoy this rustic sauce over roasted or grilled eggplant, zucchini, and mushrooms. In addition to traditional pasta, it pairs beautifully with zucchini noodles.
Or pick a grain of preference, be it quinoa or rice, and create your own alternative to the traditional pasta dinner. After cooking the grain, add the grilled or roasted veggies (even leftovers work well), stir in some of the chunky sauce, and add any other flavor boosters that may appeal. Mozzarella or feta cheese and Kalamata olives pair particularly well.
Speedy Cherry Tomato Sauce is also delicious as the sauce on this recipe for Deconstructed Eggplant Parmesan. Or go appetizer-style and use it as a condiment for bite-size (and addicting!) Crispy Baked Eggplant.
Versatile as it is, Speedy Cherry Tomato Sauce served as an excellent springboard for Tuna in Rustic Tomato Sauce. It's an easy, one-pan dish that could be modified with another variety of fish, or even shrimp or chopped chicken. Serve over pasta or with crusty bread, if desired.
UPDATE: For variety, I occasionally make this by first sautéing 12 ounces of sausage (turkey or pork), removing the cooked and crumbled sausage to a plate, and then proceeding with the sauce recipe. When I don't have fresh basil, I add ½ teaspoon of dried oregano or Italian seasoning along with the salt and pepper. I've also added 2 thinly sliced shallots to the oil, cooking to soften, before adding the garlic. (More shallots would be good!) Then I toss in 12 ounces of cooked pasta, sprinkling with grated Parmesan to taste. A little reserved pasta water is nice to have on hand to loosen the pasta after it has been sitting a while.😊
One more idea: A reader emailed me recently to say that she makes this sauce on repeat. When she has an abundance of zucchini from her garden she chops it and sautés it in olive oil until golden. (Higher heat and less stirring help to achieve this more quickly.) Then she removes the cooked zucchini to a plate, continues with the Speedy Cherry Tomato Sauce recipe, and stirs in the zucchini at the end. A sprinkle of crumbled feta would be lovely as well.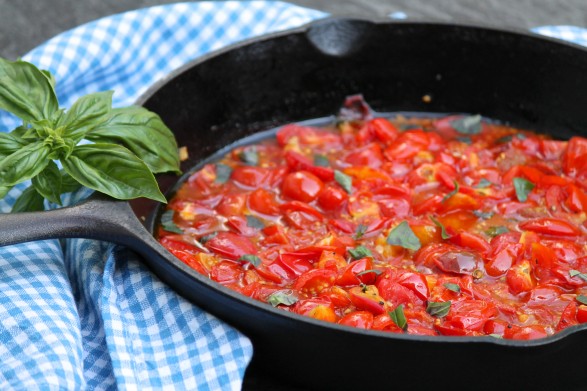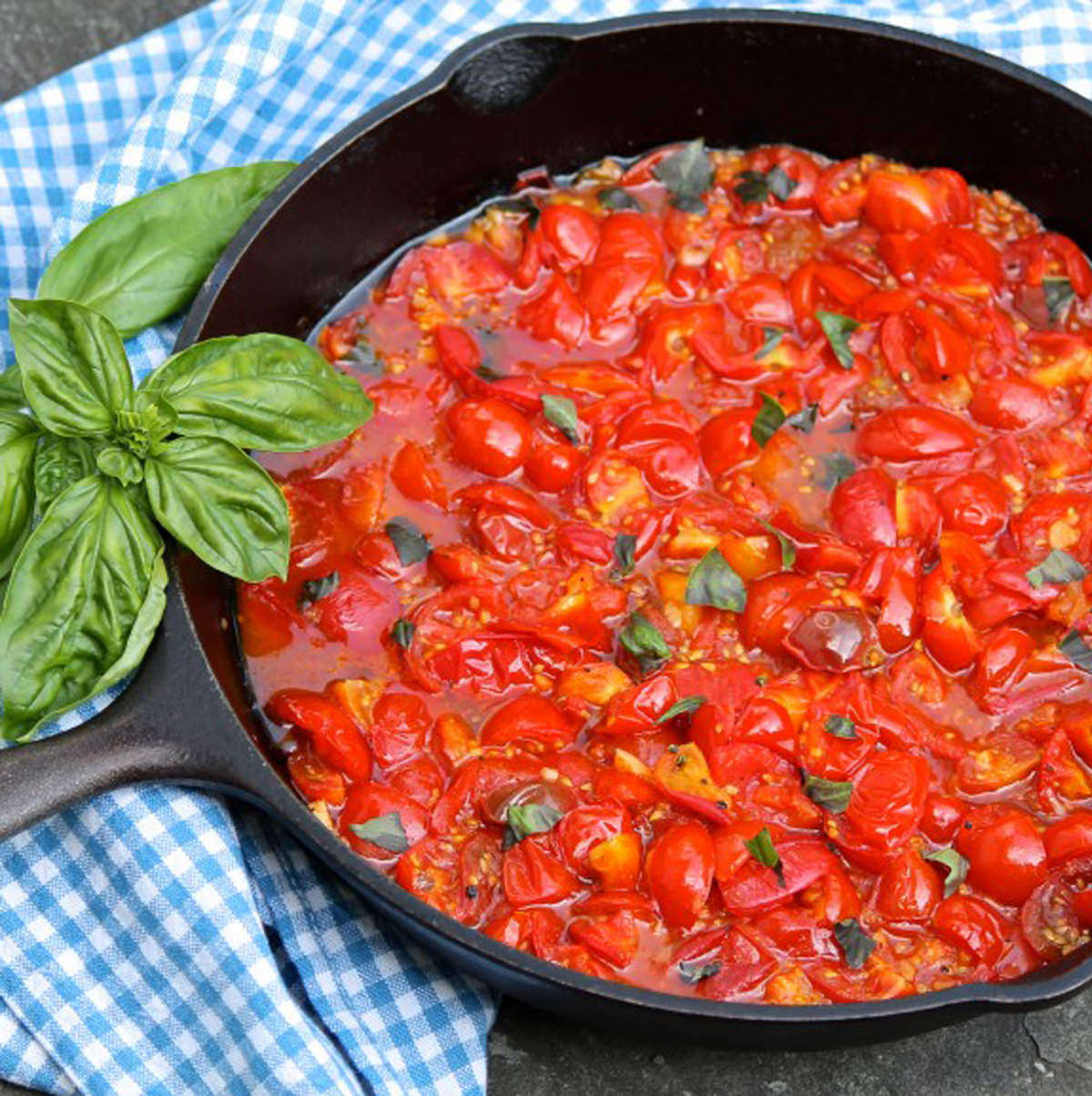 Speedy Cherry Tomato Sauce

Prep Time: 10 minutes

Cook Time: 5 minutes

Total Time: 15 minutes

Yield: 6 servings

When cherry tomatoes are plentiful, I adore this quick-cooking chunky sauce on pizza, pasta, roasted eggplant, or by the spoonful! Don't hesitate to get creative and use it over rice, quinoa, and/or sautéed zucchini. The flavors are even better the second day, so feel free to prepare in advance. If making ahead, sprinkle the basil on just before serving to retain its bright green color.

Yields 4 - 6 servings; approximately 20 ounces of cooked sauce.

Ingredients
1/4 cup olive oil
4 garlic cloves, minced
4 cups cherry tomatoes, quartered (2 pints or 1 quart)
1 teaspoon kosher salt
1/2 teaspoon fresh ground black pepper
1/4 teaspoon sugar
1/4 cup lightly packed fresh basil leaves, torn into small pieces
If serving with pasta
12-16 ounces fusilli, rotini, penne, or other short spiral or tubular pasta, cooked according to package directions (reserve a cup of pasta cooking water; see notes)
1 cup fresh mozzarella cheese, diced (about 8 ounces)
Instructions
In a large skillet, heat the olive oil over medium heat. Add the garlic and sauté 1 minute or until fragrant but not turning brown.

Add the tomatoes, salt, pepper, and sugar. As the tomatoes cook and soften, mash them with a fork to help them form a chunky, rustic sauce. Cook the tomatoes for approximately 5-6 minutes total.

Sprinkle with torn basil before serving.

If serving with pasta, transfer the tomato sauce to a bowl with the pasta, and toss to combine.

Stir in the mozzarella and add the reserved pasta water, 1/4 cup at a time, until the pasta is moist. Garnish with additional basil, if desired.
Notes
Choose the amount of pasta based on whether you like your pasta extra saucy or not. I like a high ratio of sauce to pasta so use the lesser amount of pasta.
More On YouTube More on Instagram

The Fountain Avenue Kitchen https://fountainavenuekitchen.com/