Graham Cracker Houses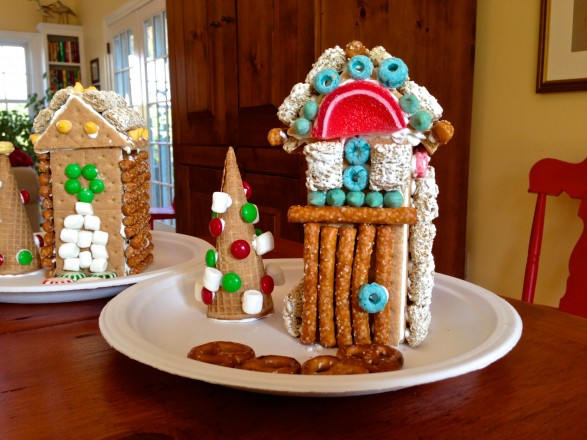 Making gingerbread houses–well, actually, graham cracker houses–is an annual holiday event in our house.  The first year I thought of doing this, I offered to make enough "bases" for my son's entire pre-school class.  It was a bit overwhelming at first.  I wondered what the heck I had gotten myself into!  But once you get a feel for putting the houses together, it is really quite easy.
These days, I make enough for my family and a few of the kids' friends.  The houses don't take too long to assemble and they can be made several days — I think I have made them up to two weeks in advance during the busier years — before being decorated.
You will need five and a half graham whole crackers per house.  Sturdy white plates make a perfect base.  Usually, after assembling the houses, there are lots of crumbs on the plates.  I take them outside and blow them away!  The houses above aren't quite finished.  My kids like to go back to them and keep adding.  That's the great thing about these houses.  You may store the icing in the fridge and continue to enjoy the holiday fun, making them ever more ornate and festive.
Below is the recipe for a simple royal icing, which serves as the glue, followed by helpful hints for assembling the houses. Younger children often to do well spreading the icing from a small cup or bowl with a smooth, plastic knife. Older kids and adults can be more effective using a zipper top bag to pipe the icing. Simply spoon in the icing, cut a tiny piece off the corner of the bag and squish the icing toward the corner. Too much pressure toward the opening may pop the bag open. The icing will keep, covered, in the refrigerator for a couple of weeks. Bring to room temperature before using.
The simple royal icing recipe is followed by a few photos, under which I explain the step-by-step building process. The first house may be a little tricky, especially lining up the roof.  I find holding the cut pieces up to determine the best pitch of the roof and how the triangle pieces will fit in really helps.  Once you complete the first house, the next one will be a piece of cake…gingerbread, of course: )
Note:  Needing a project for a Sunday School class one year, I made a stable and manger scene with the graham crackers and it worked quite well.  I made the stable longways with an open front and used two graham cracker quarters in a "V" shape for the manger.  If you want to keep it healthy or simply have a rustic look, pretzels and shredded wheat squares and great options for decorating.  Gluten-free graham crackers are also available.
Have fun!!
Royal Icing Recipe and Graham Cracker House Ingredients
This icing will dry candy-hard so it is not suitable for icing cakes. It makes perfect "glue" for gingerbread houses and may be used for making decorations, like flowers, on certain baked goods. Meringue powder can be found in the baking aisle of many grocery stores or in larger craft stores.
1 pound confectioner's sugar
3 tablespoons meringue powder
5-6 tablespoons warm water
Optional: food coloring (gel colorings offer the most vibrant hues)
Ingredients for the houses:
Graham crackers (5 1/2 per house but have extra in case some are broken or break while cutting)
Sugar cones
Sturdy, plain white paper plates
Decorations: candy canes, holiday colored M&Ms, peppermints, Fruit Loops, Frosted Shredded Wheat, short pretzel rods and/or miniature pretzels, mini marshmallows, and any other items that look good to you. The bulk section–and your own pantry–is a good place to look for ideas and desired quantities.
Add sugar, meringue powder and 5 tablespoons water to a mixing bowl.
Beat until the icing is thick and of good spreading consistency, adding a few drops more water at a time, as needed.
If you mistakenly add a bit too much water, simply add a bit more sugar and beat again.
Store in plastic zipper top bags or in covered bowls. Refrigerate until ready to use.
Notes
I like to pipe the icing from a zipper top bag. Carefully snip a small corner off the bag and gently squeeze like a toothpaste tube. Better to start with a very small hole as you can always make it bigger if need be.
© The Fountain Avenue Kitchen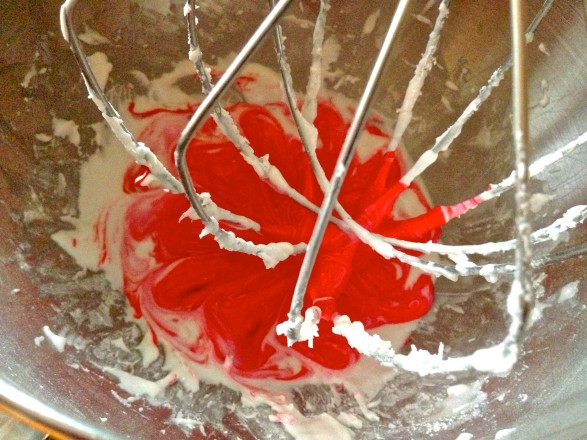 This fun craft was happily shared with 365 Days of Baking's Wicked Good Wednesdays , Sunflower Supper Club Weekend Potluck, Foodie Friends Friday, and Recipes for My Boys' Thursday's Treasures.