Pan-Seared BBQ Heart Chicken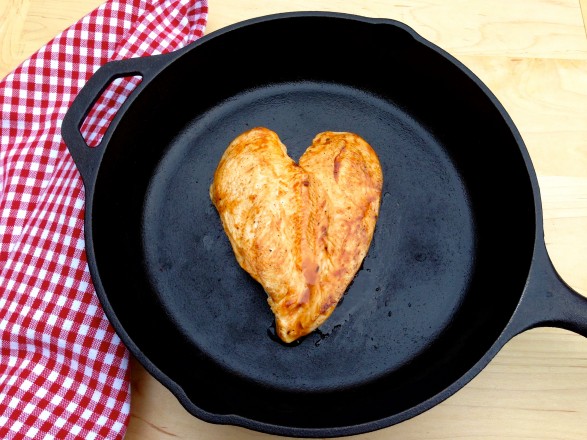 When I started The Fountain Avenue Kitchen, I truly started it as a labor of love with no expectations beyond sharing the recipes that I cook for my family with my extended family and friends.  Beyond that, I sort of figured I would take it day by day and continue this venture as long as it fit into my life and that of my family.
I never expected many of the big and small opportunities that would come my way as a result of this venture in food.  One thing I never expected was to receive products to try–other people's labors of love, from homemade spice rubs to cookbooks.  Recently, Outta the Park BBQ Eats sent me some of their award-winning, all-natural barbecue sauce. Beth thought her sauce's ingredients–and lack of certain ingredients–would really appeal to me. While I have a homemade recipe that I really love, sometimes a bottle of store bought comes in handy.  I figured a busy night with swim team carpools to drive would be the perfect time to test out the sauce.  With Valentine's Day nearing, I also thought it would be a fine time to pull out my heart trick!
Between the shape of the chicken and the terrific flavor imparted by the sauce (two chose the spicy version, two chose original), there were smiles across the board.  To complete the meal, I piled my chicken on top of a bed of greens and added tomato, avocado and a drizzle of homemade ranch.  (My kids like their chicken and salad separate–not that it matters–and, if we have some homemade cornbread, all the better!)  This is the sort of meal that is "fast food" in our family.  A quick sear of a chicken breast and a bag of greens forms the basis of a good dinner fast.  What's more, it really satisfies while being truly healthy.
Thank you, Beth, for sharing your sauce with my family!  We give it eight thumbs up!
If you would like to make your own BBQ sauce, click here for a link to my favorite homemade version…I call it Slather-It-On Barbecue Sauce.  If you are interested in the Outta the Park sauce, simply click on the link above!
Boneless, skinless chicken breasts (keep tenders on)
Barbecue sauce, marinade or spice rub of choice
Olive oil for pan
Cut the chicken breasts horizontally without cutting all the way across. You want to be able to fan the chicken open, keeping the tender underneath (the breast is more likely to split in two if you remove the tender).
Cut a small notch in the middle of the thick end–just enough to make the heart shape. You should not have to do much shaping. I remove just a little from the top of each side, right in the center.
If you are using a rub, sprinkle it over both sides of the breast. If you are using chicken that you have marinated, remove from the marinade.
Heat an oiled skillet over medium to medium-high heat. When hot, place the chicken breast, tender side up first and cook for about 3 minutes. Then, flip and cook for 3-5 minutes, depending on size of breast, until chicken is just cooked through the center. If you are using barbecue sauce, baste the cooked chicken with sauce on both sides and flip a couple of times in the hot skillet to caramelize the sauce a bit.
Serve with love to smiling faces!
© The Fountain Avenue Kitchen
[shareaholic app="share_buttons" id="9256091"]