Lean & Mean Pulled-Pork BBQ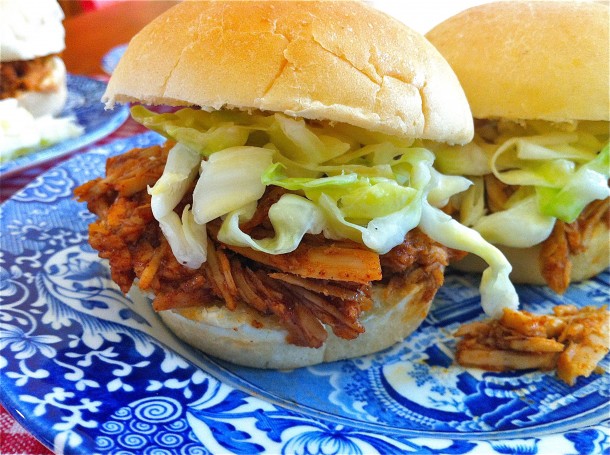 My friend Kirke gave me the brilliant idea of using lean pork tenderloins instead of one of the fattier cuts typically used for pulled pork.  As far as I am concerned, there is no reason to do it any other way!  The end result is every bit as delicious and so much healthier.
While any barbecue sauce will work, if you have a few extra minutes, try the homemade version below. It is the perfect combination of tomato goodness and vinegar tang.  Soy sauce and ginger add an extra dimension of deliciousness.  Although I typically like my pork dripping with sauce, this one is so flavorful that I find I'm satisfied without ladling it on.  If you like cole slaw served alongside or piled on top, try this light and delicious recipe for Classic Creamy Cole Slaw–with Options.
Lean & Mean Pulled-Pork BBQ:
pork tenderloin(s)
beer or chicken stock (I used a lager beer)
Slather-it-on Barbecue Sauce (see recipe below) or barbecue sauce of choice
Place the desired number of pork tenderloins in a crock pot along with 1/2 cup of beer or stock per pound of pork.  (Leftovers are delicious, so cook extra!)
Cook for 6-8 hours on low.
Pour off liquid and shred pork.  I find this is easiest to do with two dinner forks–on a dinner plate for easy clean up.
Place meat back in crock pot and mix in barbecue sauce of choice.  Coat to your liking.
Cook on low for an hour more.
Serve with coleslaw, rolls, and additional barbecue sauce.
Slather-it-on Barbecue Sauce:
1 1/2 cups ketchup
1 cup cider vinegar
1/4 cup soy sauce
1/4 cup Worcestershire sauce
1 cup, packed, (8-ounces) brown sugar
1 tablespoon grated fresh ginger or 1 teaspoon ground ginger
2 tablespoons ground (dry) mustard
4 tablespoons ancho chile powder (can use regular chile powder)
2 tablespoons olive oil
2 cloves garlic, minced
2-3 thin slices lemon
Mix all ingredients in a sauce pan and bring to a simmer over medium-high heat.  Reduce heat to medium-low and simmer for 5 minutes, stirring frequently.  Remove lemon slices and store in the refrigerator.  This sauce will keep for several weeks.