One Dish Baked Fish Marinara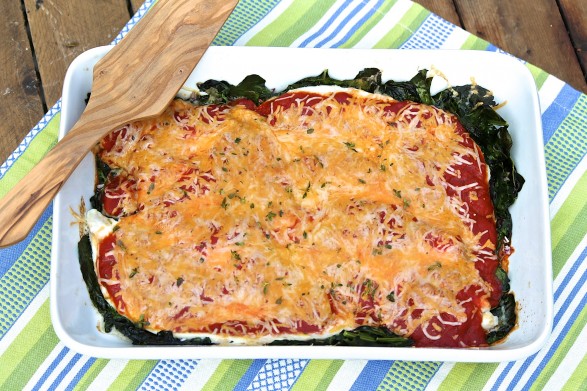 Time is often short around dinnertime, but we still need to eat, right?  By no means is this recipe gourmet, but it is one I often reach for when I've had a busy day or just need to get dinner on the table quickly.  I love that it's an all-in-one meal that can literally be assembled in minutes.  A little leftover rice lends well to a heartier version of this healthy casserole, although serving it over pasta or your grain of choice–even with some crusty bread–works well, too.
Easy One Dish Baked Fish Marinara
This is an incredibly easy, one-dish meal to which I often turn on busy nights. When thinking ahead, I cook rice the day before so I can quickly assemble the heartier option as the oven is preheating. If not, a grain or pasta of choice may easily be prepared as the fish is baking to serve alongside.
1 (5-ounce) bag of baby spinach, roughly chopped
4 white fish fillets (we love flounder; have also used cod and tilapia.)
Kosher or sea salt and freshly ground black pepper
1 3/4 cups of your favorite marinara sauce
1 cup shredded Italian blend cheese (may substitute cheddar or your favorite cheese)
Optional: 3 cups cooked rice (from 1 cup uncooked), or hot cooked pasta or quinoa. (see comments above)
Preheat the oven to 375 degrees F, and lightly oil a 9×13-inch baking dish.
If using the rice, evenly distribute the cooked rice on the bottom of the baking dish. Place the spinach over the rice. (I like to roughly chop for easier eating, although this is not critical.) Lay the fish fillets on top of the spinach, and lightly season the fish with kosher or sea salt and freshly ground black pepper. Pour the marinara sauce evenly over the top, and sprinkle with the cheese. Bake for 15-20 minutes. In my oven, I cook for 15 minutes when cooking thinner fillets without the rice and about 20 minutes when cooking with rice and/or a slightly thicker fillet. When in doubt, cut into the fish; it should flake easily and look opaque throughout. If not, place in the oven for a few more minutes.
If not baking with the rice, you may wish to serve over hot cooked pasta, quinoa, or couscous.
http://fountainavenuekitchen.com/one-dish-baked-fish-marinara/
© The Fountain Avenue Kitchen