Parmesan Crusted Potatoes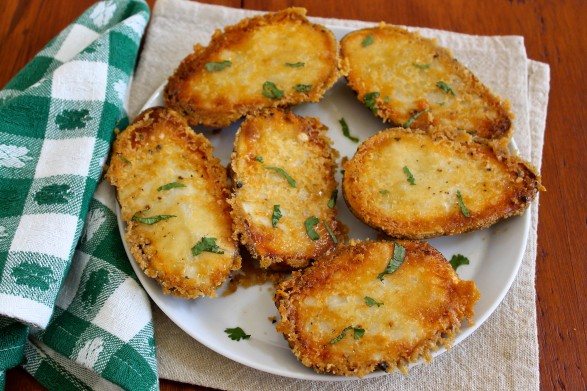 When I think of St. Patrick 's Day, I think of Leprechauns, four leaf clovers, and wearing green.   I also think back to elementary school when a friend's mother delivered Shamrock Shakes for the entire class every March 17th.  It was a lucky day, indeed!
But since we can't exist on green milkshakes alone, I thought that a couple other Irish-inspired recipes would be fitting today.  And what could be more Irish than potatoes and soda bread?  (Click here for my original, wholegrain version with steel cut oats and here for a slightly sweet sunflower cinnamon option, which makes delicious French toast!)
When I forgot to buy bread at the store one weekend, I borrowed a cheese crust concept I typically use in a baked mashed potato recipe and applied it to whole potatoes.  The work-with-what-I-had lunch was similar to potato skins and enjoyed by all—so much so that I made them for dinner the very next night and quite a few times since.
Parmesan Crusted Potatoes
This recipe would also make a perfect appetizer when using new potatoes. I cook the smaller varieties for about 30 minutes or until a knife can be inserted into the potatoes very easily. While three regular potatoes is the perfect number to fill a 9×9 baking dish, this recipe may be adapted easily, depending on the number of servings desired.
3 small to medium baking potatoes, halved lengthwise (longer, thinner potatoes work well)
2 ½ tablespoons olive oil
1/3 cup grated Parmesan cheese

½ teaspoon kosher or sea salt
and a few turns of the pepper mill
Chives, optional
Preheat the oven to 400 degrees F.
Coat the bottom of a 9×9-baking dish with the olive oil, and then evenly distribute the grated Parmesan over the olive oil. Sprinkle with the salt and pepper. (See notes)
Place the potato halves, cut side down, on top of the cheese mixture and bake for 45-50 minutes or until the potatoes are very tender when pierced with the tip of a knife. Precise baking time will depend on the thickness of your potatoes.
Cool for five minutes before serving. Remove to a platter with a metal spatula, and garnish with snipped chives, if desired. Leftovers are equally delicious reheated in the oven.
Notes
If you wish to make enough to fit in a 9×13 pan, you will not need to fully double the olive oil. You basically want to cover the bottom of the pan in a thin layer of oil, and then add enough Parmesan cheese to lightly cover the oil. After you have followed the recipe once or twice, you will be able to "eyeball" it.
© The Fountain Avenue Kitchen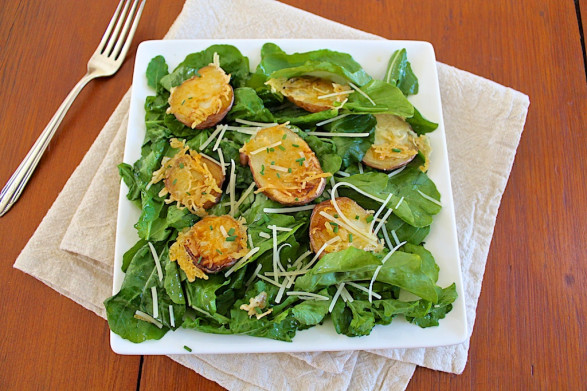 Click HERE for a satisfying salad spin on this recipe.