I often think of these tasty muffins around Valentine's Day because of their pinkish hue. Conveniently, they rely on frozen berries, so these muffins are ideal throughout the many months raspberries are not in season. I also love that this recipe uses a whole bag of frozen berries. The white chocolate chips provide a delightful counterbalance to the slight tang of the raspberries. Of course, dark chocolate is a fine option, too.
Recently, I hosted a group of friends who had requested a cooking class. After eating the lunch we prepared, I thought to offer them a taste of the mini muffins I had baked the day before. At that point, I wasn't thinking of sharing the recipe here. When the women went back for seconds and thirds, however, and I thought about how much my family adores them, I figured these deserve a spot in The Fountain Avenue Kitchen. If you make them, I hope you agree!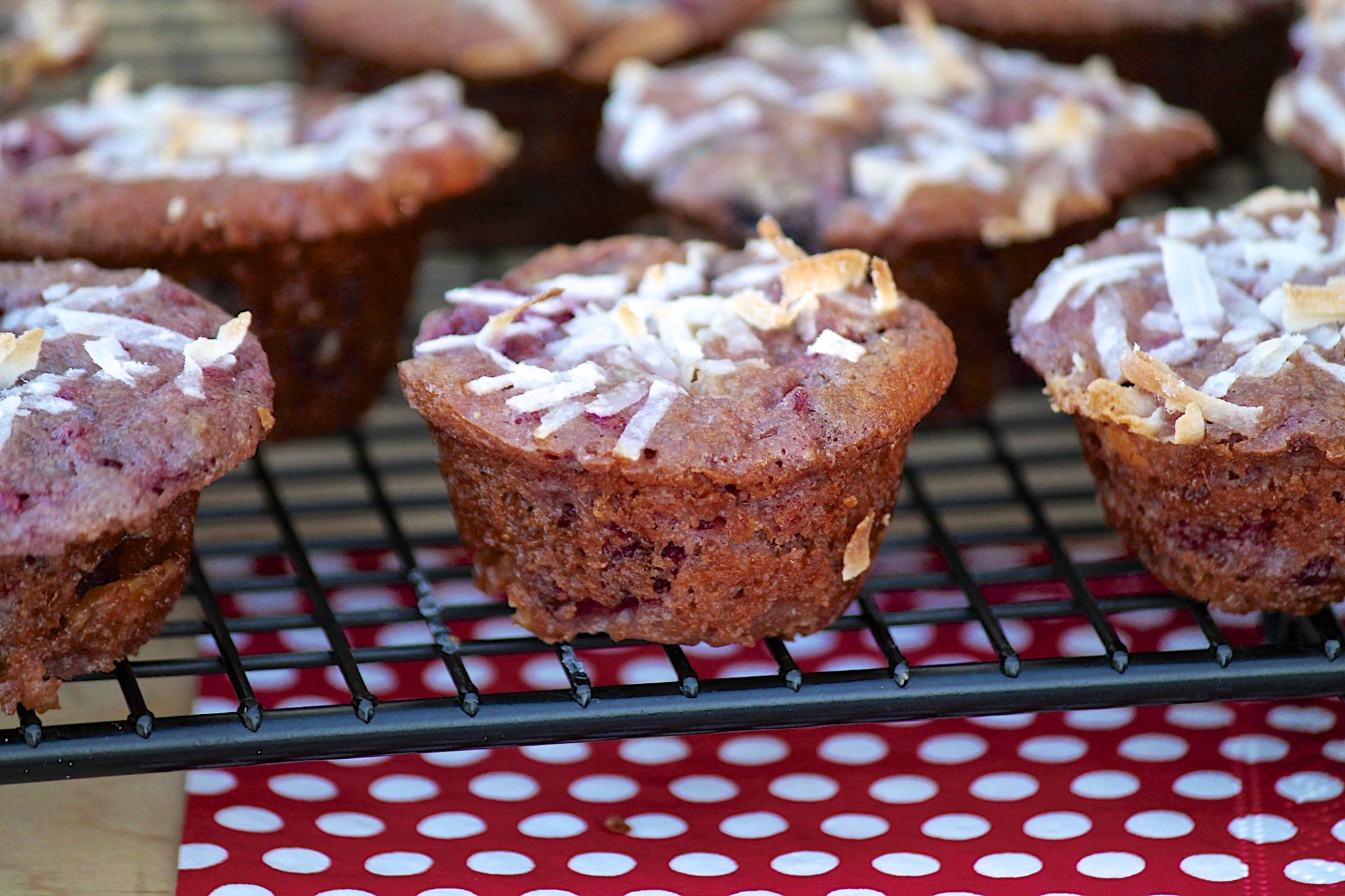 Raspberry Vanilla Muffins
2015-11-21 21:28:08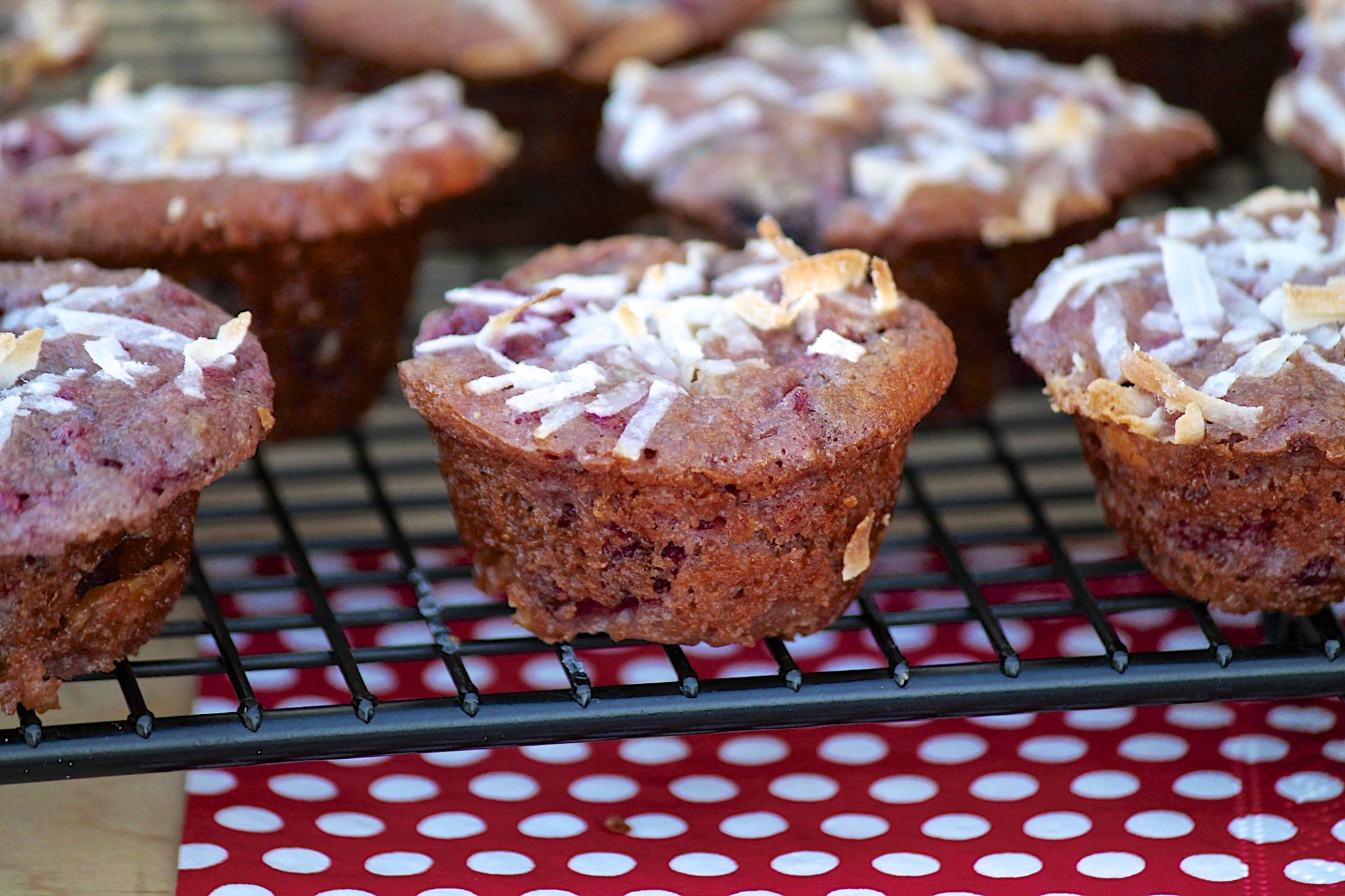 Yields approximately 36 mini muffins or 12 regular size muffins.
Ingredients
1 10-ounce bag frozen red raspberries, thawed (including juice)
2 eggs, lightly beaten
1/2 cup melted coconut oil (may substitute melted butter or oil of choice; see notes)
1 1/2 teaspoons vanilla extract
1 1/2 cups all-purpose flour or all-purpose gluten-free flour blend
1 cup granulated sugar
1/2 teaspoon baking soda
1/2 teaspoon kosher salt
3/4 cup white chocolate chips (dark chocolate is a delicious alternative)
Optional: shredded coconut (sweetened or unsweetened) for sprinkling on top
Instructions
Grease or line mini muffin or regular-size muffin tins. Preheat the oven to 350 degrees F.
In a medium bowl, mash the raspberries, and then add the eggs, oil, and vanilla. Stir to thoroughly combine.
In a large bowl, mix the flour, sugar, baking soda, salt, and chips. Make a well in the center of the dry ingredients.
Pour the wet mixture into the dry mixture, and stir until combined.
Distribute the batter among the prepared muffin tins. Sprinkle a little shredded coconut on top, if desired (I use about 1/2 - 1 teaspoon depending on size of muffin chosen). Bake approximately 10-12 minutes for mini muffins or 15-17 minutes for regular-size muffins. Check for doneness with a toothpick, and then remove from the oven. Allow to cool in the pan for 5-10 minutes before removing to a rack to cool completely.
Store in an airtight container for 1-2 days at room temperature; refrigerate to preserve freshness for up to a week. The muffins freeze well, too.
Notes
When making my regular muffin and quick bread recipes gluten-free, I typically substitute my own All-Purpose Gluten-Free Flour Blend and no one can ever tell. Having heard good things about the brand Cup4Cup, I tried it this time and it worked beautifully.
When using melted coconut oil or butter, it is helpful to have all of the ingredients come to room temperature before mixing so the oil or butter does not solidify. If this happens, warm very gently in the microwave until the oil or butter melts again, taking caution to only return the mixture to room temperature but not cook it.
The Fountain Avenue Kitchen http://fountainavenuekitchen.com/