My kids are soon flying the coop for a few weeks, heading off to camp in Maine. When I asked them if there was anything they wanted me to make in their last week home, my older son threw me a curve ball. He wanted Dilly Beans.
I was completely expecting John to request BLT's and Christian to ask for mac and cheese. There is a reason for the dilly beans, however. In addition to the typical camp activities like hiking, swimming, and canoeing, their camp has a rather large garden and a few farm animals. The kids can actually choose "farm" as an activity and both of my boys, to my surprise, have spent countless hours there. A few summers ago, the boys picked buckets-full of green beans and one of the counselors helped them make dilly beans.
John came home with a small jar, with instructions to wait about a month to open it, reporting that the counselor said the beans would taste better the longer they pickled. Three months later, I finally convinced John that enough time had passed; it would be safe to dig in.
The green beans were crunchy and delicious, perfectly pickled and a hit with everyone. My inclination had been to blanch the green beans prior to packing them in the jars. John said they stuffed them in the jars raw, so that's the way we do it now. They are delicious, and there is one less step in the process. The best part of the recipe is that John wanted to make them with me!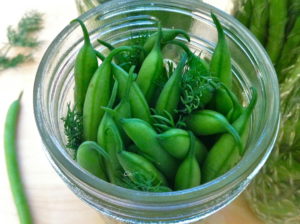 John's Dilly Beans
2015-11-19 10:20:01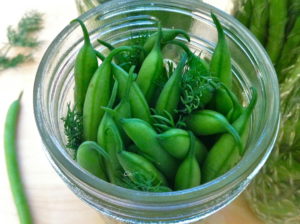 For this recipe, I use four 12-ounce canning jars. They are tall enough that I don't have to cut the beans and fit a nice amount. This is a simple canning process requiring no special equipment–I use one of my stock pots. If you wish to skip the processing step, simply store the beans in the refrigerator where they will keep for several months.
Ingredients
1 1/4 pounds fresh green beans, rinsed and trimmed
4 cloves garlic, peeled
8 sprigs fresh dill weed
3 teaspoons salt
2 1/2 cups white vinegar
2 1/2 cups water
Instructions
Pack the beans into four sterilized, 12-ounce canning jars. Place 1 clove of garlic and 2 sprigs of dill weed in each jar. Add 3/4 teaspoon of salt to each jar.
In a large saucepan over high heat, bring the vinegar and water to a boil. Pour over the beans. You may have a little extra liquid, but you want to make sure to have enough to cover the beans completely, leaving about 1/4-inch headspace.
Fit the jars with clean lids and rings and process for 10 minutes in a boiling water bath. I use a stock pot and completely submerge jars.
Notes
Although the flavor will improve with each day the beans steep in the dill-vinegar solution, we taste tested one jar after just a few hours and they were quite good right away!
If using a stock pot to process the jars, a rack on the bottom of the pot is helpful although not essential.
The Fountain Avenue Kitchen https://fountainavenuekitchen.com/