Quick and easy to make with pantry staples, homemade refried beans add healthy, plant-based protein to a variety of meals and form the flavorful foundation to one of my go-to speedy dinners!
Beans can be a hard sell for some. Their reputation precedes them and they don't look especially pretty.
So if you happen to be gazing at this picture of seemingly mushy beans and wondering why the heck you should make them, I ask you to trust me and read on.
Not only is this recipe easy to make with inexpensive pantry ingredients, it forms a flavorful, protein-rich base for one of my family's favorite meals.
Funny enough, I dug this meal (which I call Speedy Mexican Pizzas, pictured below) out of my recipe box several months ago after an extended absence. More recently, it has become a quarantine go-to for me, partially for its utter ease, but also because it relies on pantry staples and can be enhanced with a flexible list of basic fresh ingredients.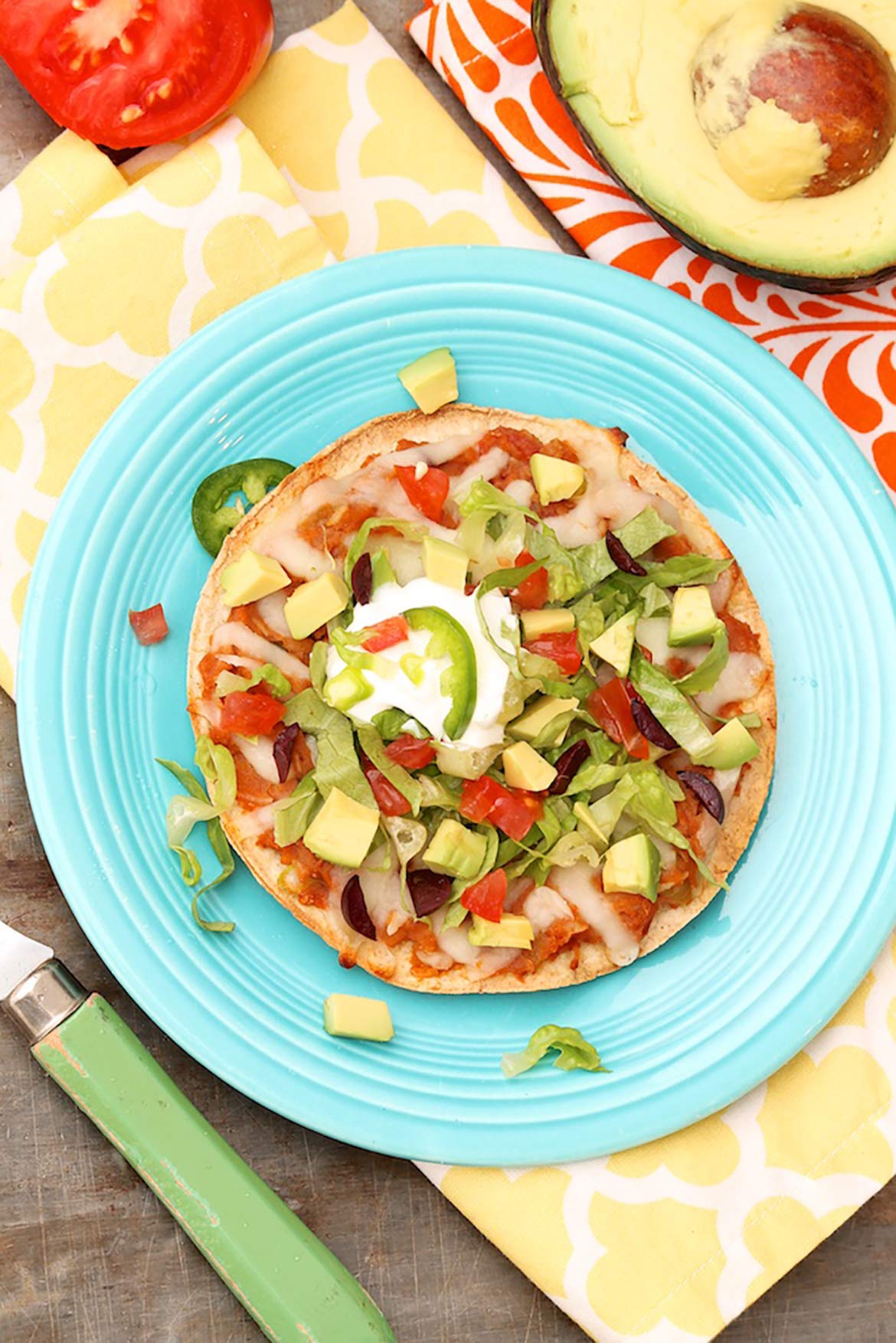 The very best part, however, may be how these nontraditional pizzas always garner far more oohs and ahhs than the effort seems to merit. (Don't you love it when that happens?) As a bonus, leftovers provide a welcome lunch.
Spoiler alert: you may use canned refried beans for the pizzas (and I have many times), although the texture and flavor of the homemade alternative is a step up and can be adjusted to taste. It can also be made in advance in mere minutes.
Of course, there are many more ways to enjoy refried beans, and I've offered some suggestions below. But first, the photo below essentially illustrates the ease of the one-pot recipe: a brief sauté followed by a covered simmer, a few more minutes uncovered, and then a quick mash.
Don't have a potato masher? A dinner fork can be used instead.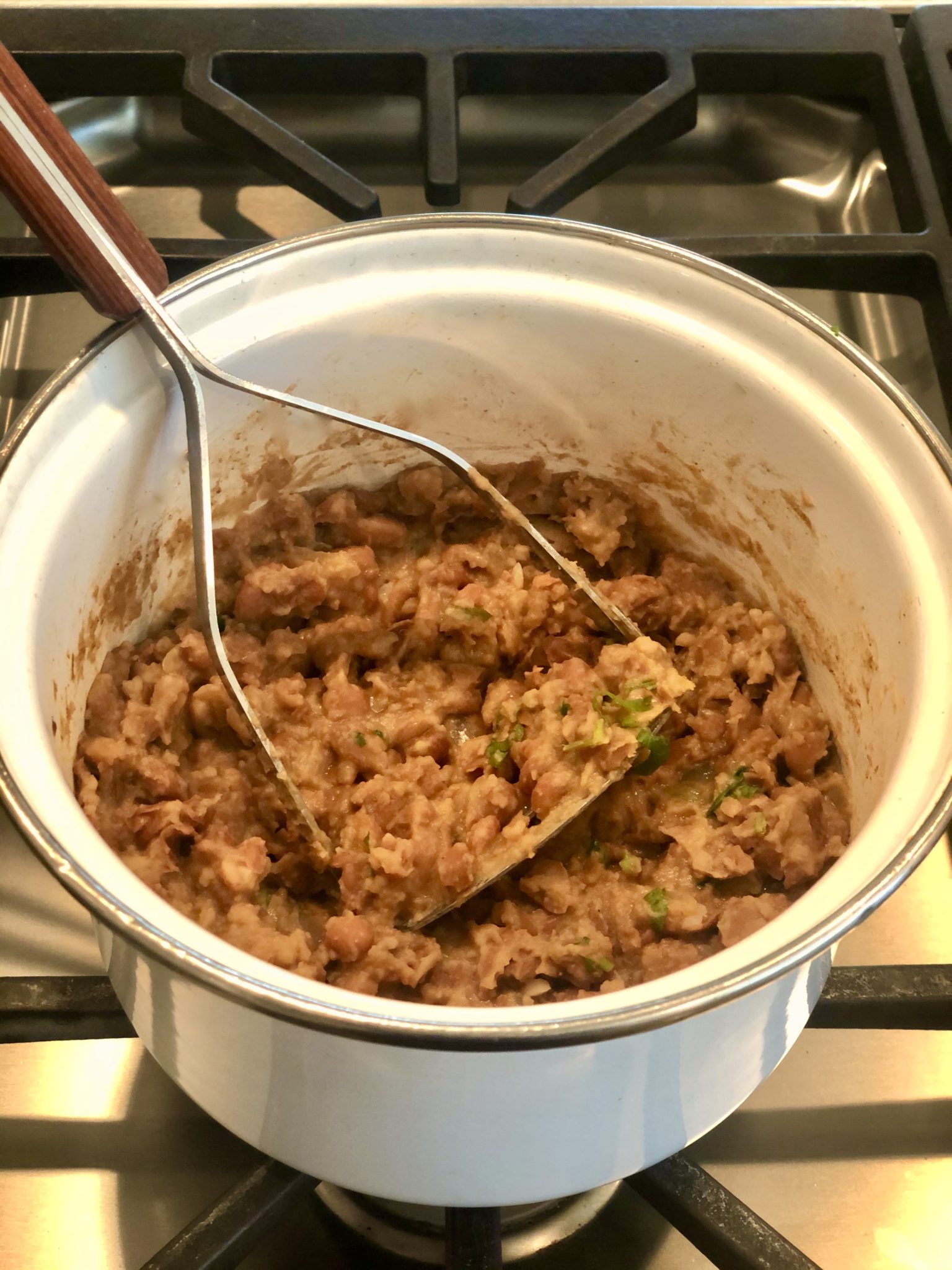 While the contents of the pot may not look particularly beautiful at this point, the flavor is there. For those who would like the beans to score points for visual appeal, I've shared topping and garnish options within the recipe card.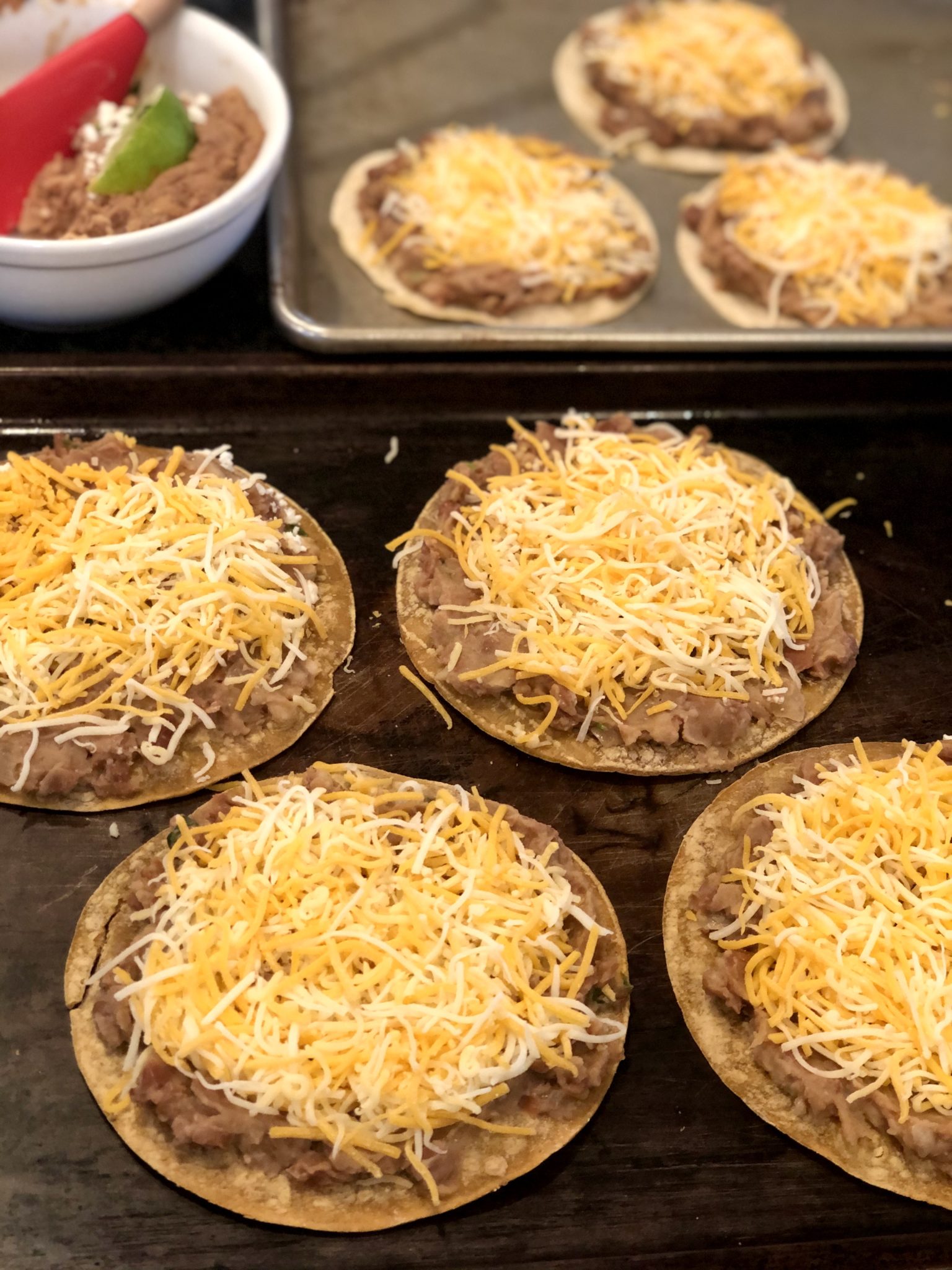 For its crisp crunch, lettuce in one of the toppings I always include. (Chopped hearts of romaine or even iceberg lettuce work well.) But as I was making the pizzas recently, I realized that I was completely lettuce-less. I did, however, have a bag of cabbage slaw, so I whipped up this Tex-Mex-inspired slaw ⇩⇩ and piled that on top after baking.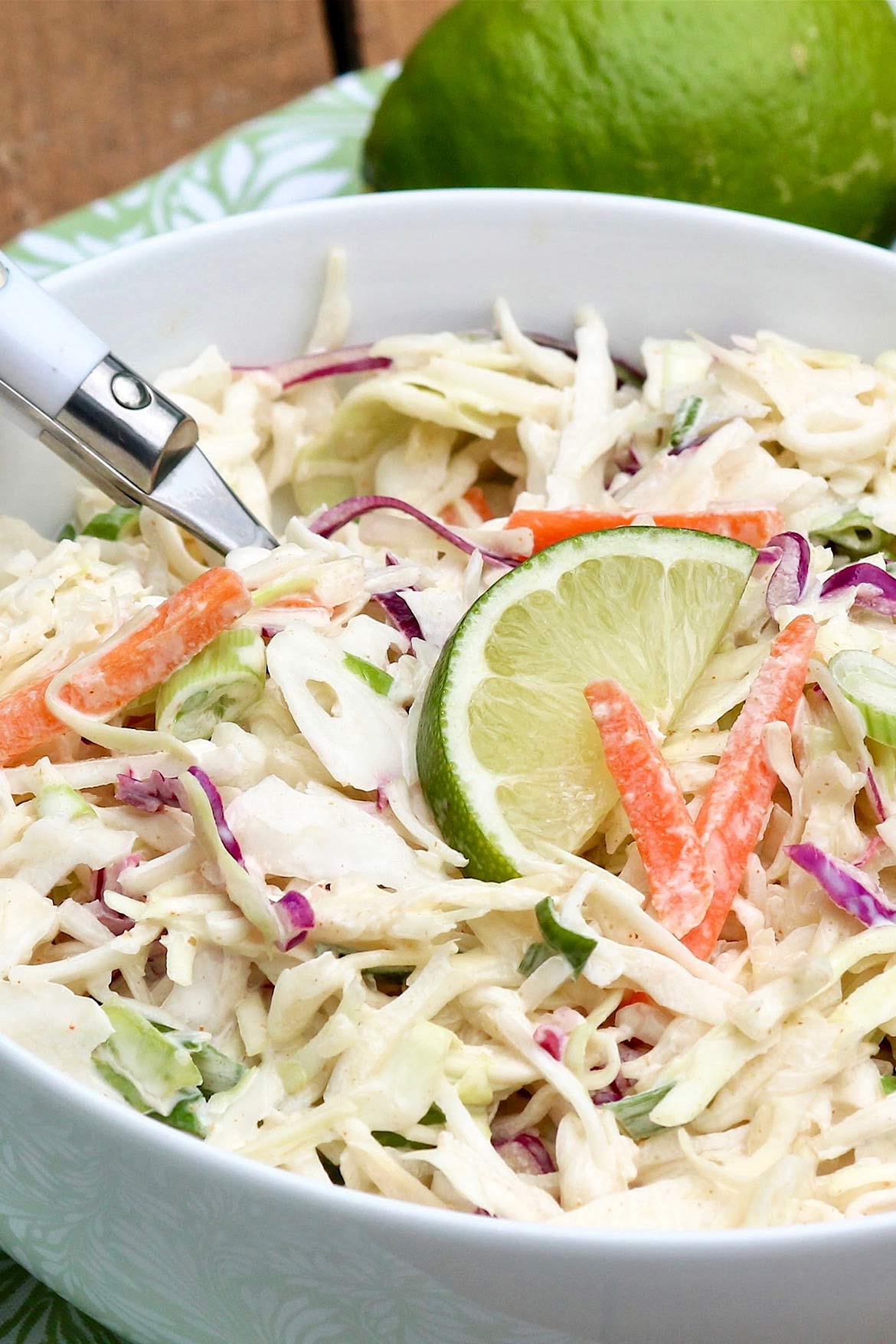 The oohs and ahhs were just a little louder thanks to this new twist, and the effort was still quite minimal. (For those who may be inclined to try, the slaw holds up well over several days in the fridge, making leftovers a treat. It can also be used in traditional or fish tacos, burrito-type bowls, burgers, sloppy Joes, turkey sandwiches, or served as a simple side salad.
By the way, a fork and knife may be used to eat the pizzas, but my family likes to pick them up and fold them over, taco-style.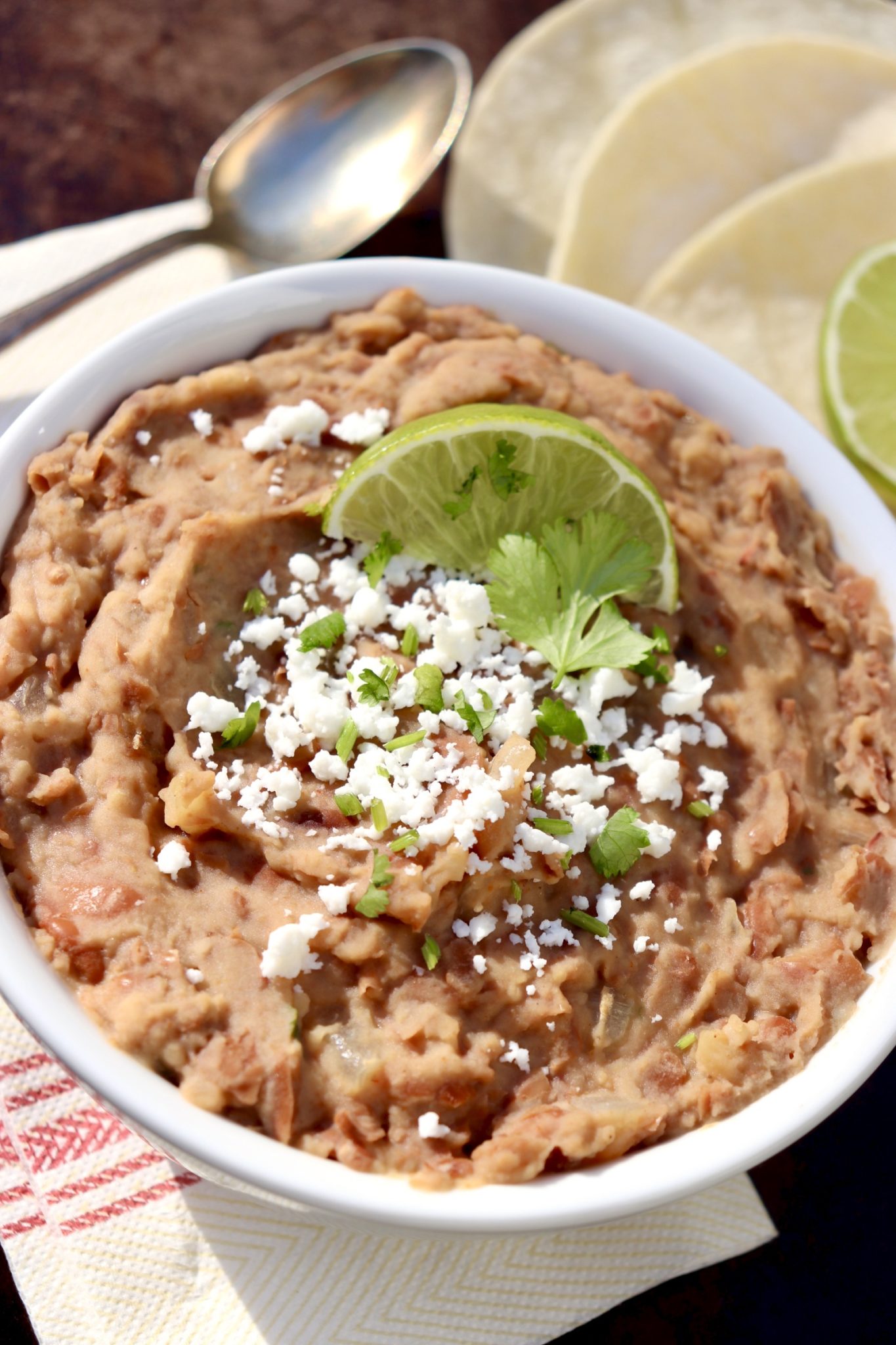 Of course, if you opt for homemade refried beans instead of the canned variety, you may wish to enjoy the creamier texture and fresher flavor in other meals as well. Following are some simple ways to incorporate more of these heart-healthy, fiber-rich legumes into your weekly meal plan.
Other ways to enjoy refried beans
As a healthy warm dip with tortilla chips
Or ratchet that dip up a notch by spreading on a platter and topping with traditional taco toppings like chopped lettuce, tomatoes and/or salsa, avocado or guacamole, black olives, shredded cheese, as so on
In tacos, burritos and quesadillas
As a side dish to any Tex-Mex or Mexican meal
For added protein, fiber, and nutrients, get creative and spread a layer over grilled or baked chicken, and then top with the aforementioned taco-type toppings
To thicken soup, whether a bean-based recipe or Mexican-inspired variety, like Chicken Tortilla Soup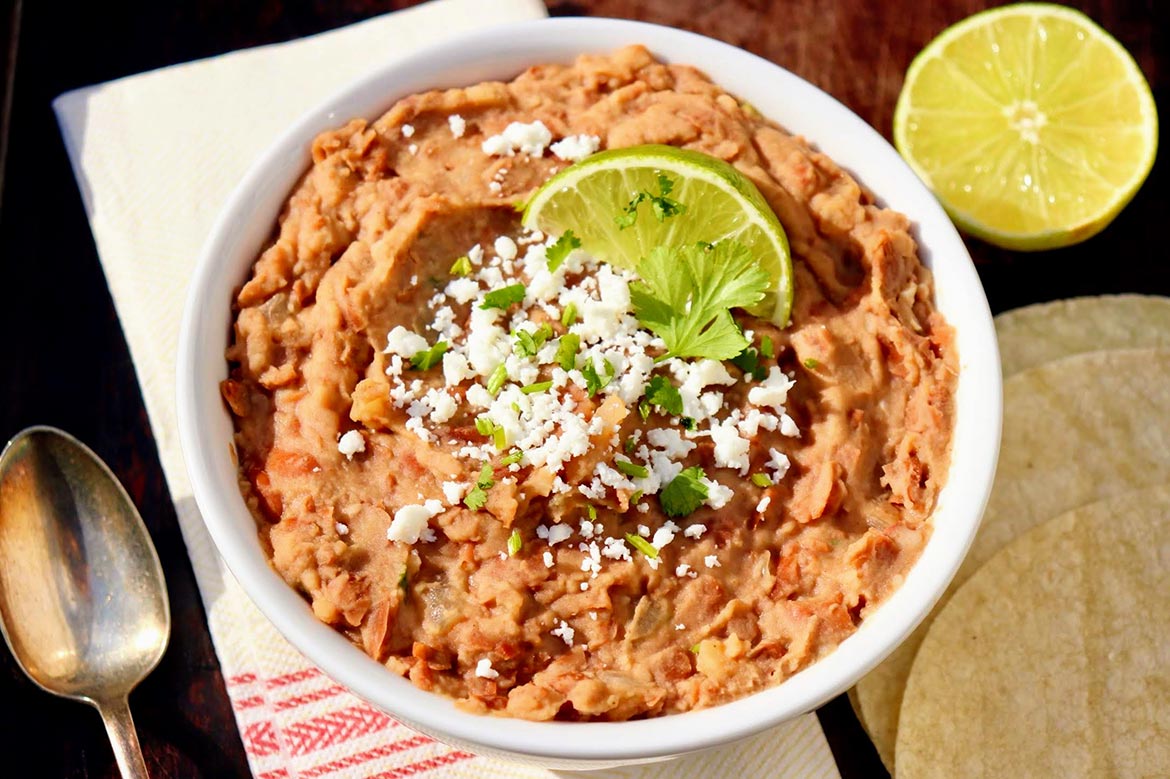 Healthy Refried Beans
Yield:
6 servings (~ 3 cups)
Quick and easy to make with pantry staples, homemade refried beans add healthy, plant-based protein to a variety of meals and form the flavorful foundation of one of my go-to speedy dinners!
Ingredients
1 tablespoon extra-virgin olive oil
½ small yellow onion, finely chopped yellow or white onion
2 cloves garlic, pressed or minced
½ teaspoon kosher salt
½ teaspoon chili powder
¼ teaspoon ground cumin
2 (15-ounce) cans low-sodium pinto beans, rinsed and drained (or 3 cups cooked pinto beans)
½ cup water
2 tablespoons chopped fresh cilantro
2 teaspoons freshly squeezed lime juice
Instructions
In a medium saucepan over medium heat, warm the olive oil until shimmering. Add the onions and cook, stirring occasionally, until the onions have softened and are turning translucent, about 5 to 8 minutes.
Add the garlic, salt, chili powder and cumin. Cook, stirring constantly, until fragrant, about 30 seconds. Stir in the drained beans and water. Stir, cover and cook for 5 minutes.
Reduce the heat to low and remove the lid. Use a potato masher or fork to mash up about at least half of the beans, or until your desired consistency is reached. Continue to cook the beans, uncovered, stirring often, for 3 more minutes.
Remove the saucepan from the heat and stir in the cilantro and lime juice. Taste, and add more salt and lime juice if necessary. If the beans seem dry or you'd simply like a looser consistency, add a small splash or two of water, and stir to combine. Cover until you're ready to serve.
Notes
Optional toppings can be use to add a hint of extra flavor and visual appeal. Possibilities include additional chopped fresh cilantro, snipped chives, crumbled cotija or feta cheese, lime wedges, sliced jalapeños-even chopped avocado or minced bell pepper.
Ways to enjoy: refried beans are delicious as a side to Mexican and Tex-Mex meals, in tacos, burritos and quesadillas, as a dip, and in Speedy Mexican Pizzas.
Nutrition Info per serving: Calories 145, total fat 3 gm, saturated fat 0.4 gm, cholesterol 0 mg, protein 7 gm, sodium 100 mg, carbohydrates 23 gm, fiber 8 gm
The Fountain Avenue Kitchen https://fountainavenuekitchen.com/