A reader-favorite (and reader-created!) recipe, this satisfying pasta salad was inspired by the classic sandwich is a tried-and-true crowdpleaser. Easy to make, too!
It is always a joy to receive recipes from those who read my newspaper column or blog. When readers send me their family favorites, I am always happy to cook them for my family. Nine times out of ten, those tried-and-true recipes are a hit in our house, too.
And who doesn't love a good hoagie?
I sure do, so when I received Landisville resident Maria DeAngelis Bowman's recipe for a salad based on an Italian sub, I had high hopes. Maria explained that she and her family enjoyed a similar salad from a now-defunct stand at Lancaster Central Market. Maria set out to recreate it, and her family liked the following version better than the original.
This novel salad is what Maria is now known for, and she cannot attend a potluck, barbecue, shower, or work party without a request for this dish.
Maria and I also discovered that we were former class of '88 classmates at J.P. McCaskey High School. Go Tornadoes! (The timing is actually quite perfect as my older son starts his freshman year there today!)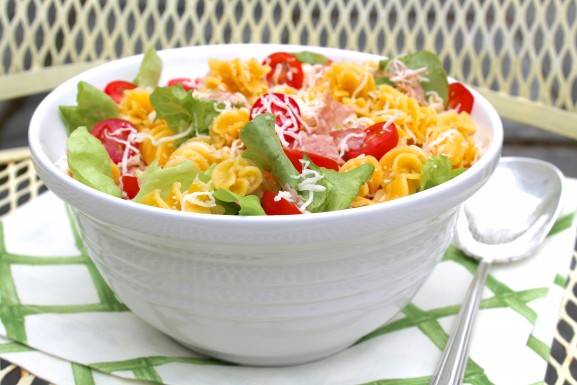 Italian Hoagie Salad
Yields 6-8 servings.
Ingredients
1 box of penne pasta (or similarly shaped pasta; see notes for gluten-free suggestions*)
1 envelope of Good Seasons Italian salad dressing (and ingredients to make8*)
1 8-ounce bag of shredded Italian blend cheese
1 small head of curly lettuce (about 5 ounces***)
4 ounces of hard salami from the deli, sliced thick****
Cherry or grape tomatoes, optional (I used a pint box)
Instructions
Cook the pasta according to package directions until al dente. Rinse with cold water, and then set aside to cool.

Rinse the lettuce, dry well, and chop into bite-size pieces. Halve the tomatoes, if using, and cut the salami into small pieces.

Add the lettuce, tomatoes, cheese, salami, and Italian dressing to the pasta and mix well. (I started with 1/2 cup of the dressing and drizzled with a little more prior to serving.)

Refrigerate for at least 1 hour before serving to allow the flavors to meld.
Notes
*My favorite gluten-free pasta for this recipe is a rotelle quinoa and corn blend. Two brands of gluten-free pasta that we typically purchase and enjoy are Ancient Harvest or Rienzi.
**I use Good Seasons Zesty Italian and mix with olive oil and red wine vinegar as per package instructions.
***Baby spinach or baby kale are nice options if you'd like to make this salad for lunches throughout the week as they won't wilt as readily as leaf lettuce.
****Dicing a thick slice of salami works well, although I like to have it chipped at the deli counter and then roughly chop it before mixing with the other ingredients. This way, a small amount of salami goes a long way in providing tremendous flavor in the salad.
The Fountain Avenue Kitchen https://fountainavenuekitchen.com/